You book our group/study rooms on your own in our online booking system. We have 7 rooms that you can book.
---
To create a booking, you click on a time slot(s), login with your usual login credentials (e.g. HH-account) and choose a booking name. Once you hit 'Submit booking' your booking will be active.
To cancel a booking! At the time of your booking a confirmation-email is sent to your mailbox. In this email you will have the option to cancel your booking.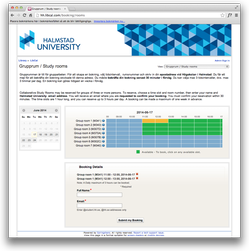 Booking regulations
The rooms can only be booked for group work.
Cancel your reservation if you are not going to use the room, unused reservation expires after 30 minutes.
A reservation can be made no earlier than 7 days in advance.
You can book a maximum of 2 hours per session.
You can book a maximum of 10 hours per week.