Halmstad Entrepreneurs Win Prize for their Business Idea
Former students at Halmstad University, Robert Lidén, Daniel Aarenstrup and Jonas Samuelsson earned an honourable second place among 340 entries with their company Virtual Trainer in the Venture Cup's regional final
.
Congratulations Robert Lidén, team leader of the Virtual Trainer!
"Thanks, it was incredible fun and totally unexpected. We were extremely nervous as the competition was tough with many great ideas".
What do you think made your business plan exceptional?
"I think it is because we have gone from an idea to the finished product in such a short time. In four months we have sold eight units. I think that the fact that we have come so far in the market in such a short time played a major role".
What is it that you have developed?
"We have developed a product that can be compared to a 32-inch iPhone; full of instructional videos that we have developed together with professional sports coaches. We call it a virtual trainer as it helps with different elements in the training".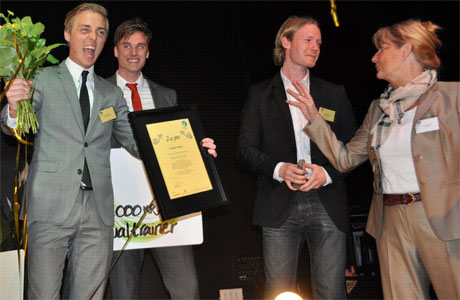 You are a so-called "cross-enterprise", which consists of three partners with completely different backgrounds. How important do you think that has been for your success?
"It has been extremely important for us. It has been a huge advantage that Jonas Samuelsson, who studied media, has, in a cost effective way, made the instructional videos. As a development engineer myself, I have experience of developing an idea all the way to the finished product, while Daniel Aarenstrup has taken care of the financial part of the business".
What does this prize mean for you?
"It gives us incredibly good publicity and makes it easier for us to help build up our brand. Of course, it is also a mark of quality for our idea."
Together with the winners and the third prize participants, you now have the opportunity to compete in the National final in Stockholm. How are you preparing for this event?
"We will modify and slightly update the business plan to increase the chance of winning. It will also be a great opportunity to make contacts, gain more publicity and to get the confirmation that we are doing a good job".
Text: LINDA LUNDELL