Lina's Passion Became Her Research
Speeding over the waves with a board under your feet and a kite in the air is what Lina Lundgren loves best. She is a doctoral student at Halmstad University researching her passion: kite-surfing.
Lina Lundgren started studying biomechanics at Halmstad University in 2001. Today, nine years later, she is a teacher and director of studies for the programme. She is also a doctoral student — postgraduate student — studying how the practice of board sports on water, especially kite-surfing, influences the body.
"I like the combination of sport research and biomechanics. The human body is fascinating and I like engineering subjects" says Lina.
A kite-surfer has a special movement pattern, with the body sloping upwards, which is different than the movements we normally make. Lina's aim is to find out how this influences muscles and joints.
"So far my results show that a kite-surfer encounters injuries to the knees and feet. It is not such a well-known sport; therefore little research has been made. It is exciting", says Lina.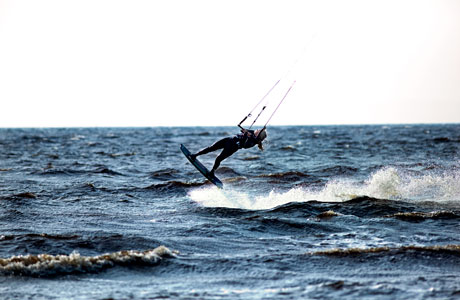 Interviewing surfers
Researching implies obtaining new knowledge through thorough methods. It is important to read literature and study earlier research-work made on the subject. Lina has also interviewed kite-surfers, made surveys and questionnaires, checked and measured forces that influence the body as well as observing surfers out on the waves. All data is collected and analysed.
"The idea is that my results will be used in product development when designing equipment, therefore helping minimise injuries. This data can also be used when creating training programmes for kite-surfers, so repetitive strain injuries can be avoided," says Lina.
The challenge of being a teacher
Half of Lina's working time is taken up as a doctoral student where apart from her own research work she is studying different courses such as research methodology and research ethics. The other half of her work is as a teacher and director of studies for the biomechanics programme. This implies that Lina teaches, plans courses, corrects exams, organises field trips and supervises laboratory work in the University's biomechanics- and physiology laboratories.
"Teaching is fun and incredibly challenging. It is a challenge to find the right level and to motivate, especially in those areas that many consider difficult. Most rewarding is when a student suddenly experience an "aha reaction" and to see how much a student develops during their 3-year study period."
A big advantage with life as a doctoral student and the work at the University is the flexibility and the independency. Apart from the hours Lina has teaching or at meetings, she is generally free to organise her own schedule and working hours. This is ideal when considering her leisure-time activity.
"The idea is that I work from 8 till 5. However, I can usually steer it myself. If there was a favourable wind one afternoon, it is not impossible that I can take a couple of hours off and surf instead. Then I work a couple of hours in the evening instead."
Checking weather and wind
Lina started kite-surfing 6 years ago. Since then she has become somewhat of an addict. She is a regular visitor of different weather sites as well as permanently checking the University's weather station.
"I am probably something of a freak — as soon as the wind starts to blow, I want to be out there. However, sometimes when there is much to do at work, I just have to switch off all surfing thoughts and concentrate on work."
What exactly was it that made kite-surfing become your passion?
"For me, there is so much feeling associated with kite-surfing. It is about freedom and being left to yourself. Step by step, you learn how to handle the technique, the wind and the water."
"Having the possibility to research your own hobby is wonderful — however, there is the risk for confusion," says Lina.
"The disadvantage is that is sometimes difficult to differentiate work from pleasure. But it is fun to be competent in something you are really interested in. And I have an advantage over many others; as one moment I am on the beach as a researcher and the next as a surfer."
Text: IDA LÖVSTÅL
Photo: CHRISTEL LIND