New Vice-Chancellor at Work
Since October 1st, the new vice-chancellor Mikael Alexandersson has been in office at Halmstad University.
How does it feel to finally start your new job here at Halmstad University?
"I have been here quite a lot during August and September, which was before I formally began now in October. This was to become acquainted with various activities before everything started up. I have also had good support from the management and many of the staff have been extremely helpful with information."
You have soon been here for three weeks, what are your first impressions?
"I have the same impression as when I read about the University last spring. It is a dynamic University with quick decision-making and much innovation and entrepreneurship. There is also a very positive feeling with high competence and ambition. Then, of course, there is a need to clarify certain areas, such as: decision-making and the so-called regulatory system."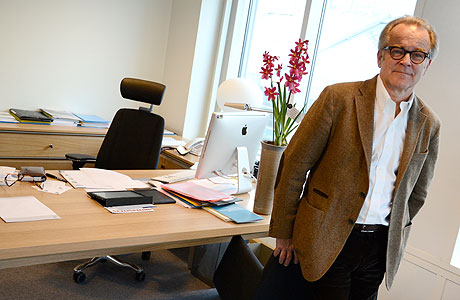 What have you done these three weeks?
"Among other things, I have changed the management organisation. As from November 1st, we have a so-called "vice-chancellor's management council" which will meet every other Monday. It includes the head of schools, chairmen of the different committees, the university director/registrar, head of department of external relations, the pro-vice-chancellor, an administrator and a student representative. This will mean that we have vertical processes (schools) in coordination with the horizontal processes at the institution (the committees). This will create a stronger overall view."
"I have also introduced something called "The Vice-Chancellor's Decision Meeting" to be held every other Tuesday. Present will be the pro-vice-chancellor, university director/registrar, an administrator and a student representative. It is important to clarify how and at what level decisions should be made, in order to make decision-making more transparent. Another area I have worked with is, the Knowledge Foundation. During several conversations with the Knowledge Foundation in Stockholm, as well as many meetings with the Knowledge Foundations work at the University, we have tried to write a future application. I have also had meetings with Region Halland, The Swedish Armed Forces base here in Halmstad and The Sports Confederation."
What are the most important issues to address in the near future?
"It is to clarify certain areas such as how the University should work long term in increasing the number of successful applications regarding research funding. We have made an inventory on how funding is distributed between the schools; which showed major differences between the different schools. We will also deepen cooperation with the region, municipalities and industry here in the County of Halland. Without a good working relationship with these parties, we would have difficulty in competing with the national competition, which is, continually increasing."
What are your aims for the future?
"To help develop the University in becoming even stronger; both nationally and internationally. Of course, all based from the Board's directives and after careful analysis."
Text and Photo: LINDA LUNDELL