The University's Open-House attracted many visitors
Many curious visitors found their way to Halmstad University when it was time for this year's Open-House.
 Johanna Westberg and Tim Hansson are two students who will be graduating this spring from the Nursing and Health programme at a local Upper Secondary School here in Halmstad. They were just two of the visitors who were interested in finding out about future educational opportunities.
"I am interested in being a paramedic, but first I need to become a qualified nurse", says Tim Hanson.
 

Will apply for Halmstad
At the Nursing Programme's exhibition stand, Tim obtained all the information he required concerning credits, how the programme is structured and just how the studies work. All that remains is to apply before April 15th.
"I will apply for Halmstad University. Especially as I live here in the town, everything is so close and practical", says Tim.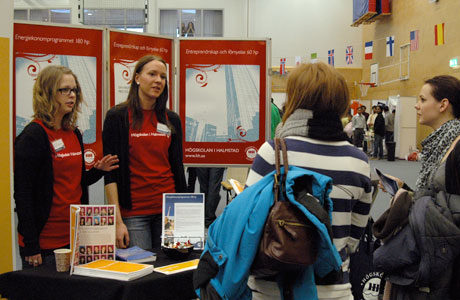 Johanna Westberg is not so sure of what she wants to study yet. However, she is considering studying to be a primary school teacher.
"I am quite keen on the idea, but at the moment I have not totally made up my mind. Therefore, I think it is great to be able to come here and listen to what the students who are actually taking the course have to say", says Johanna.
Guided tour and Information
Present at the University's exhibition hall were students, teachers and former students all eager to speak about their courses and programmes. Also present were Educational and Career advisors as well as representatives from the International Department, Student Health and Welfare Centre and the Student Union.
As well as visiting the education exhibition, visitors could go on a guided tour of the University, attend information sessions or just enjoy drinking a cup of coffee.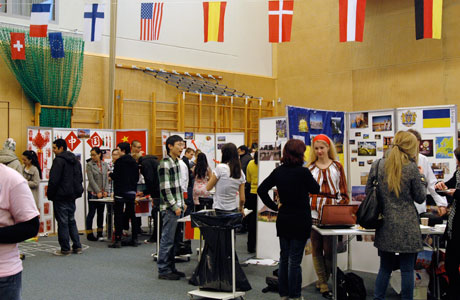 International Exhibition
Even the University's international students participated in the exhibition by presenting their own countries and offering typical culinary samples from their home regions. For those who did not have the chance to visit the exhibition in person, it was possible to follow the day's events on the net, via live broadcast thanks to the University's media students.
Approximately 600 students had notified the University of their intended visit to the exhibition in advance, in particular the Upper Secondary Schools from the counties of Halland, Skåne and Småland.
Text and images: IDA LÖVSTÅL