Global Swede award to international masters student Diana Chernetska
Swedish Minister of Trade Ewa Björling honoured Diana Chernetska with the prestigious Global Swede award in a ceremony last week at the Swedish Ministry of Foreign Affairs in Stockholm.
Diana Chernetska comes from Ukraine and is currently studying an international masters program in innovation at Halmstad University. She was among the 24 international students studying at higher education institutions in Sweden selected by the Swedish Ministry of Foreign Affairs to receive the Global Swede diploma.
The Global Swede award recipients form an international network of scholars who have studied in Sweden and been recognized for significant achievements in innovation and entrepreneurship.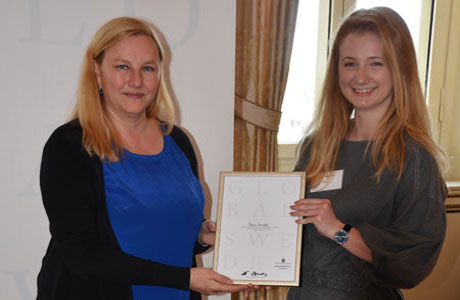 "I chose to study in Sweden because it is such an innovative country, and that makes it an ideal match for my education," says Diana Chernetska, "And although it's a small country, it's very open and welcoming to international students."
The Global Swede honour is the initiative of a partnership between the Swedish Ministry of Foreign Affairs and the Swedish Institute. It aims to recognize accomplished international scholars and motivate them to be ambassadors in promoting a positive image of Sweden. The initiative also hopes to draw on their unique competence to establish new contacts for Swedish trade and industry abroad.