Halmstad Colloquium is an international speaker series open to the public. The lectures are also filmed and published on the University's Youtube channel.
Distinguished speakers from universities, research organisations and companies around the world are invited to Halmstad Colloquium to talk about topics related to the research environment Embedded and Intelligent Systems (EIS). The speaker series was founded by Walid Taha at the School of Information Technology in 2012.
Upcoming talk – October 22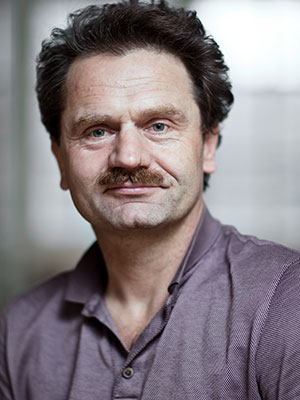 "Smart digital contracts for next-generation distributed ledger technology"
Speaker:
Fritz Henglein, Professor of Programming Languages and Systems at the University of Copenhagen and Head of Research at Deon Digital AG
Time and place:
October 22 at 13.15 in Q 149 (Black Box), DLC, Halmstad University (campus map)

About the talk by Fritz Henglein
Abstract:
Blockchain and distributed ledger (BC/DL) technology provides a conceptual, economic and technical platform for decentralized management of information and economic resources ("tokenized" money, goods, assets, rights, etc). It guarantees that stored information cannot subsequently be modified or deleted and that resources can only be transferred, not copied (forged or duplicated). Modern BC/DL systems support installing and executing user-defined programs, called smart contracts.
We present a deconstruction of BC/DL systems and smart contracts that reflects a contract-centric view of business interaction: formally specified contracts specify permissions and obligations; contract managers are robotic agents (programs) that monitor and manage contracts; and resource managers are systems that maintain authoritative information on resource ownership. Resource and contract managers may be decentralized or centralized. This facilitates an open ecosystem of BC/DL systems and conventional cloud/server-based systems.
We provide glimpses of novel mathematical and logical foundations of resource management and of digital contracts as well as their deployment in a number of ongoing applications in finance, insurance and intermodal mobility.
Based on joint work with the Deon Digital Denmark research and development team.
About Fritz Henglein
Fritz Henglein is Professor of Programming Languages and Systems at DIKU, the Department of Computer Science at the University of Copenhagen (UCPH) and Head of Research at Deon Digital AG, a start-up developing secure and scalable digital contract technology for both decentralized (blockchain, distributed ledger) and centralized systems.
Fritz Hengleins research contributions are in semantic, logical and algorithmic aspects of programming languages, functional programming, domain-specific languages, digital contracts, reporting and analytics, smart contracts and blockchain/distributed ledger systems.
Since 2015 Fritz Henglein has served as general chair, program committee member and steering committee member of programming language conferences (including POPL, ICFP, PEPM, FHPC); as editor/ editorial board member of Journal of Functional Programming; as steering committee chair of the Danish Innovation Network for Finance IT; Kurator at Fraunhofer Institute of Software and Systems Technology; Mercator Fellow at TU Dortmund; member of IFIP Working Groups 2.1 and 2.8; co-founder and advisory board member of several start-ups; and in a variety of roles at the department, faculty and university level at the University of Copenhagen.
Upcoming talk – date to be decided
"Car radars which shine into one another – there ought to be a problem?"
Speaker:
Hans Hellsten, SAAB Surveillance and Adjunct Professor at Halmstad University
Time and place:
To be decided
About the talk by Hans Hellsten
Radar for car collision avoidance has been around for decades, though cost constraints prevented any wide spread use. The revolutionary development in microelectronics during the past few years has changed this situation completely. Today even multiple radar units are becoming standard equipment in almost all new cars.
An issue in this massive exploitation of radar will be the mutual interference between radar units in congested traffic. Several circumstances combine to make the issue particularly acute: Only a few Gigahertz order bands are allocated for car radar whereas the car radars needs Gigahertz order bandwidth for the resolution it is required to obtain. Moreover radar exploits two-way propagation, whereas interference primarily is due to one way propagation. Hence even weak interference is likely to impose higher signal levels in a radar, than the actual radar returns.
Historically, radar bandwidths have been small and the radars relatively few. Thus there was little need for mutual cohabitation between radars operating in the same band, which is obviously in total contrast to communication where mobile phones have been developed around allowing precisely such cohabitation.
The presentation describes how radar signals just as communication signals can be coded to be mutually orthogonal even though they all reign within the same frequency band, and without the radar performance being degraded by this orthogonality. The proposed scheme allows up 6000 non-interfering users of a particular radar band - all operating in the immediate vicinity of each other. Certainly the concept calls for a change in the design of the actual radar system, as well as adoption of new signal processing methods, which will be duly accounted for in the presentation.
The presentation will also broaden the scope somewhat, also considering cohabitation between wide band radar signals and comparatively narrow band communication, which is of relevance for wide band radar concepts as considered by Saab and other radar developers. For these methods, as well as for the particular case of automotive radar, verification has been and is conducted, as also will be accounted for.
About Hans Hellsten
Hans Hellsten basic expertise is as a theoretical physics doctor. He started radar research at the Swedish Defense Research Agency FOI, subsequently appointed Research Director, and from 1986 directed development of new methods for meter-wave synthetic aperture radar. The work soon acquired significant national and international interest, and a major Swedish foliage penetration meter-wave SAR research program was formed. Amongst various achievements the airborne CARABAS I and II radars were produced.
In 2001 Hans Hellsten took the position of principal engineer for meter-wave radar development at Ericsson Microwave Systems – nowadays Saab Surveillance. He there directed the development of foliage penetration radar system modeling and optimization run in parallel with experimental verification, with the CARABAS III radar system built for this purpose. In a joint Halmstad/Saab research effort he is currently developing new methods for suppressing mutual interference between radars and between radar and communication.
Hans Hellsten is senior radar expert at Saab, and adjunct professor in radar systems at Halmstad University. His work has led to a large number of patents and scientific publications, and has rendered him the Polhem Prize for technological innovation, the Gold Medal for outstanding engineering work from the Royal Swedish Academy of Engineering Sciences – IVA - and the Thulin Medal for aerospace technology achievements. Recently he made a cohesive account of foliage penetration technology and physics in the form of the book "Meter-Wave Synthetic Aperture Radar for Concealed Object Detection" available from Artech House Publishers.
Previous talks
All lectures can be viewed at Halmstad University's Youtube channel in the Halmstad Colloquium playlist.
Halmstad Colloquium on Youtube

"We gather the most renowned researchers within their fields, and make it possible for interested viewers around the world to listen to their talks."
Walid Taha, Professor in Computer Science at the School of Information Technology and founder of Halmstad Colloquium