Career paths and promotion opportunities
Information about promotion opportunities and career paths at Halmstad University.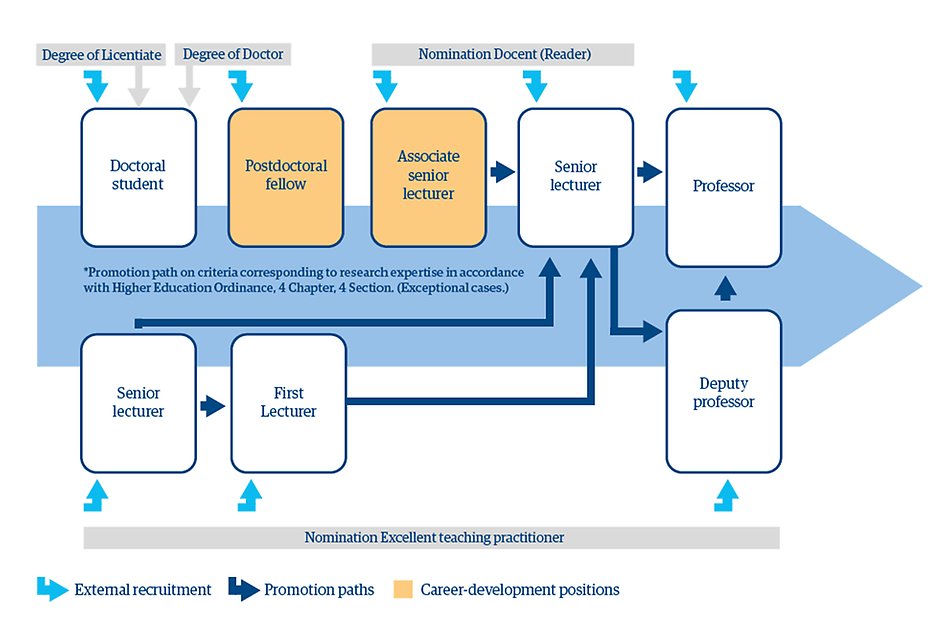 Appointments Procedure

This Appointments Procedure contains rules for appointments to the following academic posts: professor, deputy professor, senior lecturer, associate senior lecturer, postdoctoral fellow, researcher, first lecturer, lecturer, adjunct lecturer, adjunct teacher, visiting teacher, doctoral student and teaching assistant. It also covers promotions.
The Appointments Procedure must clearly reflect the University's common approach in terms of goals, ethics, equal conditions and workflow when recruiting and promoting teachers.
Appointments Procedure at Halmstad University

Pdf, 295.2 kB, opens in new window.
Promotion opportunities
According to Halmstad University's Appointments Procedure these promotion opportunities are possible to apply for:
| | From Deputy Professor | From Senior Lecturer | From Associate Senior Lecturer | From First Lecturer | From Lecturer  |
| --- | --- | --- | --- | --- | --- |
| To Professor | Yes | Yes | No | No | No |
| To Deputy Professor | | Yes | No | No | No |
| To Senior Lecturer  | No | | Yes | Yes | Yes |
| From First Lecturer | No | No | No | | Yes |
More information about the promotion opportunities is in the Guidelines for recruitment and promotion.
Guidelines for recruitment and promotion

Pdf, 637.7 kB.
Skills development and career support

Examples of competence and career support activities that are offered regularly at the University are pedagogical education, courses in leading research projects, leadership development and the opportunity for exchanges that provide international competence. Introduction courses, training in IT, norm critique, CPR (cardiopulmonary resuscitation) and fire safety are also offered on a regular basis. The range of courses varies over time.
Plan for your competence development

In the co-worker dialogues, you and your manager talk about the focus for the oncoming year as well as need for competence development and support based on your role and the needs of the organisation. It is all summed up and documented in an individual employee plan that is dated and digitally saved by you and your manager.
EURAXESS – carreer support
EURAXESS is a European network under the European Commission which focuses on facilitating researcher mobility, promoting career development for researchers, informing researchers about their rights and making vacant research posts visible in Europe.
On the EURAXESS webpage you can find useful information for you as a researcher when it comes to career support, no matter where you are in your research career.
EURAXESS support for career development for researchers 

External link.
EURAXESS video about career development for researchers

External link.