Eva Strandell awarded the University's prize for excellence in teaching
Over the years, many future nurses and biologists have been inspired by Eva Strandell's knowledge of the human body and nature's microorganisms. On November 17, as part of the academic ceremony, she was awarded the Halmstad University Teaching and Learning Prize for 2017.
"It feels fantastic – really fun and really important. It has encouraged me to become an even better teacher. This is a reward that gives me the drive to continue developing", she says.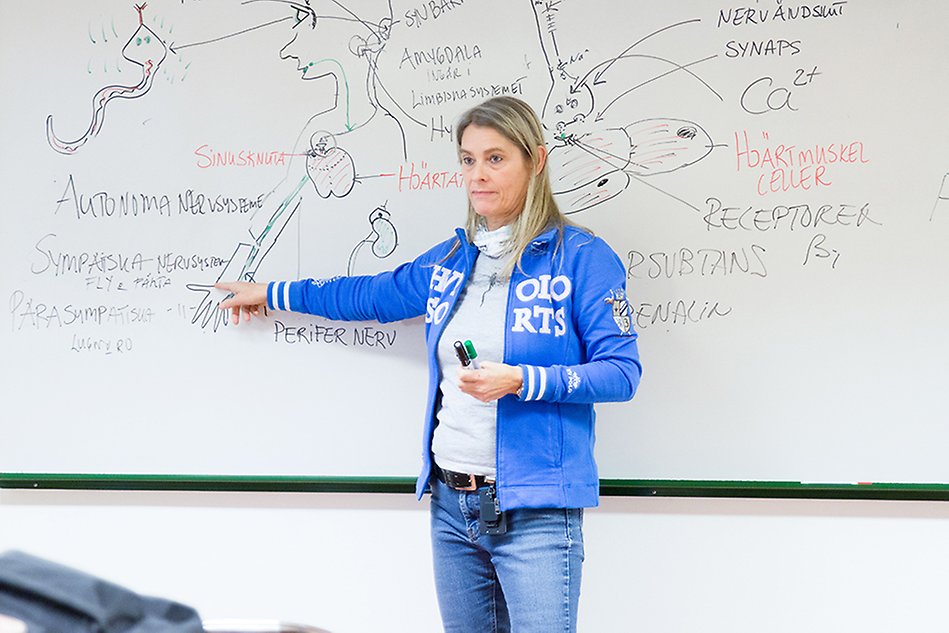 "A fantastic job"
Eva Strandell is a senior lecturer in human biology at the University who teaches physiology and microbiology, at present mainly to future nurses, environmental scientists and students of biomedicine. In the course of more than 20 years of work at the University, her enthusiasm for teaching has only increased.
"I have a fantastic job! I like working with young people – it keeps me young – and I like getting others to understand and generating enthusiasm for the subjects I teach. When the students think it's fun, I have succeeded!"
Eva Strandell studied human biology and cell biology at Uppsala University. She went on to research studies and publicly defended her doctoral thesis in 1992 in Uppsala, on the subject of type 1 diabetes. After a year as a postdoc in Copenhagen, she moved to Halmstad in 1995 and started teaching on the Nursing programme. In the early 2000s, she was involved in starting the degree programme in Biology, for which she was also director of studies for several years.
Flipped classroom
Eva Strandell is an enthusiastic supporter of the concept of the flipped classroom. This entails the students watching videos of taped lectures at home and then meeting in small groups, together with the lecturer, for discussions and questions.
"The students always come prepared to the meetings, and that is a big advantage. It enables a completely different discussion in the classroom. Because the groups are small, there is closer contact, which I like."
More focus on student contact
Once Eva Strandell has video-recorded a lecture, she can re-use it for several courses. This enables her to spend more time on contact with the students, instead of preparing lectures.
"There is so much today that facilitates the task of both lecturers and students. Film has many advantages – the students can watch the video when it suits them, go back to it and listen again if something is difficult. So far, I have not received a single course evaluation where someone thinks this is useless."
She has also started video-recording laboratory sessions and, later in the autumn, she will be testing bluescreen equipment to give additional dimensions to her teaching.
Eva Strandell believes the development of new ways of teaching is only in its infancy, and that we must find more ways of meeting the students' different needs. She thinks technology is fun and enjoys testing new methods. However, she believes the main reason she is a good teacher is her experience.
"I have been doing this for so many years, and I feel secure in my knowledge. My focus has shifted from my own competence and having to know everything – which I think many lecturers experience in the beginning – to focusing completely on the students and how I can best guide them."
Text: Ida Lövstål
Photo: Ida Fridvall
About the Teaching and Learning Prize
The Teacher of the Year Award was instituted in 2007. Every year, the award is given to a teacher who is considered to be particularly successful in developing student learning. The winner may select a European conference on teaching and learning in higher education to participate in.
The award is presented by the Research and Education Board at Halmstad University. Staff and students are invited to nominate one or more candidates, and this year there were 18 nominees. A working group consisting of accomplished/excellent teaching staff members is assigned with the task of proposing a winner. The group also includes one external member who is informed about teaching and learning in higher education.