Anna Isaksson wants to make it easier to work with inclusion
Issues related to gender, equality and diversity have for a long time engaged Anna Isaksson, Docent in Sociology at Halmstad University. Through her research, she has developed tools that make it easier to work concretely with the issues.
"I think it is important to conduct research to contribute to change in society"
Anna Isaksson, Docent in Sociology
Visualise problems to promote development
A main focus within Anna Isaksson's research is norm-critical design. It is a way of visualising invisible norms, ingrained ideas and things that are taken for granted in our everyday lives. According to Anna Isaksson, prejudice can lead to discrimination and exclusion of different groups. The method of norm-critical design is built on four steps: mapping and analysing, visualising, discussing, and reflecting. After going through those steps, the knowledge that has emerged is translated into a norm-critical design concept.
"Simply put, it is physical objects that illustrate and visualise the norms that we, in the first step, identified as obstacles. This can be perceived as provocative, which is also the point. We want to visualise problems and obstacles so that the organisation can jointly discuss what the situation looks like – and then be norm-creative and solution-oriented. This creates a space for change and innovation", says Anna Isaksson.
The method with norm-critical design concepts has, among other things, been used to develop the physical environment within the fire service.
"Based on the norm-critical design concept, we worked together with the fire service and an architectural firm to develop a norm-creative solution that we call social construction norm", says Anna Isaksson.
About Anna Isaksson
Where and when were you born?
I was born on April 24, 1980, and grew up in Falkenberg, where I also live now.
What is your educational background?
I have studied sociology, media and communications, and gender studies at Halmstad University. I did my PhD in Sociology at Lund University.
When did you come to Halmstad University?
I studied at the University between 2001 and 2005, and during my Master's studies in Sociology I also worked in various EU-funded research and development projects at the University.
How come you chose Halmstad University?
I was very unsure about what I wanted to study. I come from a non-academic home background, and higher education felt both foreign and like something I did not know much about. When my older sister chose to study at the university, it awoke my interest in higher education. I applied for and got into both law and journalism programmes, but because I felt so insecure, I started studying a course at Halmstad University. I started with political science but switched to sociology – and then landed just right."
When and how did you become interested in these questions?
I developed an interest in the relationship between society and individuals and issues related to gender equality and diversity during primary school. My interest grew in upper-secondary school when I studied social sciences. Good and committed teachers played a big role.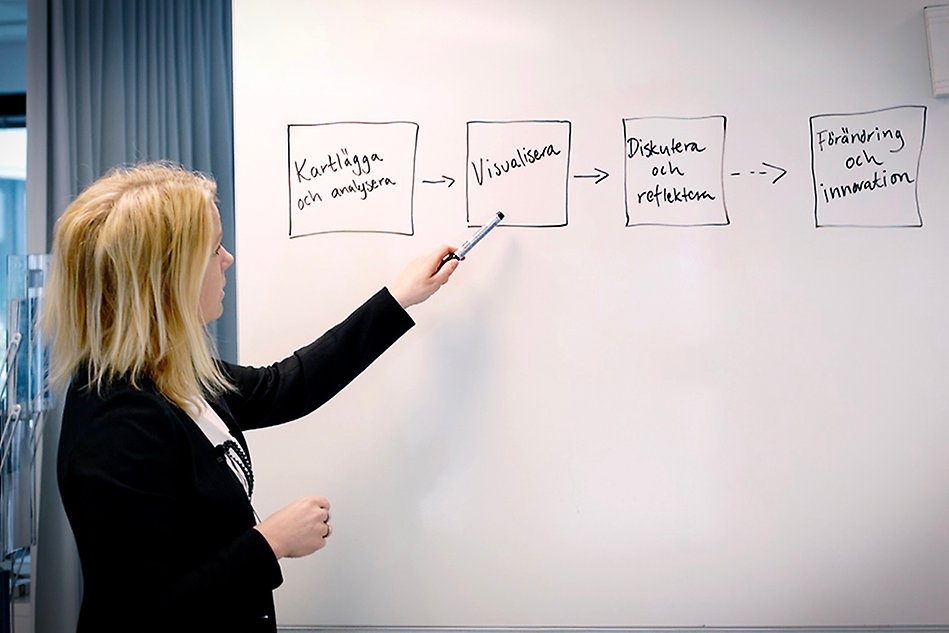 Wants to prepare students for working life
Apart from doing research, Anna Isaksson also works at Leap for Life, which is an innovation centre that is based at the University and focuses on information-driven care. There, she participates in various projects, for example, within the care of the elderly. In that project, she has analysed and followed up the introduction of digital technology solutions. It is also important for Anna Isaksson to teach.
"Many of our students step into a working life that in many ways is not equal. Therefore, I think it is important that we as a university prepare them to be able to meet this", says Anna Isaksson.
Film, text and photo: Anna-Frida Agardson
About Social construction norm
Social construction norm (in Swedish: Social byggnorm) began as an initiative to develop equal physical work environments. The purpose is to highlight how the physical environment and social relationships affect each other and to inspire new planning and building ways. Social construction norm has, among other things, helped to design inclusive changing rooms at fire stations.
Today, the social construction norm exists in the form of a website and a digital folder that can be used by organisations within, for example the rescue service, who want to build more equal premises.