His mission is for vehicles to talk to each other
Emergency vehicles asking traffic lights to change colour. Connected trucks that can drive closer to each other. Intelligent vehicles that handle parts of the driving themselves, without any risk to pedestrians and cyclists. These are some of the goals of Alexey Vinel's work.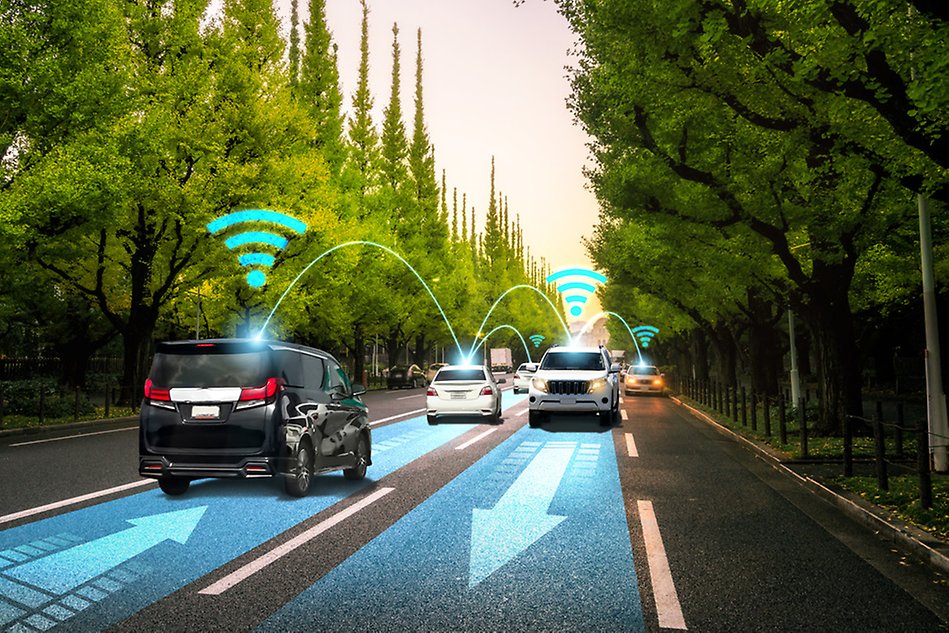 "We need to combine technical knowledge with behavioural science to solve trust issues in technology. Although it is well known that we, ourselves, are our worst enemy in traffic, people rely less on self-driving vehicles than on human drivers."
Alexey Vinel, Professor in Data Communication
"My research is about how to arrange the communication between vehicles so that they can 'agree' on what to do instead of just acting on information from sensors. It can be a very powerful tool for better driving."
Professor Alexey Vinel and his colleagues at the School of Information Technology begin their work by doing mathematical analyses and formulating models, 'pen-and-paper work', as he puts it. With computer simulations, it is then possible to test the system in detail with thousands of virtual vehicles. Finally, tests are performed in real life, partly on real roads, partly on the test track AstaZero outside of Gothenburg. In a fenced area, there are copies of everything from city districts to motorways.
Ongoing research projects
SafeSmart. Technology for automated driving in urban environments. Funded by the Knowledge Foundation. In collaboration with AstaZero, EVAM, Gutec, KPIT, Quviq, Scania.
Epic. Technology for emergency vehicles to be able to request a green light at intersections. Epic stands for Emergency Vehicle Traffic Light Pre-emption in Cities. Funded by Vinnova. In collaboration with EVAM.
5G V2X. Technology for communication between trucks in platooning. 5G is the fifth generation of cellular networks. V2X stands for 'Vehicle-to-everything'. Funded by the ELLIIT Excellence Center.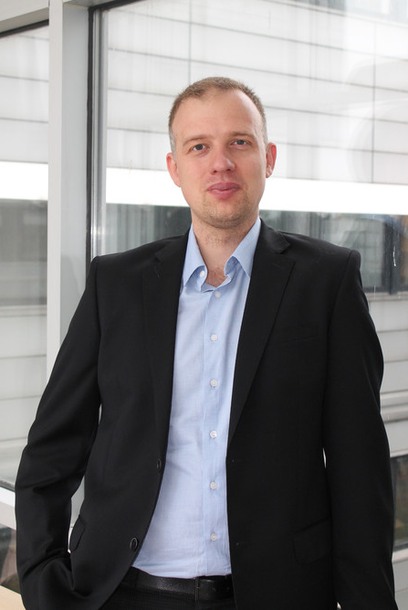 Trust is challenging
Alexey Vinel received his PhD degree at the Russian Academy of Sciences in Moscow and began to research on wireless networks. After that, he moved to Finland in 2010 and later on, in 2015, to Sweden, where he focused on vehicle communication.
"At that time, it was about introducing telecommunications and wireless networks in the transport sector. What inspires me now is the next step, where we need to combine technical knowledge with behavioural science to solve trust issues in technology. Although it is well known that we, ourselves, are our worst enemy in traffic, people rely less on self-driving vehicles than on human drivers."
Alexey Vinel exemplifies this with so-called 'platooning'. Connected and partially automated trucks drive in strings with short distances to reduce fuel consumption and road space. When the first truck slows down, a signal goes to the entire fleet that follows the movement.
"It's a wonderful idea; the driving is safe, and the trucks have everything that is needed for the drivers in the rear vehicles to be able to have a cup of coffee and not worry about anything. But instead, we know from tests that the drivers are stressed since the truck in front is so close."
After a suggestion from psychologists, the researchers have tried to mount a camera on the front vehicle so that the drivers behind can see the road. It helped.
"How the coexistence between machine and human should work fascinates me even more than the pure technology", says Alexey Vinel.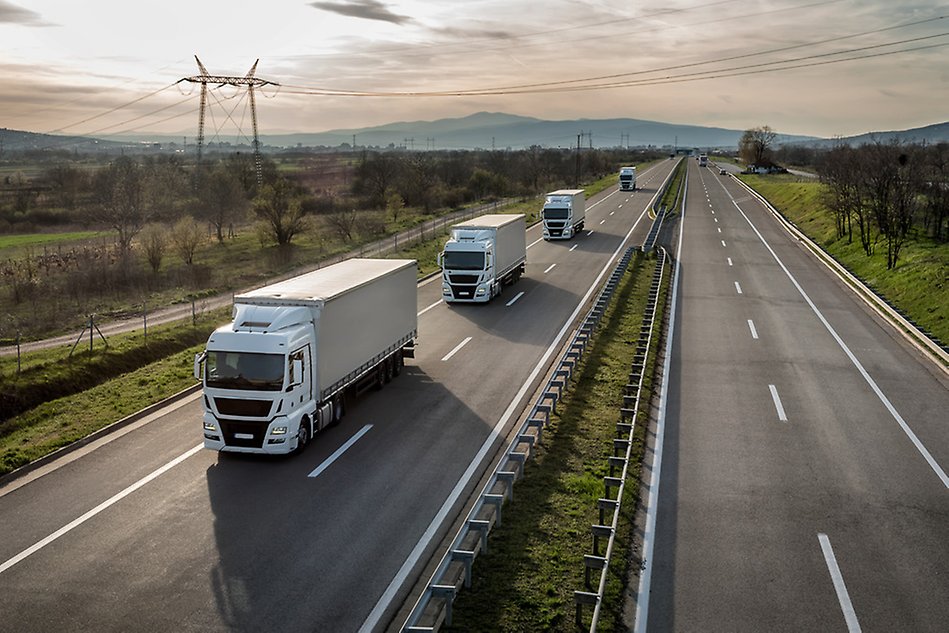 Great collaboration for safe driving in cities
One of his three research projects, 5G V2X, is about platooning, while the SafeSmart project develops technology for autonomous driving in an urban environment. It is a collaboration with six Swedish companies. Researchers from Halmstad are responsible for the communication systems, the software companies Quviq and KPIT develop software for the vehicles, and the company Gutec makes receivers for GPS signals. Scania is providing the vehicles themselves and AstaZero provides the test track, while the newly started EVAM makes digital solutions for emergency vehicles. The first test in live conditions will be on ambulances that are connected and partially automated run in an urban environment.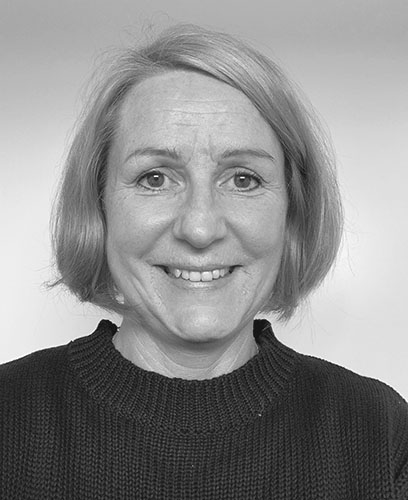 "Platooning can contribute to a significantly safer traffic environment through V2X communication, but there are still some safety issues where Alexey and his team's research serves an important function", says Technical Manager Katrin Sjöberg at Scania.
The Epic project is an in-depth study of SafeSmart; Alexey Vinel's group is working with EVAM to build a system where emergency vehicles communicate with traffic lights. In this way, the vehicles will avoid red light driving, which leads to accidents at intersections every year.
"By collaborating with Alexey and his team, we can benefit from the researchers' knowledge. We want to reduce the number of accidents in traffic and contribute to more efficient blue light organisations", says Mikael Erneberg, who is the Chief Operating Officer at EVAM and one of the company's founders.
Alexey Vinel has high hopes that the technology can spread wider.
"In many intersections, an emergency vehicle may pass once a month, so that may sound like a very specific case. But if traffic lights and vehicles can talk to each other, the technology can have tens of other areas of uses".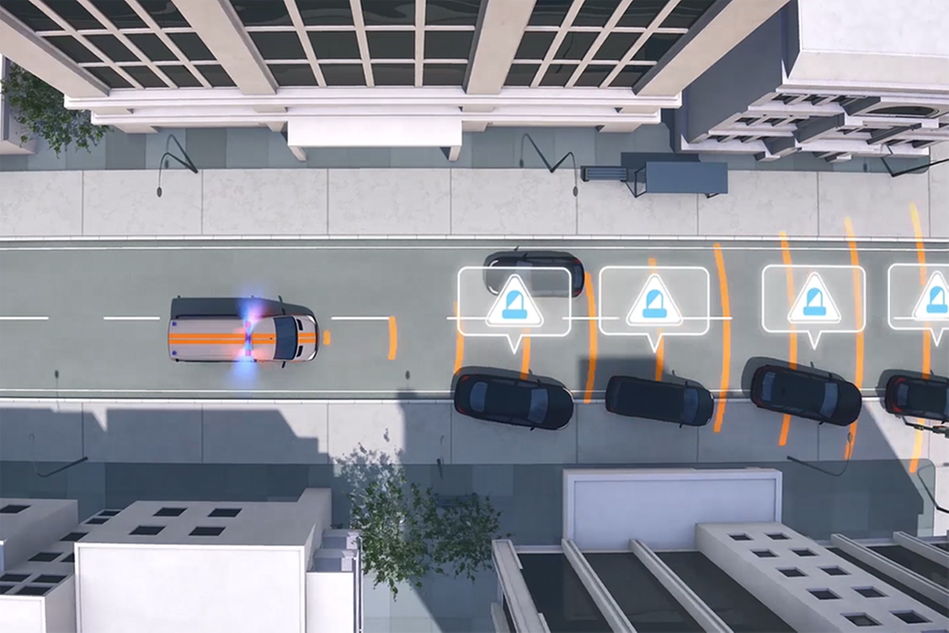 No laws for the new technology
Alexey Vinel believes that platooning will be on the roads in a couple of years and that, for example, automated taxis can be found in our cities in five years. But he admits he may be too optimistic.
"The technology is largely complete, but we lack laws to regulate self-driving vehicles. So the gap between the forecasts depends on who you ask. Elon Musk would say, 'next year', but the authorities responsible for the transport networks are often rather cautious and say, 'in ten years'".
Either way, Alexey Vinel thinks we should plan for how cities can be designed when we have self-driving vehicles. He believes that the focus too often is on how new vehicles should fit into the cities we already have.
"It is more interesting to think about how we can build our cities so that they are good both for people and for automated traffic. I do not know what it will look like, but it will definitely be different from how it is now".
Text: Lisa Kirsebom and Louise Wandel
Translation: Anna-Frida Agardson
Photos: Kristina Rörström, EVAM and iStock
Read more
Alexey Vinel's Professor's portrait: A dream about self-driving cars
The School of Information Technology
ELLIT Excellence Center

External link, opens in new window.
ELLIIT stands for Excellence Center at Linköping-Lund in Information Technology and has four partners: Linköping University, Lund University, Halmstad University and Blekinge Institute of Technology.
Article in Swedish: Han får fordon att prata med varandra

External link, opens in new window.