Hassan Mashad Nemati, Information Technology
What is it like to come from another country and become an Industrial doctoral student at Halmstad University? Hassan Mashad Nemati comes from Iran and is a doctoral student in Embedded and Intelligent Systems.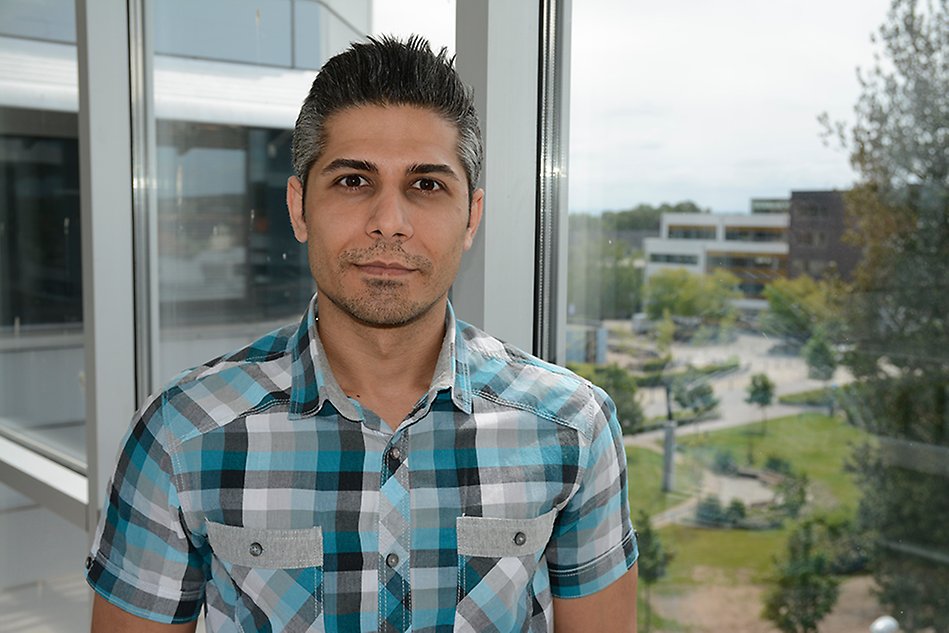 What is your research field?
"My research project is in collaboration with the company Halmstads Energi och Miljö AB (Halmstads Energy and Environment) known as HEM. The aim of the project is to reduce the number of power cuts in the supply of electricity. We investigate and implement data mining techniques to detect errors, prevent power failures, and optimise up-keeping and maintenance.
On average, there is a power failure about 20 minutes per customer per year in HEM's network. The company's primary goal is to reduce this to 10 minutes or less per customer."
What's it like to be a doctoral student?
"Sometimes it is stressful, especially when there is a deadline or when you start a new experiment. But as a doctoral student, you get the best of both worlds because you are both a researcher and a student. You are responsible for your project, but at the same time, you have a supervisor who will both help and guide you. You are required to teach, but you also have the freedom to study your own courses. You also have the opportunity to participate in conferences all around the world and to meet fellow researchers.
So for the most part, I really like being a doctoral student and having the opportunity to create something that is interesting and useful."
What's a typical day like for you?
"I do not think there is any such thing as a typical day for a doctoral student. Every day there is something that has high priority and needs to be done right there and then. It can be e.g. working with new experiments, writing a scientific article, meeting with your supervisors or preparing information or PowerPoint presentations for lectures."
What's it like to come to Sweden to do your PhD?
"In the beginning it may be difficult to adapt your lifestyle to the new environment. However, I do think it is easier to study or work in Sweden than in many other European countries. Everything in Sweden is very well organised and everything is based on fixed rules. Therefore, you can easily adapt. Almost everyone speaks English, so you do not really need to learn Swedish for doing simple things such as shopping, travelling or communicating."
What's it like being a doctoral student while at the same time being linked to a company?
"I currently work at the company one day a week, but this will probably increase in the future. At HEM I have an office and access to their systems. It's really good that I can regularly meet and speak with the company's own experts. For the rest of the week, I'm at the university. Working with a company involves a lot of responsibility because you are faced with real practical problems and my research leads to solutions in real situations. The task is of course challenging, but above all, motivating and fun."
What's it like to teach?
"I really enjoy teaching; in fact, my mother was a teacher too. To teach is a skill that I think will be very useful for me in the future. Basically, you need to explain different subjects in a way that is easy for the students to understand. It is a good skill to have as it will help you when making your own presentations at conferences as well as writing articles."
Do you have any advice for new doctoral students?
"Try to get yourself some hobbies, and enjoy the days off you have at the weekends. Meet new friends and go out with them and have fun together. I also think that it is a good idea to exercise regularly when you are a doctoral student because most of the time you are sitting and working in front of a computer."
Text och photo: Mikael Evard