Just got admitted for studies at Halmstad University? Congratulations! Before arriving in Sweden there are a few important things you need to sort out in order to be able to start your studies.
Introduction and registration meeting
On January 18, we organise a mandatory introduction meeting, where we welcome all students and share important information about your upcoming studies at Halmstad University.
Introduction meeting
When: January 18, 2021 09:00-10:00
Where: Online webinar via Zoom
Closer to date you will find a link to the webinar here and in your schedule.
Admission letter
You will find your admission letter (notification of selection results) on the University Admissions website. Here are instructions on how to register successfully at Halmstad University.
Official copy of your admission letter
Your notification is available online as a printable PDF file, so no printed copy is sent by regular post. The print-out serves as the official document and should be used when you need to present an official copy of your admission or results.
Replying to your admission letter
If you applied to the first round for the autumn or spring semester (application deadlines January 15 and August 15), you do not need to reply to your offer at the University Admissions website. Further information regarding registration, accommodation, introduction, etc. will be available on our student web.
If you decide not to attend the course/programme you have been offered a place in, please make sure to decline your offer at University Admissions. Log in to your account, go to 'Applications' and follow the instructions. You can also send an email to Halmstad University at helpdesk.antagning@hh.se
It's important to decline your offer as soon as you know you will not be attending, in order for students on the reserve list to get a chance to be admitted.
Conditionally admitted
Students who are required to pay tuition fees will be listed as 'conditionally admitted' on their admission letter. Your status will still be listed as 'conditionally admitted' even after you've paid the tuition fee. This is because University Admissions' computer system cannot record when a student has paid the first installment of their tuition fee to their university.
Please note: There are other reasons why a student may have been conditionally admitted. If this is the case, you should receive information regarding what you need to do in order to finalise your acceptance.
Having problems with: PASSWORD, PIN CODE or DATE OF BIRTH? This needs to be addressed via University Admissions.
University Admissions

Tuition fee payment
As a student from outside the EU/EEA and Switzerland, one of the first things you need to do when being admitted to Halmstad University is to pay the tuition fee. If you are an exchange student, special regulations apply.
Once you have received notification of your admission to Halmstad University, you will receive an invoice by email with the tuition fee for the first semester. Information on how and when payment should be made will be stated in the invoice document. The payment should be made by bank transfer and the fee is to be paid in Swedish kronor (SEK). If payment is not made on time, the admission will be cancelled. We do not accept payment in installments.
If you have been granted a scholarship, the amount awarded will be deducted from your invoice accordingly.
Regulations for the payment of tuition fees

Once the fee for the first semester is paid, you can apply for your residence permit through the Swedish Migration Agency. You will receive a confirmation of your payment by email and we will also notify the Migration Agency from our side.
Please note that special payment rules apply if the original payment has been made from an account in Iran. Due to international regulations, it is currently not permitted for Swedish universities to transfer money to Iran. Before you make the payment, we recommend that you choose an account or a payment method which the university can use if a refund must be made.
Read more about tuition fee coverage
Reimbursement of fees
The tuition fee can be reimbursed:
if your application for visa is rejected
if you have been conditionally admitted and do not meet the entry requirements by registration day
Halmstad University does not grant reimbursement for financial reasons. For detailed information, please see Regulations for the payment of tuition fees.
The application for reimbursement must be in writing and the application should be received during the current semester. You must submit supporting documents together with the application, we will only accept certified copies of documents. Send your application to helpdesk.antagning@hh.se
If a decision on reimbursement has been made, Halmstad University will reserve the right to retain 5000 SEK for administrative expenses. Decisions on reimbursement are made by the Head of the Student Affairs Department.
Please be aware that a reimbursement is always made to the same account as the payment was originally made from. This applies regardless of whether you have paid from your own account or through another account holder.
Residence permit
All students from non-EU/EEA countries have to apply for a residence permit/visa. You should start the application process as soon as you have been granted admission and paid the tuition fee to the university.
Requirements to be granted a residence permit
Granted admission to full-time studies
Comprehensive health insurance that covers the whole period you are in Sweden if you plan to study for less than one year
Ability to support yourself for the planned study period
A valid passport
For further information, please visit the Swedish Migration Agency website. The Swedish Migration Agency decides whether student visas are granted or denied, Halmstad University can not assist you with any questions regarding the residence permit.
The Swedish Migration Agency

If you are admitted to a course/programme of one year or less, you need to confirm that you have a comprehensive health insurance to obtain a residence permit. The admission letter (notification of selection results) confirms that you are covered by a health insurance from the university. If you apply through the Migration Agency web application, you can attach your admission letter as proof of health insurance.
Application form details
You will need to fill out the following information about Halmstad University on the application form:
Educational establishment (contact person): Halmstad University
Address: Halmstad University, PO Box 823, SE-301 18 Halmstad, Sweden
Phone +46 35 16 71 00
Email address: visumbesked@hh.se
Course/programme: state the course or programme you have been admitted to
Please see Academic year for the programme/course duration
Academic year
Below you can find the dates for the upcoming academic years.
Autumn semester 2020: 2020-08-31 to 2021-01-17
Spring semester 2021: 2021-01-18 to 2021-06-06
One year programme duration (60 credits): 2020-08-31 to 2021-06-06
Two year programme duration (120 credits): 2020-08-31 to 2022-06-05
Learning agreement for exchange students
Before starting your exchange studies, your home university will most likely ask you for a learning agreement. Follow the steps below to get this done.
How to obtain a valid learning agreement
Go to Universityadmissions.se and check your admission status.
Fill out your learning agreement
Send it to servicecenter@hh.se and ask for a signature
Send the fully signed agreement to your home university.

Universityadmissions.se

Accommodation
As soon as you are admitted to a programme or a course at Halmstad University it is important that you register for accommodation.
As an admitted student you will receive an email with information regarding accommodation options, pick-up service, rent, application deadlines and payment instructions.
All student accommodation in Halmstad is organised by the Student Union. For more information on how to register, please contact them directly.
Student Union's accommodation website

Please note, the Student Union only supports accommodation for admitted students. If you are bringing your family and need a different accommodation option, you are responsible for organising this yourself.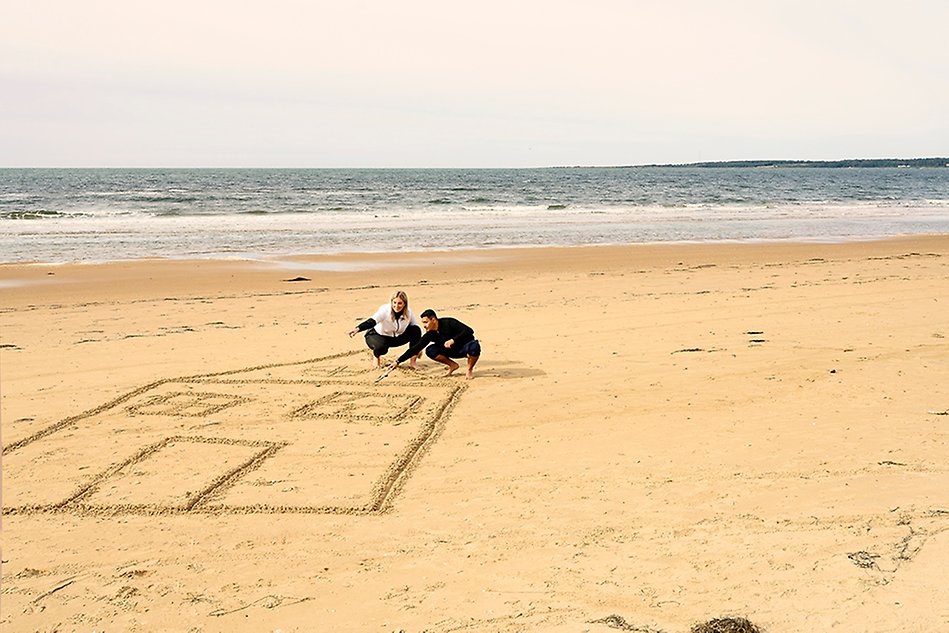 Cost of living
All students, regardless of whether or not you are required to pay application and tuition fees, must be able to cover your personal living expenses while in Sweden, in order to get a residence permit.
Students studying in Sweden are required to have a minimum of SEK 8,514 per month for the duration of their studies. When you apply for your residence permit, you must enclose a bank statement showing that you have your own bank funds available in an account belonging to you. For more information, please visit the Swedish Migration Agency.
The cost of living varies of course depending on personal needs and lifestyle. Aside from rent and food, you will have expenses such as course literature, transportation and socialising.
Swedish Migration Agency

Cost of living

| Estimated minimal living costs per month | SEK |
| --- | --- |
| Food | 2,000 |
| Accomodation | 2,000–4,000 |
| Transportation | 1,500 |
| Miscellaneous (hobby, clothes, leisure) | 500–1,000 |
| Total | 6,000–8,500 |
Job opportunities
All students with a student residence permit/visa are allowed to work in Sweden during the student residence permit period.
Please do not depend on working to support yourself during your study period as it is very difficult to find available part-time jobs. Many employers require Swedish language skills, and depending on your university workload, it may be difficult for you to commit to work outside of studies.
A part-time job can ease your financial situation and be enjoyable, but the amount of money you earn will not be enough for you to live on or to pay tuition fee. You have to organise the finances before you come here. This is also required for you to be granted a residence permit.
Health insurance
The regulations regarding health insurance differ depending on which country you are from and for how long you are studying in Sweden. Please read carefully below for guidance regarding your personal situation.
Non-EU/EEA citizens/International students
Students admitted to one year or less
Halmstad University provides comprehensive health insurance for tuition fee paying students admitted to programmes or courses of one year or less, the Swedish State's Insurance for Fee-Paying Students (FAS). You will be covered by the insurance as you will not be registered with the Civil Registry in Sweden.
Information on student insurance from Kammarkollegiet

Students admitted to two-year programmes
If you are admitted to a two-year programme and have been granted a residence permit valid for one year, you will be able to register with the Civil Registry in Sweden and you will be entitled to the healthcare system and pay Swedish patient fees. Therefore you are considered to have a comprehensive healthcare insurance policy.
Once you have arrived and registered at the programme, you should register with the Civil Registry and apply for a Swedish personal ID number.
Civil Registry (Skatteverket)

When you have received your Swedish personal ID number, you should change your student ID number (for exampel 19870102-T123) to the Swedish personal ID number at Service Center. You need to bring your Swedish ID card and your passport.
Nordic and EU/EEA citizens
If you are a citizen of any of the EU/EEA countries or Switzerland, you must register for a European Health Insurance Card (EHIC) in your home country before coming to Sweden. You have to bring the EHIC card as this card gives you the right to medical care at the same cost as Swedes.
If you don't obtain an EHIC in your home country, you'll need to arrange your own insurance coverage to cover costs, as medical care without insurance can be very expensive.
Exchange students
Halmstad University provides health insurance coverage for all exchange students, the Swedish State's Insurance Student IN.
Information on student insurance from Kammarkollegiet

Studyinsweden – Health Insurance

Student Healthcare Centre

The student web
As an admitted student at Halmstad University, you will find relevant information about your studies and the student life at Halmstad University on the student web.
We recommend you to check the student web regularly to stay tuned with current activities and important information regarding your studies and student life at Halmstad University.
On the student web you can find the student calendar, where all student activities around campus are listed. You can also use the search function or the A to Z tool to find information regarding a specific topic and read our student news which are published regularly.
Travel to Halmstad
In order for you to find your way to Halmstad, we have put together some advice on how to travel from the closest airports.
When making travel arrangements you can choose to fly either to Copenhagen Airport, Copenhagen (Denmark), Landvetter Airport, Gothenburg (Sweden), or to Arlanda Airport, Stockholm (Sweden). Copenhagen is much closer to Halmstad, and from there you can take the train straight from the airport to Halmstad. Gothenburg is also fairly close, from there you can take a bus or a train from the city centre to Halmstad.
Stockholm is rather far from Halmstad, but some students may still prefer to arrive in Stockholm.
Make sure to have your admission letter ready at the border control together with your passport and residence permit.
From Kastrup Airport
Train: travel from Copenhagen Airport to Halmstad C
Bus: travel from Kastrup Terminal 2 to Halmstad Regionbussterminal
From Landvetter Airport
Train: Take the Airport Coach from Landvetter Airport to the Central Station, Nils Ericsson Terminal, downtown Gothenburg. Then you take the train from Gothenburg to Halmstad.
Bus: Take the Airport Coach from Landvetter Airport to the Central Station, Nils Ericsson Terminal, downtown Gothenburg. Then you take the bus from Gothenburg, Nils Ericsson Terminal to Halmstad Regionbussterminal.
From Arlanda Airport
You can take the long distance train to Halmstad: travel from Arlanda C to Halmstad C. You will have to change trains somewhere along the route.
Or you can take the Arlanda Express Train or the Airport Shuttle to Stockholm Central Station. From there you can take a train to Halmstad. Travel from Stockholm C to Halmstad C. You may have to change trains somewhere along the route.
You can also travel by bus via Gothenburg. Travel from Stockholm City Terminal to Nils Ericson Terminal and then from there to Halmstad Regionbussterminal.
Student rights
All enrolled students at Swedish universities have many rights as well as responsibilities, which may affect their educational experience.
The rights of students are regulated in a number of national acts and ordinances as well as in universities' internal regulations.
The Work Environment Act
The Discrimination Act
The Higher Education Act
The Higher Education Ordinance
Regulations at university level
Quality Assurance of Swedish Higher Education
Sweden's Supreme Court has ruled that fee-paying international students enter a contract with the higher education institution where they study. This ruling concludes that fee-paying students have rights concerning the educational quality of their university studies as well as rights when possible deviations from the reasonably expected quality occur.
The Swedish Higher Education Authority (UKÄ) is the authority tasked to evaluate the quality of higher education and research. The quality assurance system developed and implemented is in accordance with the Higher Education Act, the Higher Education Ordinance and the Standards and Guidelines for Quality Assurance in the European Higher Education Area (ESG). If you suspect that a higher education institution has violated a law or regulation, you can report this to UKÄ.
Swedish Higher Education Authority