Studying is sometimes compared to high-level sports where concentration and endurance are put to the test. Whether you are new as a student or have been studying for a while, you need to give yourself the best opportunities to do a good job. Take a look at our tips and develop your study habits!
Video: Become a better student
5 tips to studying right
1. Set up routines
Do you have trouble managing your time? Make a weekly schedule with study sessions and spare time so that the days do not blend into one another and the work load builds up just before the exam. Make sure to plan right, otherwise there is a big risk that you postpone the studies instead. Remember to take a break once in a while even during your scheduled studie sessions.
Template for a weekly plan

Pdf, 27.4 kB, opens in new window.
2. Create an overview
Start your studies by carefully reading the syllabus for your programme. That will give you an overview of the entire plan of the education. When you start a new course, make a habit of reading the course syllabus. It will be easier to plan your studies based on the course syllabus and possible study counselling.
When you are familiar with your programme/course syllabus, you can start studying.
Look through the material you should read before you start reading.
Look at headlines, table of contents, summaries, bold, fact boxes, pictures and captions. This shouldn't take more than a few seconds per page but will enable you to make a better assessment of what information is most relevant.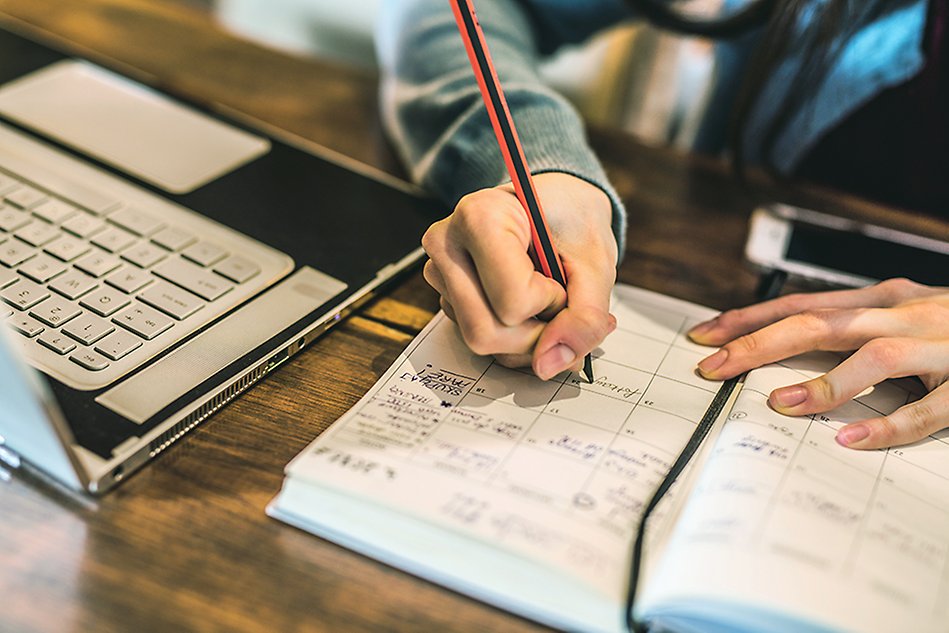 3. Study together
If you schedule to meet a friend at the library, the probability is greater that you set aside time for the studies.
Benefits of studying together
You have the opportunity to discuss what you have learned which makes the understanding process easier.
You also get deeper knowledge when hearing someone else explain their perception of the text that you have also read.
You learn easier, over time and with greater understanding.
4. Set goals
Set different kinds of goals that make you inspired and energised. The goals often need to aim higher than you think because most of us also limit our dreams.
Examples of goals
A long-term goal may be to visualise yourself on your dream job.
A sub-goal can be to complete a course with a certain grade or to spend three hours a day on studies.
Tip! Choose time specific goals that can be measured. 
5. Make sure your surroundings are study friendly
All around campus are study places and group rooms that you can book when you need peace and quiet to study, either by yourself or together with others. Studiekuben, for example, is bookable as a group room when the Study Support Center is not using it for drop-in meetings.
Learn more about study technique
One way to improve your study habits is to learn more about study technique, for example by reading a book on the subject. You can find the book below at the University library on campus.
Academic Studies in Sweden, Marina Bergman

External link.

Activities in the student calendar
At the University, various kinds of activities connected to study technique, good study habits and other themes are held every semester. You can find current activities in the student calendar.
Avoid putting off your studying
Will you do just about anything to not have to study? Then you are doing what many others do, which is procrastinating. Procrastination is when you postpone things, although you know that this will have negative consequences in the long term. Procrastination is a learned behaviour based on the fact that we react to unpleasant feelings (stress, boredom, anxiety, etc.) by avoiding them. In a study situation, this often happens automatically the moment we sit down with the books.
If you want to stop postponing your studies, below are some useful tips.
A few tips for stopping procrastination
Get to know the excuses you use when you postpone things.
Learn to endure the discomfort – you can study even if you are not motivated.
Create structure in everyday life. Plan when to study and when not to.
Plan for short study sessions and clear breaks.
Make a reasonable plan. If you plan too much, the discomfort will increase and the risk of falling back into the procrastination will increase.
Set clear goals and reasonable deadlines.
Study with a friend. If you have agreed to meet a friend at the library, the chance that you actually go there is much bigger.
Reward yourself.