At university level there are several types of examinations where you are asked to show that you have the knowledge needed to pass the course. Courses might include written examinations, home examinations, oral examinations, laboratory sessions or seminars. You can read more about which examination types will be used in a specific course in the course syllabus.
Exam registration
Here you can find all upcoming registration periods for exams and how to register.
It is important that you keep an eye on Student Ladok and your schedule for more detailed information on how your exam will be conducted. There you can see if the exam is digital or takes place on campus.
Most exams require registration
In your schedule, you can see which exams require registration. It is important that you register. When you have registered the University knows that you intend to participate and you are guaranteed to write the exam. You can register in Student Ladok when the registration period is open. You are not allowed to participate without exam registration. If you forgot to register, you can, depending on availability, be registered after the registration is closed (see below). Without registration you will have to wait until the retake. 
Student Ladok

External link, opens in new window.
Search for examination schedule

External link.
If you can't register for the exam
To be able to register for an exam in Student Ladok, you must be registered on the course. Please contact Service Center during the registration period if you are unable register in Student Ladok.
Missed exam registration
You must be registered in advance to be allowed to do a written exam. If you discover that you have forgotten to register, you need to contact the University as soon as possible via the form below. You can only be registered subject to availability, which is determined by the University.
You must contact us at least three working days before the exam, so if the exam takes place on Friday, you must have contacted us no later than Monday in order to get a place if possible. You can never go directly to the exam without being registered in advance.
Your teacher can not influence this and you can not take someone else's place. You can not count on writing the exam until you have received answer from someone at Service Center. You can not speed up the process by calling or emailing the University.
Late exam registration request
Registration periods autumn semester 2023

Exams during week 39: 3 September – 17 September

Exams during week 40: 10 September – 24 September

Exams during week 43: 1 October – 15 October

Exams during week 44: 8 October – 22 October

Exams during week 45: 15 October – 29 October

Exams during week 46: 22 October – 5 November

Exams during week 47: 29 October – 12 November

Exams during week 48: 5 November – 19 November

Exams during week 49: 12 November – 26 November

Exams during week 50: 19 November – 3 December

Exams during week 1-2: 6 December – 20 December (attn. new dates)

Exams during week 3: 24 December – 7 January
Things to know before, during and after an exam
In the video below, the University staff will help guide you through some of the most important parts before, during and after an exam.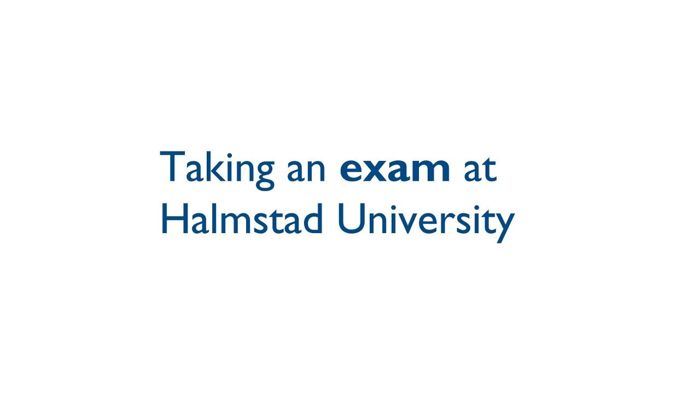 Exam regulations
There are certain regulations you need to follow in connection to taking an exam. Please read below information carefully to ensure you are prepared prior to your exam.
Digital written exams
Specific regulations apply to supervision and recording of mandatory digital written examinations.
Regulations for written exams
Before the exam
Bring your passport or ID-card (access cards or UT-cards are not valid IDs). Without a valid ID you are not allowed to take your exam.
Bring your code on a piece of paper (you can find the code when you register in Student Ladok).
Also bring a pencil, eraser, ink pen and other approved aids for the exam. If you are uncertain what aids are permitted in the exam room, ask your teacher.
Notes, tablets, mobile phones, smart watches and other technical devices are not allowed at your allotted desk. Suspected cheating will be reported immediately.
Cheating and plagiarism

Writing paper, alcogel and disposable gloves will be available in the exam room.
You are allowed to bring food and beverages and eat during the exam.
Make sure you arrive with plenty of time to spare, preferably 30 minutes before the exam starts. About 10 minutes before the exam starts, information is given.
If you arrive later than 30 minutes after the exam has started you will not be allowed in.
During the exam
Keep your distance from others inside and outside the hall.
Have your ID and code ready when entering the exam room.
If you bring a mobile phone, switch it off, put it in your bag or jacket and hang it in the designated place.
It is not permitted to choose your own seat. Go to the designated / presented place in the exam room. Put your ID and code clearly visible on the bench.
It is not permitted to talk to other students during the exam.
You find the exam in the upside-down exam cover on the desk. The cover with the exam may only be turned over when the invigilator announces that it is allowed. Opening the exam cover in advance is considered cheating and will be reported.
Write your exam.
Let the invigilators know if you need to contact a teacher or go to the toilet. You may not leave the room until 40 minutes after the exam has started at the earliest, even for visits to the bathroom.

Bring your exam and everything else from the desk to avoid unnecessary walking in the room. To avoid queuing when the exams are handed in, students must proceed one at a time.
Place your exam and ID in the designated place and take a step back while the invigilator checks your submitted material.
Leave the exam room and continue to keep distance from others.
After the exam
When your teacher has graded your exam, you will receive the result in Student Ladok.
A few days after you have received the result and your exam is in the "Exams available for collection-list", you can collect your exam at Service Center or contact us via Helpdesk to have your written exam scanned and e-mailed to you.
Exams available for collection
Proving your identity during digital exams
You must present proof of identity in connection with the exam if:
it is necessary to ensure the examination is legally secure (which an examiner can assume that it is at an examination)
it can be done so that other students or participants do not see your ID
it can be performed without being recorded
Proof of identity in a digital examination can be done by:
The examiner or exam supervisor taking each individual student who participates in the exam in an individual digital room (so-called "Breakout rooms") where the student shows his / her ID to the camera and is then ticked off in the list of registered students
Such identification can be completed either before the examination starts, or during the examination.
Anonymous written exams
All written exams are anonymous for all students at Halmstad University. Examinations via the learning platform Blackboard cannot be conducted anonymously.
What is an anonymous written exam?
An anonymous written exam means that the correction process is anonymous. The teacher does not know which student has written which exam when they correct them. Once you collect your exam at Service Center, you will need to show your ID as usual because the exam is decoded and linked to your personal ID number again after it has been corrected and before the examiner sets the grade.
Bring the code to the exam room
When you sign up for an anonymous written exam in Student Ladok you will receive a code. Since the code replaces your personal ID number on the exam, you must remember to bring the code to the exam room and then write the code on your exam.
Grades and results
On this page you can learn more about the various grading scales being used and get more information on where and when to receive your results.
Credit system
Sweden has a system of credits (högskolepoäng); a normal 40-week academic year corresponds to 60 credits. Halmstad University do not use ECTS credits, but the system is compatible with ECTS credits.
Grading system
There is no national grading system in Sweden. Higher education institutions may determine which grading system is to be used. No overall grade is awarded for a degree and students are not ranked. For example, Grade Point Average (GPA) and other ranking systems are not used in Sweden.
At Halmstad University, one of the following grading scales may be used:
Pass or Fail
Pass with Distinction (VG), Pass (G), Fail (U)
Pass with distinction (5), Pass with credit (4), Pass (3), Fail (U)
Criterion-referenced grading scale - Excellent (A), Very good (B), Good (C), Satisfactory (D), Sufficient (E), Insufficient (F)
(All of the above grades are in descending order)
The course syllabus clearly states which grading scale will be used. Translation or conversion to other than the grading scale stated in the syllabus is not made.
Results
Once your teacher has assessed your exam, whether this is a written exam or take-home assignment, you can view your grade in Student Ladok. According to the rules, you should receive your results no later than three weeks (15 working days) after the examination and two weeks before your retake, where applicable. The first working day means the first working day after the examination. All students have the right to a verbal or written run-through of the exam. Time for this is announced in connection with your results.
If you believe that the assessment of your exam is incorrect and you have clear grounds for this; i.e., you are able to show errors, you can request that the examiner review their decision. If you intend to request a review, you should not collect the original copy of your exam. You can request a copy of the assignment or exam from the Service Centre when you collect it. It is not permitted to change your responses or the examiner's assessment at a later date.
A grade which has an obvious inaccuracy due to a clerical error, miscalculation or similar must be corrected, regardless of whether this is to the advantage or disadvantage to you as a student, in accordance with the Administrative Procedure Act. This type of decision is made by the examiner.
Should your examiner find, however, that a grade is clearly inaccurate based on new circumstances or for any other reason, they shall amend the grade. This type of amendment may only be made if it is to your advantage; i.e., if the grade is raised.
Student Ladok

External link.
Retake exam
If you have failed an exam, you have the right to take the exam again at a later date. This is known as a retake. You may not retake an exam which you have already passed.
Courses have three exam dates in total – one regular exam and two retakes. Your first retake is at least two weeks after you have received the results from the first, regular exam. You will also need to register for retakes in Student Ladok.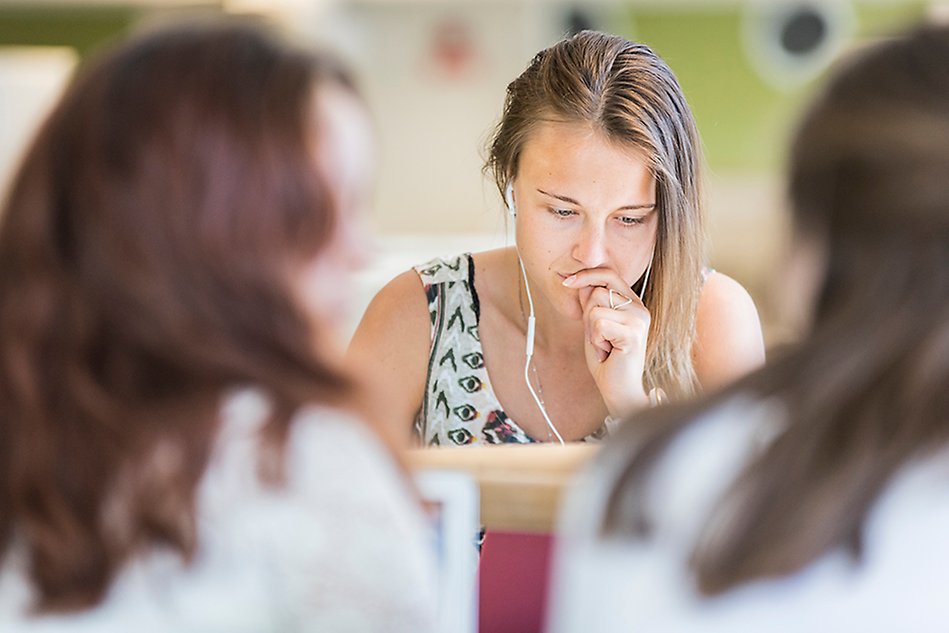 If two retakes are not enough
If you need more than two retakes, you will have the opportunity to take the exam the next time the course is run. This applies irrespective of whether or not you have attended all three exams scheduled on the course. If you are to retake your exam the next time the course is run, you must also be prepared for the eventuality that the course syllabus and course content have changed.
If there are special reasons to schedule an additional (fourth) exam under the same course, the examiner has the right to do so. If you have been failed twice in an examination for a course or course sub-component you have the right to have a new examiner appointed unless there are specific reasons otherwise (Chapter 6 paragraph 22, Higher Education Ordinance). That kind of request should be made to the Head of the School concerned.
Practice exams
You can find practice exams through on "My page" here on the student web. Which practice exams you have access to depends on what courses you are taking. 
Answers to the exam questions are not available
Answers to questions in practice exams will not be provided and are not included in the practice exams. The purpose of the practice exams is for you to find the answers yourself by understanding the course literature.
How to find practice exams
To find your practice exams, log in to "My page" via the menu above or via the starting page here on the student web. Under "Practice exams" on "My page" you can find all your available courses. Under each listed course code you can find the practice exams connected to that particular course.
Double written exams
If you want to write two written exams at the same time, written permission from the examiners is required.
You must print and submit your application for permission to write double exams to Servicecenter no later than two weeks prior to the exam date. Both concerned examiners must sign and approve your application.
Please note that no extra time will be allowed.
Application for writing double exams

Pdf, 28.3 kB, opens in new window.
Exams available for collection
You can collect your graded exams and other examination assignments at Service Center, three business days at the earliest after the teacher has registered your grade in Student Ladok. Remember to bring a valid ID, please note that your residence permit is not enough – you need to bring your passport.
The University archives exams for two years, but we are thankful if you pick up your exam when you have the possibility, so that it does not need to be stored at Service Center. You must bring a valid personal ID to be able to pick up your exam.
If you intend to request a review of the results, for example if you are very close to another grade, you should not retrieve the original physical copy of the examination assignment, as you will loose the possibility of reassessment of your grade. It is not allowed to change the stated answers or the examiner's assessment in the collected exam.
If you want to discuss the grading with your teacher, you can ask Service Center for a scanned copy of your exams sent to you via email, or take a photo of your exam in Service Center.
Exams older than three months have been removed from the list but can be retrieved from Service Center for up to two years after the exam date.
These exams are available for collection

| Date | Course code | Course | School | Teacher |
| --- | --- | --- | --- | --- |
| October 27 | DI2003 | Computer Systems Administration | ITE | Wagner Ourique de Morais |
| October 27 | DI8003 | Introduction to Digital Forensics | ITE | Mohamed Eldefrawy |
| October 26 | DI4025 | Biometric Recognition | ITE | Fernando Alonso-Fernandez |
| October 26 | BI4033 | Aquatic Ecosystems | FIH | Martin Lind |
| October 26 | BF8003 | Scientific Methods and Academic Writing | FIH | Heidi Norrström |
| October 25 | DT8043 | Networks for Embedded System | ITE | Mohamed Eldefrawy |
| October 24 | DT8025 | Real-time Embedded Systems | ITE | Mahdi Fazeli |
| October 24 | BF8001 | Energy Efficiency and Moisture Control in Buildings | FIH | Mohsen Soleimani Mohseni |
| October 23 | DT8051 | Python – a gateway to Machine Learning | ITE | Veronica Gaspes |
Exam in another location
Students might be able to take an exam in another city or a country outside of Sweden, if special conditions prevail.
If you're an international student and are required to retake an exam or assignment in order to complete your course you can apply to do so in another location. This is also applicable if you're required to spend a period abroad as part of your course (or you're on an approved student exchange), and the exam period falls during your time abroad.
Regulations regarding taking exams in another location
Your application must be submitted before the registration period for the exam ends.

You must register for the exam in Student Ladok within the exam registration period.
If a student is allowed to sit an exam in another city or country, it must be done at a university, college, consulate or embassy.
The exam must be be taken at the same date and time as the exam will be taken at Halmstad University.

Application for exam in another location
To be able to take an exam in another location you need a written decision from Halmstad University, which must be submitted within the allocated exam registration period.