At university level there are several types of examinations where you are asked to show that you have the knowledge needed to pass the course. Courses might include written examinations, take-home examinations, oral examinations, laboraty sessions or seminars. You can read more about which examination types will be used in a specific course in the course plan.
Exam registration
You must always register for every written exam in advance in Student Ladok. Without registration in advance you are not allowed to take the exam. Please contact Service Center during the registration period if you can't register in Student Ladok.
To be able to register for an exam in Student Ladok, you must be registered for the course. Please watch our instruction video on how to register (sign up) in Student Ladok below. Note that you cannot register afterwards.
Student Ladok

All registration periods for the spring semester 2019

| Registration period | Exam date |
| --- | --- |
| January 30–February 13 | For exams in week 8 |
| February 6–February 20 | For exams in week 9 |
| February 13–February 27 | For exams in week 10 |
| February 25–March 10 | For exams in week 12 |
| March 6–March 20 | For exams in week 13 |
| March 13–March 27 | For exams in week 14 |
| March 20–April 3 | For exams in week 15 |
| April 1–April 14 | For exams in week 17 |
| April 10–April 24 | For exams in week 18 |
| April 17–May 1 | For exams in week 19 |
| May 6–May 19 | For exams in week 22–23 |
| May 22–June 5 | For exams in week 24 |
| June 27–August 4 | For exams in week 33 |
Exam regulations
There are certain regulations you need to follow in connection to taking an exam. Please read below information carefully to ensure you are prepared prior to your exam.
Make sure you arrive with plenty of time to spare, at least 15 minutes before the exam starts. If you arrive later than 30 minutes after the exam has started you will not be let in.
Bring a valid general ID. The invigilators are obliged to check your ID.
It is not permitted to choose your seat yourself.
Notes, tablets, mobile phones and other technical devises are not allowed at your allotted desk.


You are always allowed to bring pens, erasers, and a straight rulers.
At certain exams you may bring other HJÄLPMEDEL, you are responsible for checking what aids are permitted in the exam room. If you are uncertain, ask your teacher.

You may not leave the room until 40 minutes after the exam has started at the earliest, even for visits to the bathroom.
You are allowed to bring food and beverages and eat during the exam.
Any conversation between the candidates is not permitted.
Disabled students can be provided with specific assistance during the examination. A plan for assistance requirements should be made by the disabled student together with the university disabled student officer.
Practice exams
You can find practice exams through our learning platform, Blackboard.
Which practice exams you have access to depends on what courses you are taking. To find your practice exams, log in to Blackboard, click on 'My studies' and look under 'Practice exams'. All your available courses appear listed in the right-hand column. Under each listed course code you can find the practice exams connected to that particular course.
Blackboard

Double written exams
If you want to write two written exams at the same time, written permission from the examiners is required.
You must submit your application for permission to write double exams to Servicecenter no later than two weeks prior to the exam date. Both concerned examiners must sign and approve your application.
Please note that no extra time will be allowed.
Application for writing double exams

Grades and results
Once your teacher has assessed your exam, whether this is a written exam or take-home assignment, you can view your grade in Student Ladok.
According to the rules, you should receive your results no later than three weeks (15 working days) after examination and two weeks before your retake, where applicable. All students have the right to a verbal or written run-through of the exam. Time for this is announced in connection with your results.
If you believe that the assessment of your exam is incorrect and you have clear grounds for this; i.e., you are able to show errors, you can request that the examiner review their decision. If you intend to request a review, you should not collect the original copy of your exam. You can request a copy of the assignment or exam from the Service Centre when you collect it. It is not permitted to change your responses or the examiner's assessment at a later date.
A grade which has an obvious inaccuracy due to a clerical error, miscalculation or similar must be corrected, regardless of whether this is to the advantage or disadvantage to you as a student, in accordance with the Administrative Procedure Act. This type of decision is made by the examiner.
Should your examiner find, however, that a grade is clearly inaccurate based on new circumstances or for any other reason, they shall amend the grade. This type of amendment may only be made if it is to your advantage; i.e., if the grade is raised.
Retake
If you are failed on an exam, you have the right to take the exam again at a later date. This is known as a retake. You may not retake an exam which you have already passed.
Courses have three exam dates in total – one regular exam and two retakes. Your first retake is at least two weeks after you have received the results from the first, regular exam. You will also need to register for retakes in Student Ladok.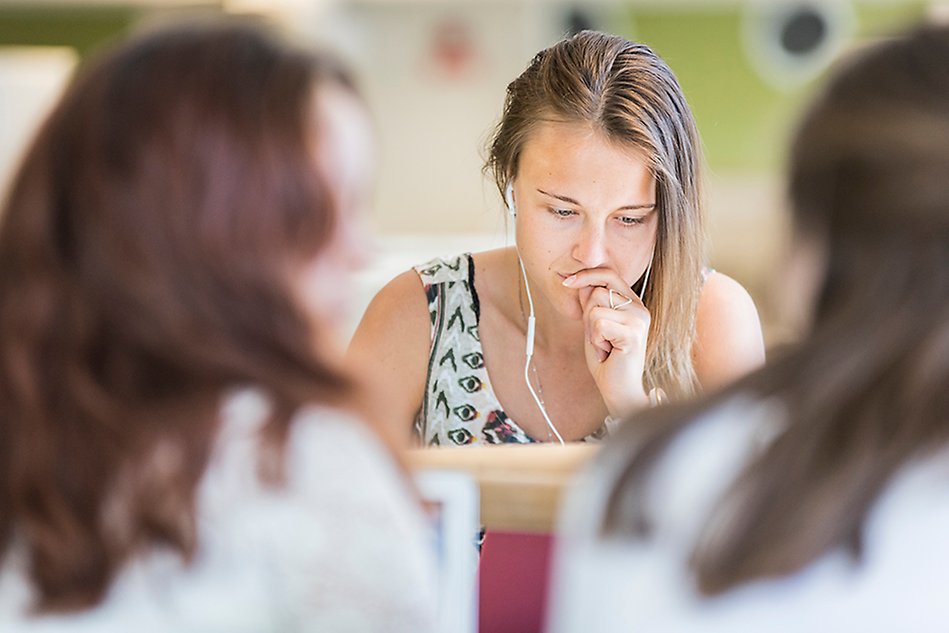 If two retakes are not enough
If you need more than two retakes, you will have the opportunity to take the exam the next time the course is run. This applies irrespective of whether or not you have attended all three exams scheduled on the course. If you are to retake your exam the next time the course is run, you must also be prepared for the eventuality that the course syllabus and course content have changed.
If there are special reasons to schedule an additional (fourth) exam under the same course, the examiner has the right to do so. If you have been failed twice in an examination for a course or course sub-component you have the right to have a new examiner appointed unless there are specific reasons otherwise (Chapter 6 paragraph 22, Higher Education Ordinance). That kind of request should be made to the Head of the School concerned.
Collect your exam
You can pick up a corrected exam or assignment from Service Center earliest two days after the result can be found in Student Ladok. You must bring a valid ID to be able to collect the exam.
If you have done an exam anonymously, it might take more than two days before you can pick it up from Service Center.
If you intend to request a review of the results, for example if you are very close to another grade, you should not retrieve your original examination assignment. Instead you can ask the staff at Service Center for a copy of the exam. It is not allowed to change the stated answers or the examiner's assessment in the collected exam.
Exam abroad
Students might be able to take an exam in a country outside of Sweden, if special conditions prevail.
In the following special circumstances, you may be eligible to sit your exams in another country:
If you're an international student and have completed your course, but are required to complete a deferral or referral exam in order to graduate.
If you're required to spend a period abroad as part of your course (or you're on an approved student exchange), and the exam period falls during your time abroad.

If a student is allowed to sit an exam in another country, it must be done at a university, college, consulate, embassy or other authority.
Application for examination abroad

A prerequisite for this to be granted is that the exam can be taken on the same date and as close in time as to when the exam takes place in Halmstad. The application must be handed in within the registration dates for the exam.
For more information, please contact Service Center.
DO you have any questions?