Student associations and engagement
Involvement is a big part of life as a student. Getting involved in social activitites does not only lead to new friendships but is also a valuable addition to your resume, as you are building your future career. Halmstad University is characterized by an entrepreneurial spirit which is reflected in the amount of students associations and groups available for students to join.
Student Associations
Want to sing in a choir, play floorball or develop new innovations? Below we have listed a few of the student associations suitable for international students. If you cannot find a group within your field of interest, contact the Student Union and start a new one!
Fab Lab Student
Hang out with other creative minds in this prototype workshop where you can turn your wild ideas into reality. With access to innovative equipment such as 3D printers and laser cutters, you can create anything from study related prototypes to birthday gifts for friends and family.
Learn more about Fab Lab

External link.
FUCA Prime
FUCA Prime is here to make student life from around the globe fun, rewarding, and unforgettable. We organise events and parties where you can meet new friends, have a great time, and learn new skills. We also offer guidance and support for newcomers who want to know more about student life and the city's offerings. Thanks to our strong partnerships with the University, the Student Union, and other associations, we can help with almost anything.
The awesome memories do not stop after graduation. By being part of the international postgraduate network, valuable connections are made, lasting for a lifetime.
FUCA Prime's webpage

External link.
HSIF
Sports is a great way to connect with new people! HSIF organises events to promote physical activities among the students, with the aim to connect students from various programmes and schools. HSIF also arranges the yearly soccer tournament, Student League.
HUST (Halmstad University Solar Team)
Are you interested in technology and up for a challenge? HUST is a student association working on developing a solar car for the annual World Solar Challenge in Australia.
HUST's webpage

External link.
Köörmit
Singing is universal and the student choir attracts many international students every year. This association is highly connected to various events organised by the University, such as graduation ceremonies, traditional holiday celebrations etc. The choir organises two concerts per year, open to the public.
Köörmit on Facebook

External link.
The climate students in Halmstad
The climate students in Halmstad are here for you students who have accepted that we are in the middle of a climate crisis, and want to contribute to sustainability work in a time of climate change. Our ambitions are to investigate Halmstad University's environment and climate work, to locate areas for improvement. As well as make small climate and environmental actions to be seen and take our work forward. Welcome all of you who want to get involved or just support us in the work!
Climate students on Facebook

External link.
The Student Union
There are several ways for you to influence your studies during your time at Halmstad University. Getting involved in the Student Union is one way to make a difference.
The Student Union is divided into two main areas. One focuses on education and motivation and the other on study-social activities. The Student Union's main task is to ensure that education at Halmstad University is of high quality, that laws and regulations are followed and that students gain influence over their education. The union is also active in student politics, where the goal is to make the student experience at Halmstad University as good as possible.
The Student Union's website

External link, opens in new window.
University Friendship Organisation (UFO)
UFO is an organisation under the Student Union with the aim to organise events and activities for international students. UFO is also in charge of the buddy programme where students can sign up to be matched with a student with a different nationality to exchange cultural knowledge and language skills.
UFO on Facebook

External link.
UFO Buddy program

External link.
Student representative

As a student representative you get the chance to make your voice heard in decision-making processes. Contact the Student Union to sign up.
Membership
Membership in the Student Union is optional. As a member, you will get discounts in local shops and cafes, take part in the Fresher's Week and other events at the student pub.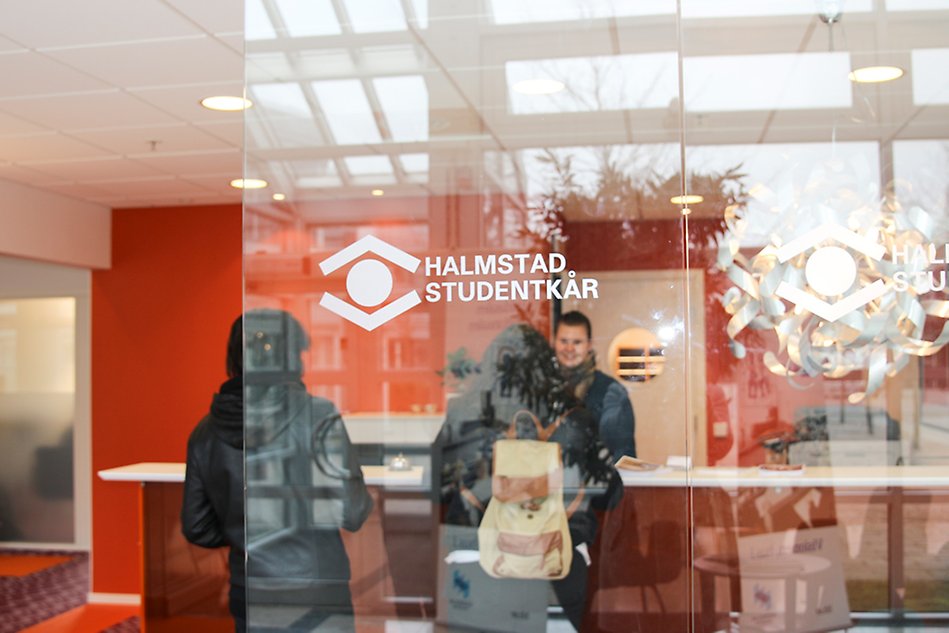 Other student engagements
Are you interseted in other student engagements? Do you want to be a mentor or maybe have an idea for a company? Here are some opportunities for you.
High5 student
Do you have a business idea and a dream of starting your own company? The staff at High5 Student Incubator can help you to get started and introduce you to both business models and a relevant network. Everyone is welcome!
High5 on Facebook

External link.
Mentor to a student with a disability
Are you interested in supporting a fellow student? Being a mentor for a student with a disability is an important assignment where you can help with planning, prioritising and support and create study motivation.
Morgan Ljungkvist (programme associations and student associations)