Self-driving cars for a safer future
Self-driving cars have great potential in preventing rear-end collisions. PhD student Galina Sidorenko's research shows the benefits of using wireless communication, also known as vehicle-to-vehicle (V2V), for safety in traffic. This brings us closer to a future with safe self-driving cars.
"I think all my results confirmed what researchers and engineers knew before – that V2V communication has a great potential in preventing rear-end collisions."
Galina Sidorenko, PhD student
Galina Sidorenko believes that we are one step forward towards the final goal – the operation of fully autonomous vehicles on public roads. But there are many safety issues that delay the entry of driverless cars from roaming on the cities' streets today. One of the key technologies of safety enhancement in traffic is wireless communication. Galina is a part of the research project SafeSmart, and the focus in her research is on what conditions guarantee safety in emergency braking scenarios for platoon-like formations of vehicles.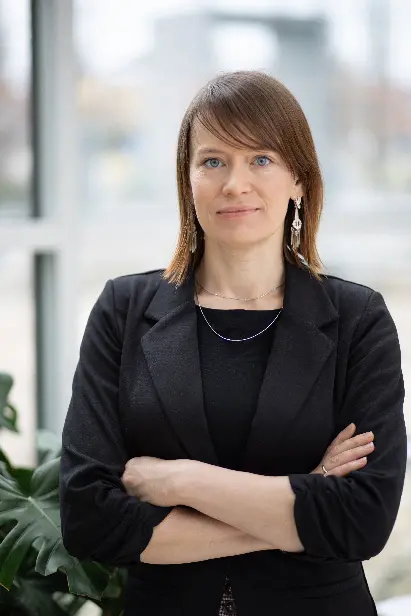 "A platoon comprises a string of vehicles driving closely behind each other. The first vehicle at the head of the platoon acts as the leader and the vehicles behind mimic movements of the leader due to the use of automated driving systems and vehicle-to-vehicle (V2V) communication. Short distances between vehicles allow for better road utilization and decreased fuel consumption, however, with the increased risk of rear-end collisions", Galina Sidorenko explains.

Wireless solutions for increased safety
Galina Sidorenko has researched the minimum distances between vehicles in a platoon to guarantee a predefined high level of safety. Here, V2V is the main tool that can significantly help prevent rear-end collisions, since it allows receiving critical information substantially faster than driver reaction time or response time of onboard sensors, such as radars. The current paradigm of the self-driving car manufacturers on enabling fully autonomous vehicles is mainly based on line-of-sight sensors. So, the current standard to make fully autonomous vehicles is based on onboard sensors.
"Onboard sensors only work in their line-of-sight. Thus, automated systems based on their measurements cannot perceive the impendent collision if the reason for braking is hidden by adjacent vehicles", says Galina Sidorenko.
About Galina Sidorenko
Where are you born?
I was born in Russia, in central part, 600 km from Moscow.


What is your educational background?
I received M.Sc. degree in Theoretical Mechanics from the Moscow State University, Moscow, Russia. Before I came to Sweden, we lived about four years in New Zealand, Dunedin. There I had an opportunity to work as a researcher at Otago University. Having all this experience, I see that Sweden has a lot to offer for researchers, including collaboration opportunities with the industry. That is what I did not notice in other countries (where I lived).


When did you come to Halmstad University?
In September 2019.


How come you chose Halmstad University for your doctoral education?
Halmstad is a small and innovative university that has good connections to the industry. SafeSmart project, which I am part of, unites academic society with an industry. My part of the project implies collaboration with Scania, the well-known manufacturer of trucks and other commercial vehicles.


When and how did your interested in information technology start?
I believe that the basis for information technology is mathematics. My passion for mathematics started at school and lead me to Mechanics and Mathematics Department at Moscow University. There, I noticed that my education was a bit too theoretical and, in some parts, far from real-world problems that are needed to be solved. That is why I gradually turned to those areas that have a clear connection with the needs of society and industry.

Shorter safety distance
Another question Galina Sidorenko addressed in her research is how much closer you can drive to the preceding car if vehicles wirelessly communicate with each other. When comparing the V2V-based solution with a classical automatic emergency braking system (AEBS) based on onboard sensors measurements, she found that AEBS requires longer distances between vehicles than the wireless-based solution. For high velocities, it is true even with relatively poor communication quality.
"My research presents computationally efficient methods and algorithms for calculating the minimum inter-vehicle distances that allow avoiding rear-end collisions in a string of vehicles with a high predefined guarantee. Furthermore, these safe distances are explicitly dependent on the quality of wireless communication links", says Galina Sidorenko.
Collaboration for new solutions
Galina Sidorenko has collaborated with numerous research colleagues, both from Halmstad University and Hamburg University of Technology. Her main collaborator from the industrial side, Katrin Sjöberg, a standardization expert in wireless communication who has formerly worked at Scania, was a great asset in her thesis work.
"She gave me a great insight into what problems are interesting to the industry. I think all my results confirmed what researchers and engineers knew before – that V2V communication has a great potential in preventing rear-end collisions", Galina Sidorenko says and continues:
"My study quantified those potentials and expressed them in analytical form. I am proud of what I achieved and the publications I published with my colleagues", Galina Sidorenko concludes.

Text: Hanna Liljegren
Top illustration: iStock
Photo: Hanna Liljegren
About the licentiate seminar
The seminar will take place on March 3 at 10.15.

More information and link to Zoom.

External link.
Thesis title: Safety of Cooperative Automated Driving: Analysis and Optimization

External link.
Opponent: Elisabeth Uhlemann, Professor, Mälardalen University, Västerås, Sweden.
Supervisors: Alexey Vinel, Professor och Johan Thunberg, Assistant Professor
The research is conducted within the SafeSmart-project.