School of Information Technology
The School of Information Technology is a strong research and education environment, with focus on smart technology and its applications. Students and researchers are working with everything from autonomous vehicles to social robotics with collaboration between humans and robots.
About ITE
The School of Information Technology offer education on all levels, from undergraduate to PhD education. The research is conducted within our research environment Embedded and Intelligent Systems (EIS). We are a multicultural school with employees from over 20 different countries.
We prepare future innovators!
The School for Information Technology is organised into two departments and four technology areas, with responsibility for research and education within its area: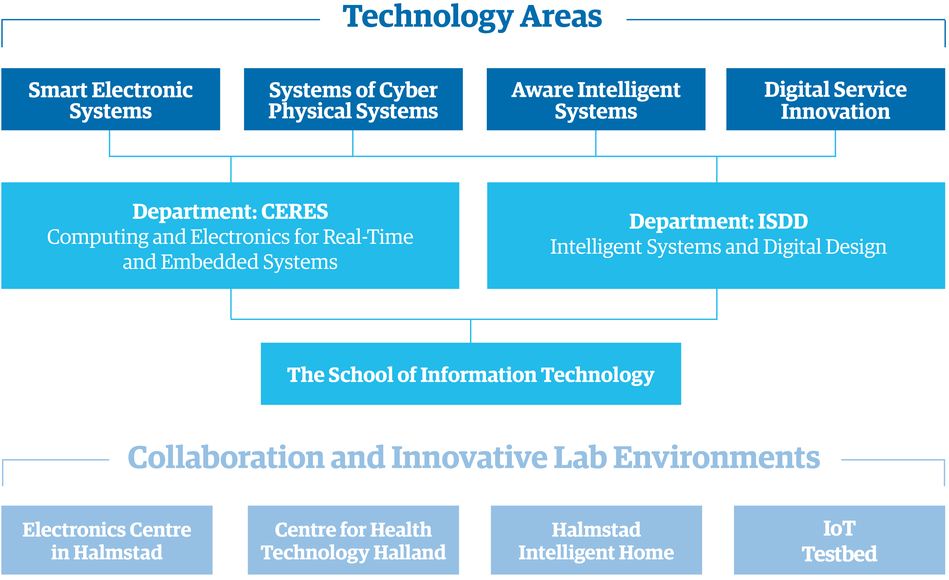 Research
The research at the School is conducted within the research environment Embedded and Intelligent Systems (EIS).
Head of Research: Slawomir Nowaczyk
Education
Programmes at undergraduate level (given in Swedish):
Programme at undergratuate level (given in English):
Programmes at master level (given in English):
Doctoral education:
Head of Education: Jörgen Carlsson
Professional development
Professional education within Information Technology
The School of Information Technology provides professional education within the area of Information Technology, for exampel Artificial Intelligence and Service Design. This is a chance for companies and organisations to increase the employees' competence in order to maintain their competitiveness.
Education in Information Technology for professionals
CISCO Networking Academy
Halmstad University is a so-called Cisco Academy and provides instructor training and instructor support in cyber security within the framework of the Cisco Networking Academy.
Organisation
Management and administration
Technology Area Leaders
Advisory board
Chair:

Representatives of the teaching staff:

Stefan Axelsson

Josef Bigun

Olga Torstensson

Susanne Lindberg

Jesper Lund

Per-Sverre Svendsen

Representatives of the students:

Pablo del Moral
Karl-Johan Djervbrant
Secretary:

Contact Jessika Andersson for questions regarding documents and protocols.
Facilities
The management, administration and teachers/researchers have offices in E and F Buildings in the campus area. The students' lab rooms, project rooms and lecture halls are buildings A, D and F. Centre for Health Technology Halland has its premises on the ground floor in A Building and Electronics Centre in Halmstad is in Z Building.
Campus map

Department CERES
Department ISDD