Our students keep making us proud by bringing innovations to life! Get inspired by projects created by our students.
Halmstad University Solar Team
What do you dream about doing in the future? Do you want to create a more sustainable world, meet new friends and make memories that will last you a life time? That is precisely what a group of engineering students at Halmstad University are doing right now!
Halmstad University Solar Team (HUST) consists of about thirty students working together to build a solar powered car. They are going to compete in the Bridgestone World Solar Challenge 2019, the world's largest race for solar cars. In the race, they will drive more than 1,800 miles across the Australian desert, from Darwin in the north to Adeleide in the south. Linn Persson is one of the drivers:
"There are four drivers, and I am the only woman. The car industry, as well as engineering in general, is male dominated. Because of that, we think that it's extra important that at least one of our drivers is female. We want to show that engineership is for anyone, no matter gender", says Linn Persson.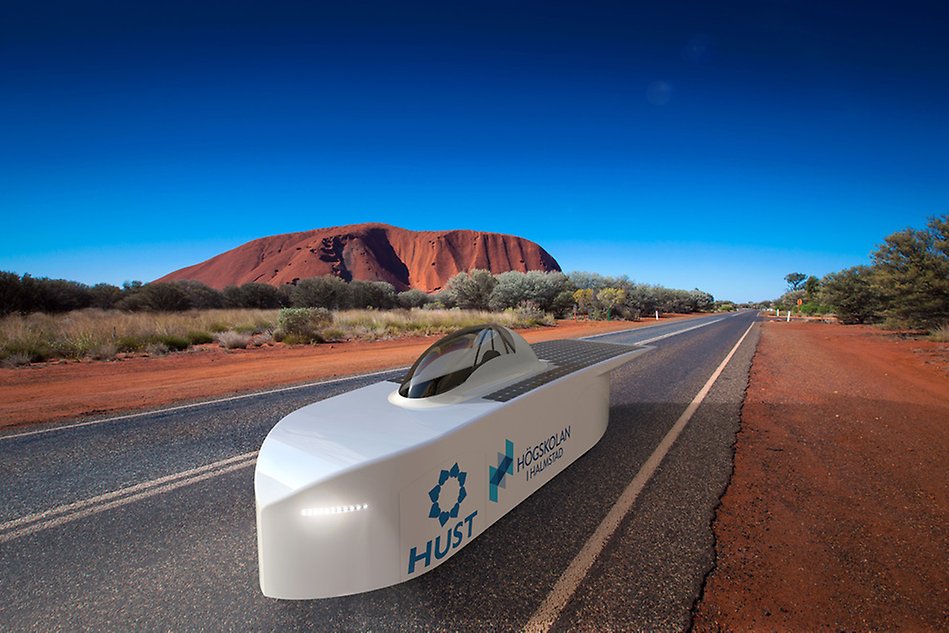 Aiming to change the world
The members of HUST, who are all students at the Programme in Innovation Engineering at Halmstad University, have their goals set high.
"We want to win the race, and our chances to do so are good, but we don't settle for that. Our goal is to change the automotive industry, and through that contribute to a more sustainable future", says Adam Jisland, project leader for HUST, and continues:
"In order to reach our long-term goals, we believe that HUST needs to live on, even after this year's race. We strive towards making a lasting impression, and we hope that future students will feel motivated to keep developing new versions of the car. The race in Australia is held every two years, but there are also races in the USA, South Africa and Chile, so if you want to, it's possible to compete at least once a year. I dream about bringing my future grandchildren to the University and showing them all the HUST cars."
"We want to win the race, and our chances to do so are good, but we don't settle for that. Our goals is to change the motor industry, and by that to contribute to a mor sustainable future."
Adam Jisland
A large-scale project
The students put in a lot of hours, and they are very invested in the project.
"To be a part of HUST is very rewarding, both in the long and short term. We compare HUST to an extra education, because we learn so much from it. It's also a big advantage that we are still students. The academic world is quite forgiving. We are allowed to try out ideas, and if we fail, we just try again. It's a good platform for development", says Adam Jisland.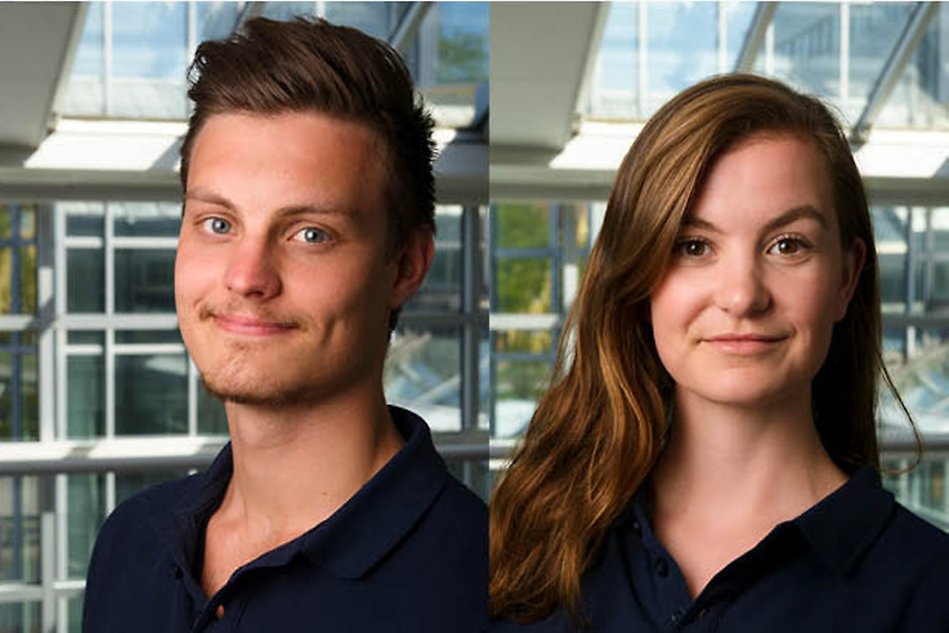 Linn Persson agrees:
"HUST is our pet project. We live and breathe HUST. The project members have all become close friends, and we hang out almost constantly. We have been allowed to take a lot of responsibility for the project, and it has been a very interesting and awarding process. We are creating something that we believe in, and that will result in good things, both for us and for society. We are working with innovation and sustainability, and we apply all our university courses in this project. It's leadership. It's solidity. It's mechanics. It's everything. It's very good to be allowed to test our wings in a safe environment", she adds.
"HUST is our pet project. We live and breath HUST."
Linn Persson
Bridgestone World Solar Challenge
The Bridgestone World Solar Challenge is the world's biggest solar-powered car race. It started in 1987 and takes place every other year. In the competition, teams of students from universities all over the world are driving 3,022 kilometers from the north to the south of Australia – from Darwin to Adelaide.
Follow Halmstad University Solar Team:
HUST on Facebook

HUST on Instagram

Read more

Utvecklingsingenjörsprogrammet (in Swedish only)

The Grand Cooperative Driving Challenge (GCDC)
At the end of May 2016, six students from Halmstad University competed in The Grand Cooperative Driving Challenge and won. The students turned an ordinary car into one which is partly self-driving. It also has the ability to talk to and interact with other vehicles in traffic.
GCDC (The Grand Cooperative Driving Challenge) 2016 was settled May 28–29 on the dual carriageway between Helmond and Eindhoven in the Netherlands. In all, ten teams participated, five of them from Sweden.
GCDC is a part of the i-Game-project, a research project about cooperative and autonomous cars, supported by the EU-commission. Behind i-Game stands the Dutch research organisation TNO, Eindhoven University of Technology, the Spanish test environment IDIADA and the research institute Viktoria Swedish ICT.
The members of Team Halmstad studied the Master's Programme in Embedded and Intelligent Systems. For most of them, the competition was a part of their thesis.
Team leaders for Team Halmstad was Wojciech Mostowski and Maytheewat Aramrattana.
September 2017, a year after the victory

The GCDC project was concluded with three IEEE publications:

"Team Halmstad Approach to Cooperative Driving in the Grand Cooperative Driving Challenge 2016"
"Modelling the Level of Trust in a Cooperative Automated Vehicle Control System"
"An Approach for Receiver-Side Awareness Control in Vehicular Ad-Hoc Networks"
IEEE står för Institute of Electrical and Electronics Engineers, www.ieee.org

Five questions for alumnus Christoph Dyckmans
Christoph Dyckman, alumnus from the Master's programme in Industrial Management and Innovation, now works as a Technology Innovation Manager at Adidas.
Why did you choose to study at Halmstad University? Why did you choose your programme?
I was a big fan of having the opportunity to participate in a one year Master's Programme. The programme offered a great fit in terms of content, location in Sweden, and benefits.
What is your current occupation?
I work as a Technology Innovation Manager at Adidas AGin Herzogenaurach, Germany.
What was the best thing about studying at Halmstad University?
The programme challenged me in terms of scientific work since my Bachelor was rather application orientated. Coming from Germany, I was surprised that the teaching staff always treated the students with highest respect, focusing on individual improvement.
What was the most important/interesting thing you learned during your time at the University?
Self-reflection and team work.
What tip would you like to give to new students at your programme?
Be open and try to experience Sweden as much as possible, also outside the university campus.
Facts
Name: Christoph Dyckmans
From: Stuttgart, Germany
Lives today: Nürnberg, Germany
Current occupation: Technology Innovation Manager
Students in international drone competition
In May 2018, six students from three dfferent engineering programmes at Halmstad University participated in an international drone competition. The drone was a result of their bachelor thesis project. The team from Halmstad came in second place in the competition and recieved a special award for best drone design.
The students Patrick Karlsson, Emil Johansson, Marcus Rodén, Jakob Carlsén, Anders Bogga and Emil Andersson designed an advanced autonomous drone that automatically could pick up another drone. The competition started a couple of months before the final and included several qualification rounds. The students from Halmstad were the only team outside of the United States to qualify for the final in May, 2018 in Arizona. The goal of the final competition was to search an area and identify another drone, pick it up and fly it to a drop-off point. The project was done as the students' final bachelor thesis project.
During the final in Arizona, the team from Halmstad competed against three American universities: Embry-Riddle Aeronautical University – who won the competition – as well as Vanderbilt University and the University of Pennsylvania.
During the competition, the Halmstad students received an award for the best drone design with the motivation: "Halmstad University came very close to finishing the mission autonomously, and given the complexity and sophistication of their UAV design, the near miss was a commendable achievement!"
"We had some challenging but very fun days in Arizona. It was great to meet students from other universities and see how they had designed their drones"
Marcus Rodén, electrical engineer and one of the students from the Halmstad University team
Three different engineering programmes
The drone project was part of the students' bachelor thesis projects. The six students graduated in the summer of 2018 from three different engineering programmes at Halmstad University. Patrick Karlsson and Emil Johansson are computer engineers, Marcus Rodén and Jakob Carlsén electrical engineers and Anders Bogga and Emil Andersson mechatronical engineers. The students' three different areas of expertise have all been required to create the drone. The computer engineers were responsible for the drone's ability to search, find and land through image analysis. The mechatronical students have been in charge of the design and construction of the drone and its gripping claw, and the sensor and navigation system was developed by the two electrical engineers.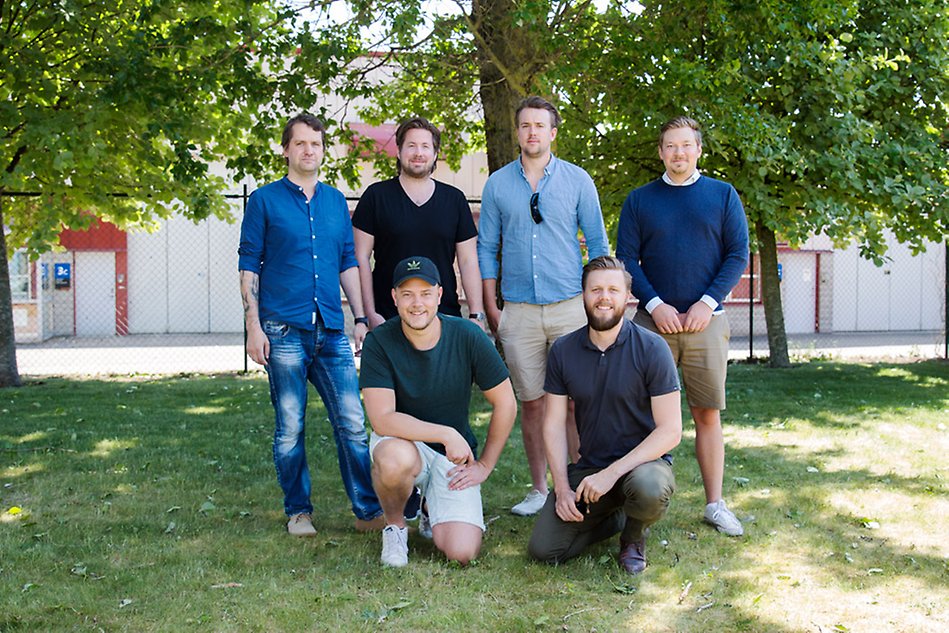 More information
Engineering Bachelor programmes (in Swedish):
Master's programmes (in English):
Five questions to student Adam Brass
Adam Brass, student in the Master's programme in Network Forensics, gives us a little insight in his everyday life as a student and his goals and ambitions.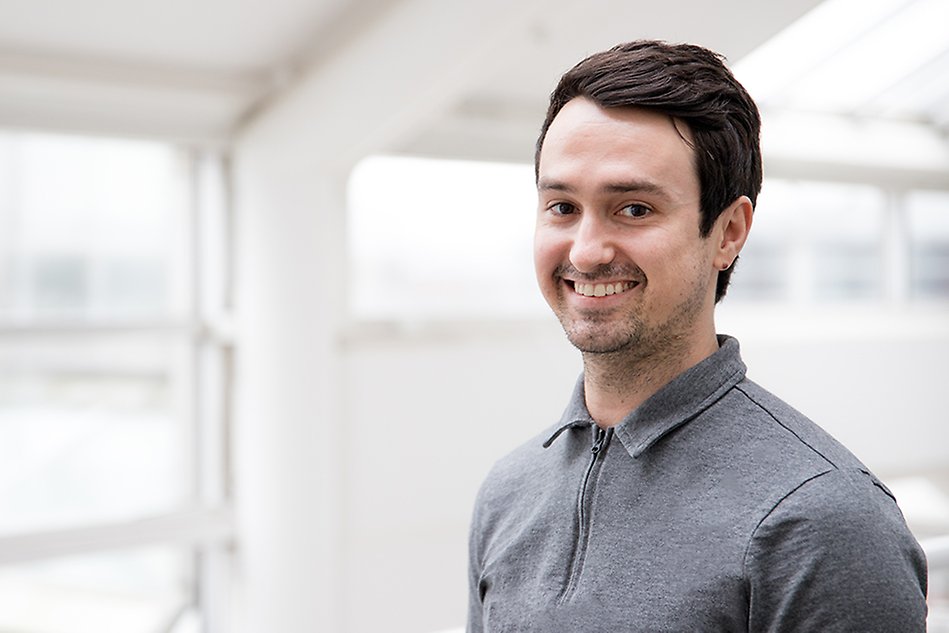 Why did you choose to study this programme?
I chose this programme as an addition to the skills learned in the Network Design programme (previous studies at Halmstad University) as I wanted to challenge myself which I've succeeded at doing so given the opportunities of my coursework.
What do you think about your education?
I think my education here at Halmstad University has been brilliant and challenging at times. I believe education is sometimes seen as a one way transaction, but if the individual embraces the responsibility to take their learning further then your opportunities increase. This is what Halmstad University has afforded me to do whether it be networking, working within the ITE department, competitions, and projects from lecturers. For example, our programme had the chance this past week to take part in an automotive car hacking seminar where we learned how attacks against a car may happen.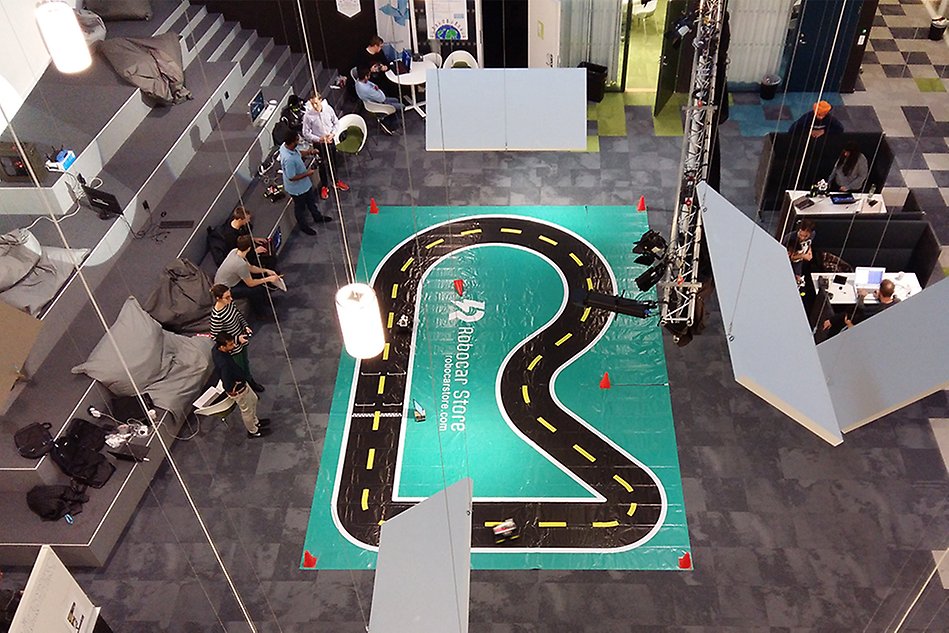 What do you like the most about studying at Halmstad University?
Studying at Halmstad University offers the ability to have a small class size which allows for better communication and a community feel for the learning experience with students from all over the world.
"...be open to new experiences which may not be commonplace for your background and be prepared to stay dynamic in that your plans may change for the better"
Do you have any advice for students who intend to study at Halmstad University?
My advice to prospective students at Halmstad University is to come with a plan of action for your studies, but to also be open to new experiences which may not be commonplace for your background and be prepared to stay dynamic in that your plans may change for the better.
What do you do in ten years from now?
In ten years from now, I'll be a cybersecurity expert with the ability to give back to my community and domain through a sense of experience, confidence in my knowledge, and industry practice to be able to offer myself as a leader and consultant. I aim to grow exponentially in regards to my career aspirations as I have here at Halmstad University as in the field of cyber security and digital forensics learning is an ongoing, cyclical process. 
Facts
Name: Adam Lane Brass (though I mostly go by Adam Brass)
From: Houston, Texas, USA
Interest and hobbies: Reading, exercising, self-studies in cybersecurity and anything security related, learning about new cultures, and traveling.
Students and companies in collaboration for internationalization
On the December 17 and 18, the top floor of Trade Center was filled with nervous and expectant students. It was time for present the results in the course International Growth and Business Development. In addition to students from countries all around the world – representatives from the companies 365id and Micropol were also present.
"We have had to solve real problems. We will benefit greatly from in our future professional lives from the learnings from this course."
Dang Hông Thái
The course, led by Hélène Laurell, senior lecturer in marketing, defines and problematizes different types of business growth, and students get a scientific overview of growth processes and business models. The teaching consists of lectures, seminars and workshops, but also of a project carried out in close collaboration with industry.
"In the task presented today, the students have collaborated with two different companies – 365id and Micropol – developing proposals for how the companies can work with internationalization", says Hélène Laurell.
Satisfied students and companies
The students, some of whom attend the Study Programme in Business and Economics and others the University's Master's Programme in Strategic Entrepreneurship for International Growth, have worked hard but are very satisfied with the course. The international student Desislava Tsvetkova, who comes from Bulgaria, has benefited a lot from the project work:
"It has been very rewarding to work on a case together with a real company, instead of just having your nose in the books. It is more motivating, and the result is better when you have a chance to interact with the client."
The company representatives are also satisfied with the course and with the students' performance.
"Collaboration with the University is important to us. This is the second year we participate in this course. It is a way to build our company's brand and to be visible to potential future employees. We have hired from this course before. We also hope that some of the projects can help us reach new markets. This year we have seen projects that we would like to continue working with", says Anders Green, Sales and Marketing Manager at 365id.
"Our expectations have really been met. We have gained new insights, but also confirmed things that we ourselves have thought about."
Magnus Sickeldal, Account Manager Telecom and Broadcast at Micropol
New angles important pieces of the puzzle
The other participating company – Micropol – has a well-established collaboration with the University. In addition, the request for participation came at just the right time.
"We have been talking about internationalisation for a long time, but we hesitated and had a hard time making a decision. Therefore, this came at a very opportune time. It is both fun and useful to see the issue from a new angle", says Peter Ljungkvist, CEO of Micropol. Colleague Magnus Sickeldal, Account Manager for Telecom and Broadcast fills in:
"Our expectations have really been met. We have gained new insights, but also confirmed things that we ourselves have thought about."
"This has been an important piece of the puzzle", adds Peter Ljungkvist.
Knowledge for life
The project has given the students the opportunity to apply their theoretical knowledge in practice, which has been both useful and instructive. At the final presentation, they also got to see the results of their fellow students, something that – according to student Dang Hông Thái – offered new perspectives.
"We have had to solve real problems. We will benefit greatly from in our future professional lives from the learnings from this course. We have not only learned a lot from our own projects. The other groups' presentations have been very rewarding. By listening to the others, our understanding of the issues has expanded even more", he concludes.