Human Resources Strategy for Researchers (HRS4R)
Halmstad University received the award HR Excellence in Research by the European Commission in June 2020. For the time being Halmstad University is one of 14 higher education institutes in Sweden that have the award.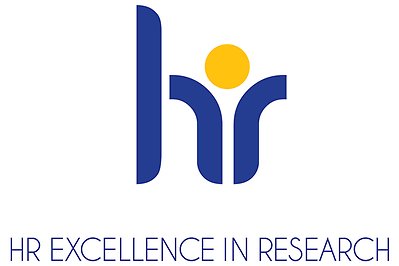 The award HR Excellence in Research is given to employers who have a stimulating work environment, good conditions for researchers, merit based and open recruitment processes – and continuously work to develop these areas.
Recipients of the award commit to implement their action plan and continue to improve in order to provide a stimulating working environment and attractive career development opportunities.
Progress is ensured through recurring internal and external reviews.
About Human Resources Strategy for Researchers (HRS4R)
The purpose of "European Charter for Researchers" and the "Code of Conduct for the Recruitment of Researchers" (Charter & Code) is to create better conditions for researchers within Europe.
The HRS4R is the tool/process for implementation and realisation of the Charter and Code.
The "Human Resources Excellence in Research award" is an indicator of a good work following process of HRS4R.
Background – Charter & Code
In 2005, the European Commission issued the recommendation "European Charter for Researchers" and "The Code of Conduct for recruitment of Researchers". The Charter & Code is aimed at researchers at all different stages of their careers – from doctoral students to professors – and covers all research areas.
The Charter & Code consists of 40 principles that determine roles, responsibilities and rights of researchers and employers. The principles are divided into four areas:
Ethical and professional aspects
Recruitment and selection
Working conditions and social security
Training and development
The overall purpose is to make research careers in Europe more attractive. It is about creating an open and sustainable European labour market for researchers, encouraging increased mobility, increasing female researchers' participation and encouraging more young people to choose a research career.
HRS4R at Halmstad University
In 2020 Halmstad University received the right to use the "HR Excellence in Research" award. This award shows that Halmstad University meets the quality goals in terms of researchers. However this also means that the University has undertaken to carry out development work based on the gaps in relation to the principles in Charter & Code that was identified during the initial self-assessment. Areas where such gaps were identified are: career development; access to career advice, judging merit and gender balance.

Examples of what the University has focused on
During the implementation phase the University has focused on (among other things):
Gender mainstreaming in the recruitment process
Language training for internationally employed researchers
Information and routines for receiving international employees
Visualisation of competence development opportunities
Timeline at Halmstad University
2022 and onwards: continued development, evaluation of the European Commission every three years
July 2022: interim assessment
2020–2022: implementation phase
2020: Halmstad University was granted the HR Excellence in Research Award
2019: Application was submitted
2017: Letter of endorsement

The HRS4R process is described in the figure below.