Professor's portrait: On important social issues such as online marketing and e-health services
Helena Sandberg is the researcher that is frequently involved in very contemporary projects, such as online marketing, ehealth services, and digitalisation. In the qualitative ethnographic study "Små barns digitala vardagsliv" [Young children's digital daily lives], DIGIKIDS Sweden, she studies the digital habits of young children.
"We know that children under three years of age learn and use digital technology, but we do not know how. In this project, we will be conducting research in the home of 20 families."
Helena Sandberg, Professor of Media and Communications
Along with her colleagues, she wants to highlight both challenges and opportunities provided by digitalisation. They hope to provide new knowledge for decision-makers and educators working with children's digital competence, and also method development on how to study children aged three and younger.
Weighty analyses
As a researcher, Helena Sandberg has often combined media and communications with her interest in health. Lately, this has often involved the effects of digitalisation on communication, for example in e-health services. She was one of the editors of the anthology "På tal om e-hälsa" [Speaking of e-health] (2019) and she has recently studied communication regarding HIV prevention, food, and news reporting on swine flu.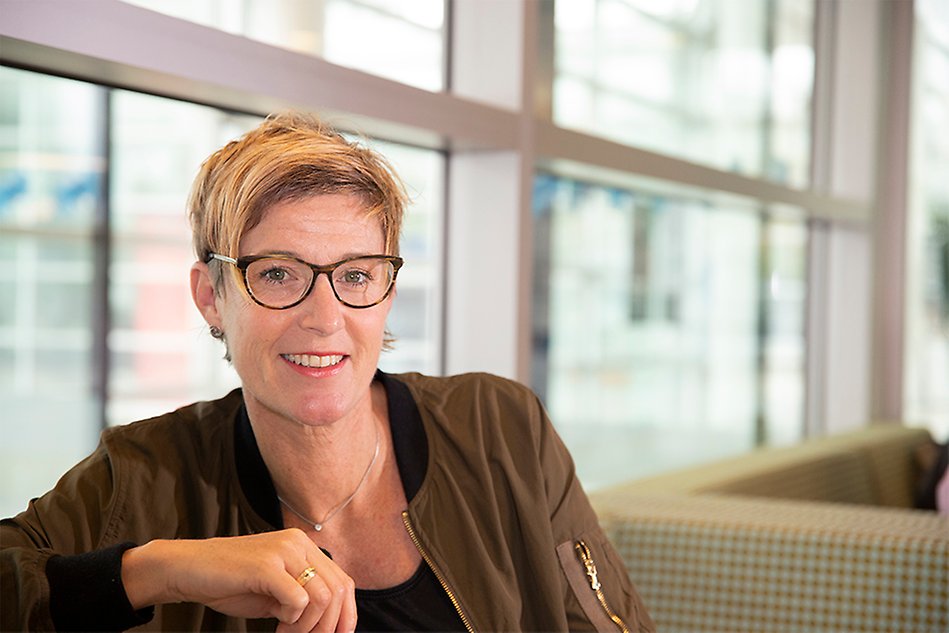 Helena Sandberg's doctoral thesis "Medier och fetma – en analys av vikt" [Media and obesity – a weight analysis] received significant media attention. The study involved a review of around 2,000 articles in four Swedish daily newspapers to see how they conveyed knowledge about obesity.
"One conclusion was that the newspapers did in no way reflect obesity as one of the biggest health issues of our day. The reporting also had a clear gender perspective. Media portrayed men as losing weight for their own sake, while women would lose weight for men's sake."
Advertising aimed at children
DIGIKIDS is not Helena Sandberg's first research project focusing on children. She has previously studied advertising of unhealthy foods aimed at children and young people via TV, comic books, and websites.
"We also started to study their eye movements, referred to as eye tracking, while watching websites. This meant introducing more psychology and cognition aspects into the media research."
She has written reports, been published in international journals, and has been invited to the World Health Organisation and other organisations and authorities.
Around the year 2010 there was a paradigm shift when the internet overtook TV as the primary media channel for children and young people. Helena Sandberg has visited schools and conducted experiments to determine how advertising affects children's reading comprehension and information searches online.
"Children and young people find it harder than adults to control their eye movements and not look at advertisements. They felt that the ads were disturbing them, preventing them from doing what they set out to do. In interviews, children said that they were trying to develop various strategies to avoid the ads, such as blocking off sections of the screen."
In Sweden we used to think that children were in some way protected against advertisement. That is no longer the case.
"Marketing people have long since realised that it is the brand-hungry 'tweens', i.e. children between the ages of 8 and 12, who present the best opportunity to reach parents and families."
Happy with her work
The chance to combine media and communications with health issues was what made Helena Sandberg interested in Halmstad University. She has helped design the new programme Media and Communications – specialising in Health, and is now responsible for the University's interdisciplinary third-cycle health and lifestyle course.
Text: Anna Vörös
Translation: Semantix
Photo: Dan Bergmark
About Helena Sandberg
Helena Sandberg was born in 1969 in Hässleholm. In 2004 she defended her thesis "Medier och fetma – en analys av vikt" at Lund University. Between 2008 and 2017, Helena Sandberg was programme coordinator for a career development programme for postdocs at Lund University. In 2009 she was an international guest researcher at the Bloomberg School of Public Health at Johns Hopkins University in Baltimore, USA. In 2011 she became an Associate Professor. Between 2012 and 2017, she was a member of the Young Academy of Sweden, and today she is a member of, among other bodies, the Swedish Consumer Agency's scientific board and the Danish Tietgen Award committee. She is also a member of the board of directors and vice-chair of the research delegation at the Foundation for Baltic and East European Studies. In 2019 she was appointed Professor of Media and Communications at Halmstad University.