Company fair for ITE students
A large number of companies and students gathered at the University on November 18 for the annual company fair in information technology. The fair is a meeting place for companies and students to connect with each other and discuss possible internships, thesis work and future employment.
"The interest from the students was great and the companies were very impressed by the students' commitment and knowledge", says Nicolina Månsson, responsible for the programmes Computer Engineering, Electrical Engineering and Mechatronical Engineering.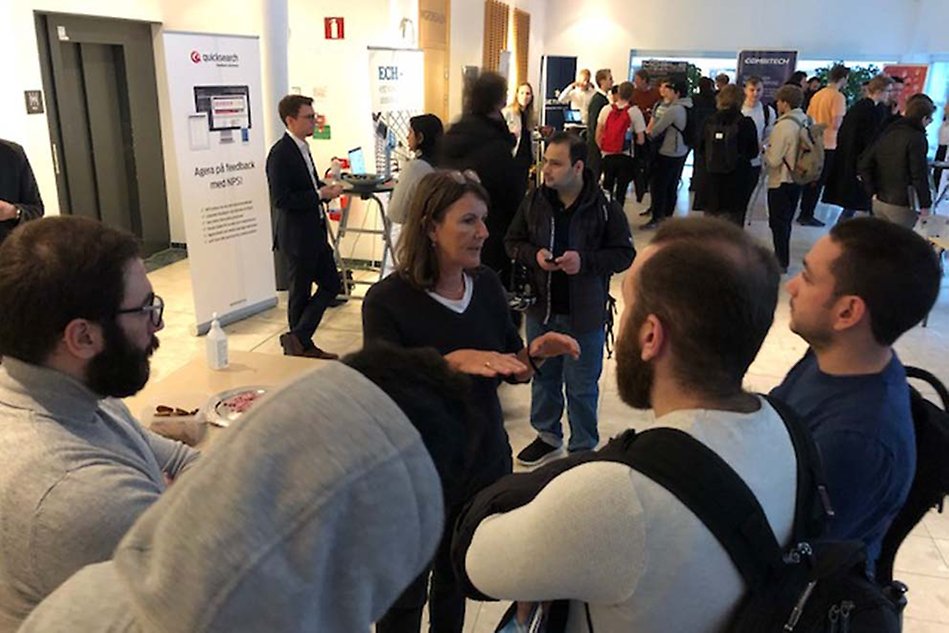 Large interest from both companies and students
Some of the companies that exhibited at the fair this year were Quicksearch, Raytelligence, Mobile Integrator, DizParc, Etteplan, Getinge Sterilization, Consid, MilDef, Matpriskollen, JayWay, Phoniro, ASSA ABLOY, Cilbuper, Matkollen and Combitech.
The students who visited the fair study at the following engineering and technology programmes:
IT forensics and Information Security
Computer Engineering
Electrical Engineering
Mechatronical Engineering
Master of Science in Computer Science and Engineering
Master of Science in Intelligent Systems
Network Design and Computer Management
Master's Programme in Electronics Design
Master's Programme in Network Forensics
Master's Programme in Embedded and Intelligent Systems
Master's Programme in Information Technology
Text: Louise Wandel
Photo: Camilla Bagler
More information
In Swedish about Arbetsplatsförlagd utbildning (AFU) for engineering students at ITE