Data Analytics and Service Innovation based on Artificial Intelligence (MAISTR)
The MAISTR programme is directed towards professionals for continued education in AI (specifically Machine Learning), and business and service design based on AI.
About the programme
MAISTR
MAISTR (Data Analytics and Service Innovation based on Artificial Intelligence) is a educational programme on the advanced level comprising courses corresponding to a total of 120 credits (hp). The programme is flexible and can be carried out at the same time as an ongoing professional career. MAISTR has unique aspects by combining courses on both AI technology and courses on service design with AI. It's not enough to understand the technology alone – AI needs to be linked to people-centred service design in order to create value and benefit. This means that not only technology companies, but also design agencies and the public sector are affected by this area.
The programme builds on previous experiences with developing a web-based Data Mining course for industry professionals. Each course consists of about 80 hours of part-time studies and follows a distance-based format. The detailed contents for these courses will be developed in cooperation with the participating organisations and company representatives through several co-production workshops.
MAISTR is a so called "Expert competence programme" financed by the KK foundation. The programmes and courses are led by Halmstad University in collaboration with University of Skövde and RISE SICS. They are supported by Volvo Cars, AB Volvo, Autoliv, ZenseAct, Stena Line, Easyserv, Fysiotest, Hotswap, Jayway, Digital Reliance, InUse, RISE Viktoria and Nibe.
MAISTR courses
All MAISTR courses are given online and in English.
Data-Driven Healthcare, 4 credits
The course addresses concepts and techniques for framing the healthcare problems using a datadriven approach.
User Experience Design for AI, 3 credits
The course introduce the structural, agentive, and evaluative aspects of artificial intelligence and their meaning and impact on user experience design.
Introduction to Human-Centered Design for AI, 5 credits
Machine Learning, 5 credits
The course addresses machine learning techniques for regression and classification, as well as best practices in implementing machine learning on real data.
Service Design Based on Data Analytics, 3 credits
The course looks at the underlying digital technology that digital service innovation is dependent on.
Contact
If you are interested in the MAISTR programme, please contact Stefan Byttner, Senior Lecturer at the School of Information Technology:
The project management group at Halmstad University consists of Stefan Byttner (project leader), Magnus Holmén, Mohamed-Rafik Bouguelia and Pontus Wärnestål.
What does a participant have to say?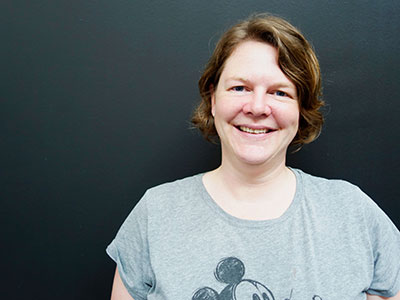 Britta Duve Hansen is a mathematician and works as a solutions architect at the municipality of Lund. She attended the MAISTR programme at Halmstad University during the spring of 2019:
"I use the concepts that we talk about during the programme in my daily work, but I have no education in the subject. Therefore, I wanted to get the academy's and research's view on how to design for AI and machine learning. At Lund municipality we have a team with UX and service designers. It is important that we, who work with IT architecture, also have knowledge in the area so that we can use the same vocabulary. During the MAISTR programme, we meet one day a month in Halmstad, which is a good arrangement that can easily be integrated with working life."
"AI is a transforming technology, and industries in many sectors need to step up their competence in this area to maintain competitiveness. This does not mean just the technology side of AI, which traditionally has been the focus of education in Sweden, but also for how services are built on AI."
Stefan Byttner, project leader of MAISTR