Young adults forge ties through 'book talk'
Who is the one that is going to travel and why is the family worried? Shaun Tan's "The Arrival" opened the project where young arrivals in Sweden are faced with tough subjects through a 'book talk' strategy concerning migration. The research study funded by Region Halland will result in a new regional model for literary discussions.
Fifteen introduction students from Sture Upper Secondary School in Halmstad will, this spring, read and talk together about a book in a project where the goal is social integration. The teenagers participating in the study are new arrivals to Sweden who are studying an introductory class to be able to continue their studies in a Swedish upper secondary school.
The hope is to find a form for an inclusive discussion about literature – something that, at present, is missing even though there is no shortage of book clubs.
"All discussions about literature are not on the same terms when it comes to language development. Through the project, we want to find a model for stimulating conversations and discussions that librarians can both gain knowledge and get advice from", says Jonas Asklund, who is a lecturer in Literature, teaching at Halmstad University.
He conducts the study together with colleague Anna Fåhraeus, lecturer in English. Both Anna and Jonas are employed at the School of Education, Humanities and Social Sciences.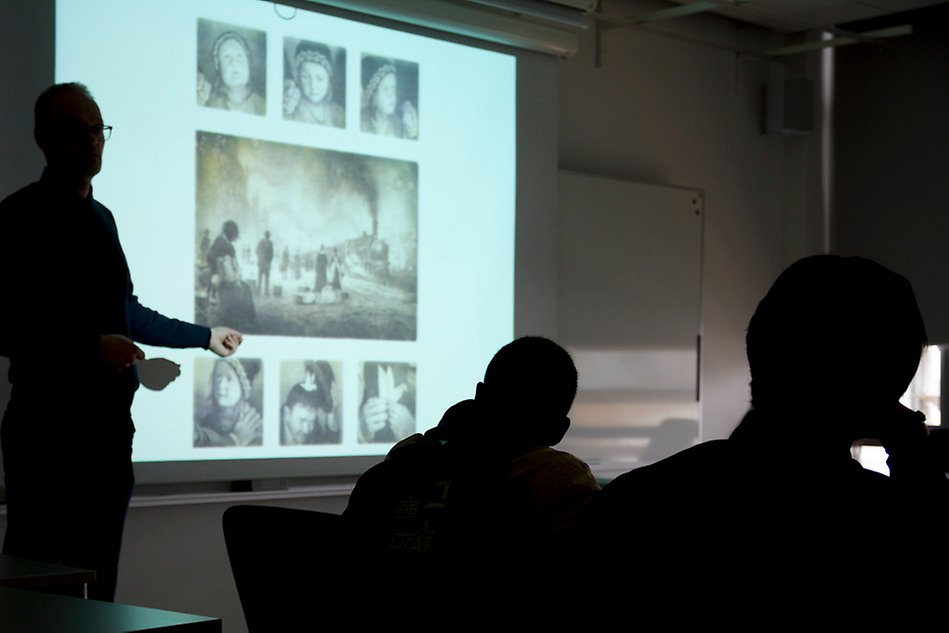 Fiction reading for empathy
The study, which is conducted this spring, is a continuation of the research that was applied in the Nursing programme at Halmstad University, where students read fiction to develop empathy
However, it is now about building ties between the young adults and people in their learning environment.
"New arrivals to Sweden are a major target group for libraries. In fact, many libraries have adapted themselves for this group and there are plenty of literature discussions at libraries around the county today, but this is the first time that the discussions have been conducted in a research context," says Jonas Asklund.
Not avoiding difficult subjects
The participants who are at Halmstad University have, this particular afternoon, been given a book with only pictures to work from.
Jonas Asklund starts asking questions about the pictures and the story from different perspectives; issues that bring out both the feelings of the interpreter, as well as interpretations of the images and narrative techniques. The participants are encouraged to speak in front of the group, sometimes to write, and sometimes to discuss their thoughts amongst themselves.
The images that are projected on the wall create a story. A family tightly huddled together walk along a deserted street. The man has a suitcase in his hand, and the group agrees that he is either travelling or escaping.
The scene is shown from an aerial viewpoint, and along the streets you sense the shadow of a ... well, what?
'Dragon' and 'dinosaur' are words that come up.
"It is a symbol of concern for what will happen, or what they have left", says Mohammad Awad, one of the participants
He came from Syria to Sweden 18 months ago, and many of his classmates have made a similar journey.
The group has just started the course and they have just been presented with the book they will read and talk about during the spring. Mohammad Awad is looking forward to being part of these literature discussions.
"It's both good and exciting. I really like it," he says.
Classmate Rand Abdullah agrees. She came to Sweden from Iraq nearly two years ago. This kind of book discussion is something new, even for her.
"It's going to be fun," she says.
The group speaks during the introduction both openly about the pictures which are images that show sadness, anxiety, and even a family being torn apart.
You are asking questions about fleeing and leaving your family. Are these not difficult topics to bring up?
"Discussions can and should sometimes be personal. Are there issues and questions that we should not discuss and ask? If so, it is something we will have to speak about," says Jonas Asklund.
Easy-to-read as a growing genre
During the introduction, the group spoke about a book with pictures. In the project, discussions will continue to revolve around the book "Lever du?" (which means "Are You Alive?"), a new somewhat easy-to-read book. This genre is growing and needs to be recognised, even in teaching.
"Through the project we can develop a model for literary conversations and discussions as well as introducing easy-to-read books to teacher education," says Jonas Asklund, who explains that easy-to-read literature is not included in teacher education; even though it is a form of literature that many use and a genre that is growing and, therefore, the quality is improving.
A model that can be used by many
"This is a project about social inclusion, but the model is also about inclusion more generally and can be applied in many contexts", says Jonas Asklund and explains that it is important that libraries do not lose the teenagers when it comes to literature discussions.
The research study is conducted by Halmstad University with funding from Region Halland and Region Library, to benefit both public and school libraries.
Ingegärd Brandt, who is a school librarian at the school, is impressed by the young participants and thinks it is important to see the needs of the target group.
Short texts are a social phenomenon
"Short texts have become a social phenomenon; however, it is not the length of text but the discussions and what we do with the texts that are important", says Ingegärd Brandt, who sees great benefits from the project, for both participants and the leaders of the course.
"It is important to increase interaction and collaboration between teachers and librarians. At the same time, it is very important that young people read and discuss. And they do dare to talk", she says, and gives high praise to the students who this afternoon have shown that they love to talk about literature, even when dealing with tough issues.
Text: Lotta Andersson
Translation: Nocholas Lloyd-Pugh
Photo: Ida Fridvall