Professor's portrait: Driven to contribute to something larger
Thorsteinn Rögnvaldsson has worked within the sphere of computer science at Halmstad University since 1996. His interest in artificial intelligence and machine learning was, however, established much earlier in life.
"It started as early as upper secondary school. I was intrigued by the human brain and imagined building an artificial model on how it works. Later, when I saw the chance to do a PhD with a focus on neural networks and machine learning, it was the clear choice for me."
Even if his interest in the function of the brain has lasted throughout his academic career, Thorsteinn Rögnvaldsson's predominant research focus has been on applied intelligent systems, particularly in vehicles and health technology products.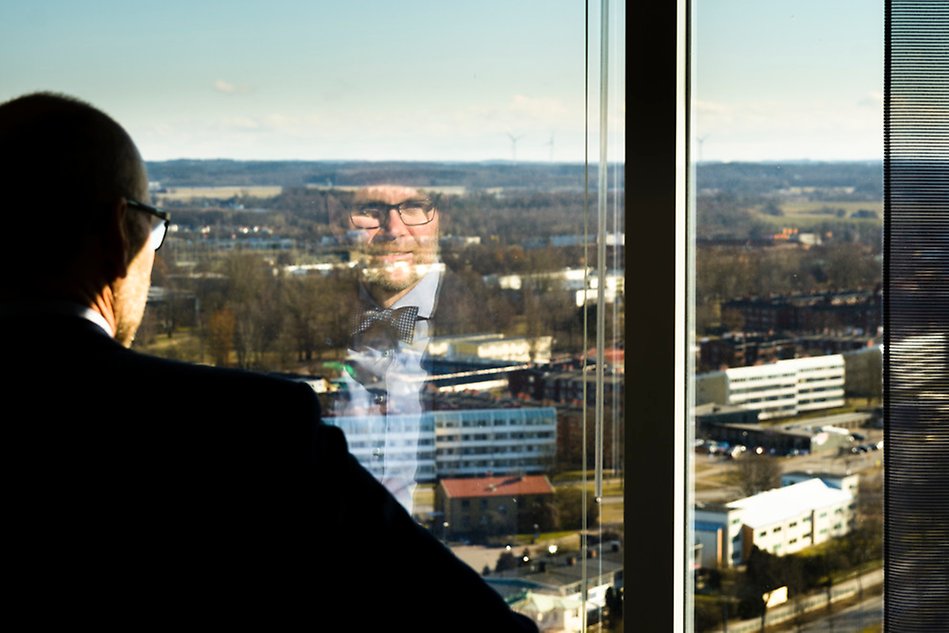 He earned his PhD in theoretical physics at Lund University and switched to computer science during his postdoctoral studies at the Oregon Graduate Institute in the United States. Here, he discovered several things that were new to him – less locked positions between subjects than he had experienced in Sweden for example.
"People looked more at what you actually did than what topic background you had. Also, I saw a great interest in the USA in machine learning, it was something completely different from Sweden."
From finance to defence
While in the United States, he had the opportunity to attend, present and publish at the NIPS conference* which is considered to be the leading conference in machine learning.
"We also worked extensively with external parties there, both from the financial industry and from the American defence. In addition, we offered training courses in machine learning for professionals."
Between 2006 and 2010, Thorsteinn Rögnvaldsson was a professor of mechatronics at Örebro University, simultaneously working at Volvo Technology for two years, in a so-called "strategic mobility" project funded by the Swedish Foundation for Strategic Research.
"I worked mainly with R&D and strategy, which was enriching in many ways. Being a part of (and understanding) the big organisation that is Volvo, created a lot of the foundation to what is today the core of the research carried out at CAISR", he says and continues:
"I am grateful that Volvo gave us the confidence to apply our ideas to the maintenance problem, using a machine learning approach. Our approach was conceptually quite different from the control theory approach, which was the dominant paradigm within diagnosis. Volvo invited us to test our machine learning and 'wisdom of the crowd' approach already in 2005 and we managed to show that there were some gold nuggets in this. Today, machine learning is the hottest thing, but at the time it was not as popular. Volvo has really been a good partner for us here."
Established a research center
In 2012, Thorsteinn Rögnvaldsson established the CAISR research center, where he is also the manager.
"I have always had a drive to contribute with something bigger. In 2004 to 2005, we discussed how to start a larger academic centre. The process took a few years, with some rejected proposals on the way, but we persevered and from January 1, 2012, we were granted financing from the Knowledge Foundation."
The interest in artificial intelligence has exploded since the start six years ago. According to Thorsteinn Rögnvaldsson, CAISR's role is to aid Swedish industry as well as the public sector in becoming more efficient and competitive with the use of artificial intelligence and machine learning.
"Our grand aim is to build systems that can learn independently on their own, from their own experiences, and create knowledge from this", he says and continues:
"What we see now is that machine learning is appearing all over. The demand for more opportunities to use data and images for making better decisions is steadily increasing in all parts of society."
Demand within healthcare
One apparent demand, according to Thorsteinn Rögnvaldsson, is within healthcare, where better decision making can be facilitated by using data mining and machine learning.
"We have a well-established collaboration with Region Halland. Region Halland have built up an excellent, even unique, data resource that unifies all their data and we can use this to extract lots of useful relationships; relationships that were largely unknown before. We have several interesting projects going on here."
During the past few years, Thorsteinn Rögnvaldsson hasn't had much time to commit to his own research. As director of CAISR and Pro Vice-Chancellor for Halmstad University, he primarily works with management on different levels, looking at for example the strategic development of the center. However, there is some time left to tutor doctoral students.
"My assignment as Pro Vice-Chancellor expired this summer, hopefully giving me the possibility to return somewhat to my own research while managing the research center and continuing with the tutoring. I will be taking on the responsibility as program manager for the University's KK environment Research for Innovation. That will also take considerable time so I may be overly optimistic about time for my own research."
A multicultural environment
Thorsteinn Rögnvaldsson thinks he will stay with Halmstad University for a long time.
"I really enjoy being a part of the multicultural environment in CAISR. Here, people with different cultural backgrounds and experiences meet, with a common interest in intelligent systems. We also work together, and not just individually, and in close cooperation with industry in order to make an important contribution."
Text: Hanna Johansson
Photo: Joachim Brink
The article was originally written for CAISR's annual report 2017.
*Annual Conference on Neural Information Processing Systems
Thorsteinn Rögnvaldsson
Age: 54. Born in Reykjavik, Iceland, grew up in Lund.
Title: Doctor, Professor in computer science. Founder and director of CAISR (Center for Applied Intelligent Systems Research). Pro Vice-Chancellor, Halmstad University (2013–2018).
Topics: Neural networks, self-organizing models, predictive maintenance.