Professor's portrait: Henrika, horses and health
Henrika Jormfeldt, newly appointed Professor of Nursing, likes to walk with horses. It is not just an interest in animals and nature. It also about sustainable health throughout life. Her research shows that people in hard and difficult life situations benefit from walking with horses. Perhaps the most important health innovation of our time is to approach our green environment.
"Becoming a professor is a way to promote qualitative research. The medical paradigm is strong in the health field, nursing needs a clear voice to make itself heard."
Henrika Jormfeldt, Professor of Nursing
In 1993, Henrika Jormfeldt was a qualified psychiatric nurse.
"Psychiatry was close at hand for me. My parents are both psychologists and ran a treatment home for young people while I was growing up. I have always had an easy time identifying with people in vulnerable situations."
After completing her studies, Henrika Jormfeldt worked for a number of years at the psychiatric clinic in Halmstad. She continued studying alongside her working life, and eventually ended up in doctoral studies. She was interested in what health is, not just in the sense of "absence of illness". She focused on various dimensions of health. Health is, despite being defined as such by the World health Organisation, not a fixed state, but rather a process, and some components are especially important: autonomy, social participation, and sense of self.
Health is more than not being ill

"Mental ill health is often a matter of losing faith and trust in yourself. Practising your social skills is not a medicine you can buy. People with mental ill health often need help training for social situations."
Making a diagnosis and prescribing medication is one thing, but you cannot underestimate the importance of coordination and support in establishing good day-to-day routines for the individual, including diet and exercise. The body is often neglected in people with mental ill health.
"Our everyday choices are our own responsibility. But a person who lacks the right preconditions or ability needs support. Studies show that many people suffering from long-term mental ill health die 20-25 years prematurely. A nurse often evaluates interventions and is responsible for their implementation, but the nurse's role as 'case manager' is rarely highlighted."

In her research, Henrika Jormfeldt has studied the health-promoting effects of being involved in designing the support that you receive as a psychiatric patient, and the preventive effects of seeing your own improvement, realising that it is possible to succeed. She is especially interested in seeing an expanded health perspective in psychiatric care.
"Health is about life in general. Contact with animals and nature is important for our mental health. That is where you find the new health innovation. Sometimes the solution can be so deceptively simple that we forget the hands-on, green part of life."
Horse-assisted therapy

Henrika Jormfeldt monitors individuals in Halland who have been prescribed "green rehab" to see how their well-being changes during the rehab period, which takes place in nature or in a garden environment. Walks with horses in the woods and contact with big animals gives people a sense of calm and focus.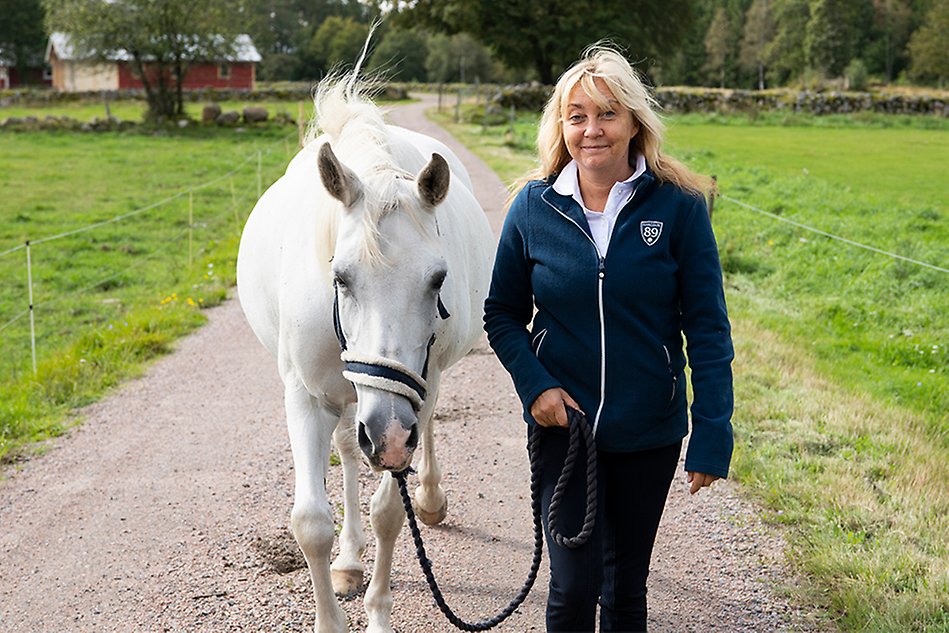 "I hope that this research will help establish green rehabilitation and horse-assisted therapy as treatments for various types of mental ill health. Our current trend of increased medication for patients, including young people, is not sustainable. The need for side effect-free complements and alternatives is alarming."
Being appointed professor is confirmation for Henrika Jormfeldt that she has 'kept at it pretty well'.
"Becoming a professor is a way to promote qualitative research. The medical paradigm is strong in the health field, nursing needs a clear voice to make itself heard."
In addition to research and teaching, Henrika Jormfeldt is the director of studies at the third-cycle Health and Lifestyle programme, and she is responsible for the specialist nurse programme within the specialisation of psychiatric care.
Text: Anna Vörös
Translation: Semantix
Photo: Dan Bergmark
About Henrika Jormfeldt
Henrika Jormfeldt was born in Halmstad in 1966. She graduated as a registered nurse specialising in psychiatric care in 1993, and later attained a Master's Degree in Nursing at Halmstad University. Active as a psychiatric nurse between 1993 and 2008. Defended her thesis Dimensions of Health among Patients in Mental Health Services in 2007 at Lund University. She subsequently worked on the specialist nurse programme specialising in psychiatric care at Växjö University, and in 2009 she established a similar programme at Halmstad University. Henrika Jormfeldt became an Associate Professor in 2013 and a Professor of Nursing at Halmstad University in 2019. She is the chief editor of the International Journal of Qualitative Studies on Health and Well-being, chair of the Swedish Association of Psychiatric and Mental Health Nurses and chair of IFSAP Halmstad (Association of persons with schizophrenia and other psychoses).