Benefits and work environment
There are many advantages working for a government institution such as Halmstad University.
Co-worker policy: We make each other better
The co-worker policy describes the University's goals and expectations for each of us in the area of work environment, co-workership, leadership and equality. Through a work environment where we involve, support and stand up for each other we create the conditions for job satisfaction and good performance. "We make each other better" applies to all of us working at or for Halmstad University.
A holistic approach and participation
We benefit from the proximity to each other. We raise our sights, involve each other and work together towards common goals.
Creativity and development
Ingenious thinking and innovation have characterised the University from the start. We draw inspiration from the outside world, and support and encourage each other in strengthening our skills and trying new things.
Job satisfaction and community
Together we build an open and inclusive culture, where we stand up for each other and have fun together!
Our work environment management
The foundation for good work environment management is laid in the everyday meeting and dialogue between employees and between managers and employees.
Twice a year, more formal co-worker dialogues are conducted in which manager and employees evaluate the past year, set priorities for the work, discuss competence development and conduct a dialogue about the perceived work environment and work situation.
In addition to departmental meetings, so-called workplace meetings (APT) are held at departmental level at least twice per term to provide the conditions for influence, participation and development. At APT, the focus is on work environment management, well-being and cooperation at the specific department.
At the school level (and the equivalent for administrative support), there are local work environment committees that consist of employers, work environment representatives and student and doctoral student representatives. The committee's task is to work for a good work environment by following up and planning local work environment management. This can involve both long-term goals and more operational or urgent issues that may require rapid action.
The central work environment committee, to which the local committees report, has a corresponding role at the University level. The central work environment committee in turn reports annually on the follow-up of the work environment management to the University board.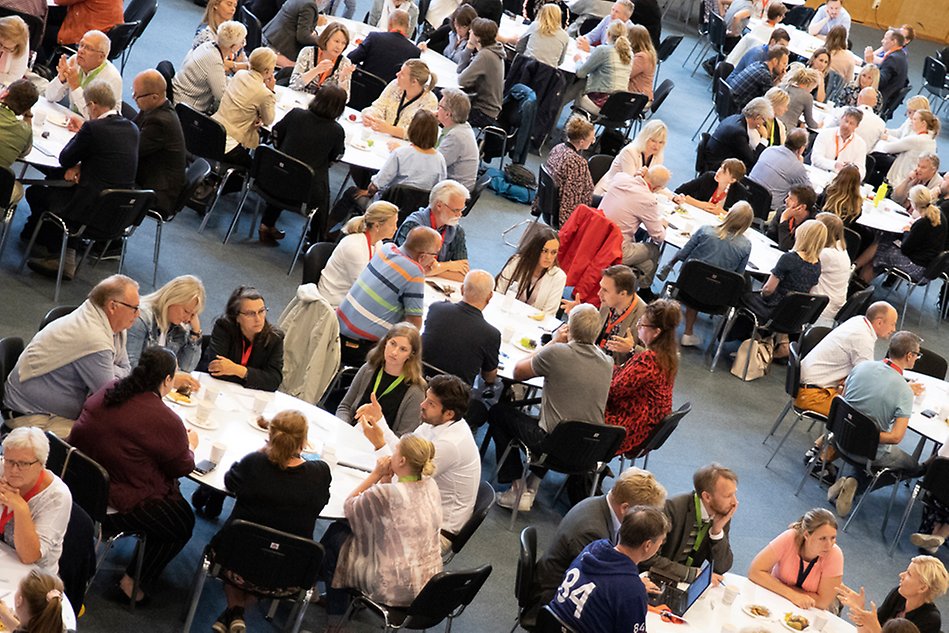 Benefits and terms for government employees

There are many advantages to working for a government institution such as Halmstad University. There are particularly good terms and conditions for working hours, paid and parental leave, as well as pensions.
Working as a central government employee – Socially beneficial jobs on modern terms

External link, opens in new window.
Paid leave

In addition to the five weeks paid leave that everyone in Sweden is entitled to, you as a government employee has the right to further paid leave depending on your age. You are also entitled to paid leave during your first year of employment, but to receive full paid leave you must be employed the whole calendar year.
Parental leave

To facilitate your parental leave, government employers pay a supplementary benefit, giving you 90 percent of your salary during the main portion of your leave.
Pension

As a government employee, you receive a pension that comprises of several parts. It supplements the general pension that everyone is entitled to. You have the right to choose how a part of this pension is administered.
Healthcare benefits

As a government employee, you are entitled to certain healthcare benefits, such as the option to contact the occupational health services and conduct certain doctor's appointments during paid working hours. You can also be subsidised for healthcare appointments and prescription medication.
Wellness allowance
As an employee at Halmstad University, you can receive wellness compensation of SEK 1,500 per full year. Furthermore, free training is offered at Idrottscentrum's gym, which is located on campus, and you can get discounted rates at other gyms and training facilities. Other benefits include computer glasses, massage at a discounted rate and chiropractic treatment during working hours.
Common values

Everyone in government employment works on behalf of the citizens. Whether you are a researcher, caretaker, administrator, lecturer, project manager, communicator, Head of IT, IT technician or hold another government employment, there are common values for the entire government sector that are based on legislation and ordinances.