Master's Programme (60 credits) in Electronics Design
As an electronics engineer, you are very much sought after in the labour market, because of the explosive development of intelligent electronics. This means everything from driverless vehicles and smart homes to health technology and energy systems in the smart cities of the future. This Master's programme develops your skills so that you can work with advanced electronics development.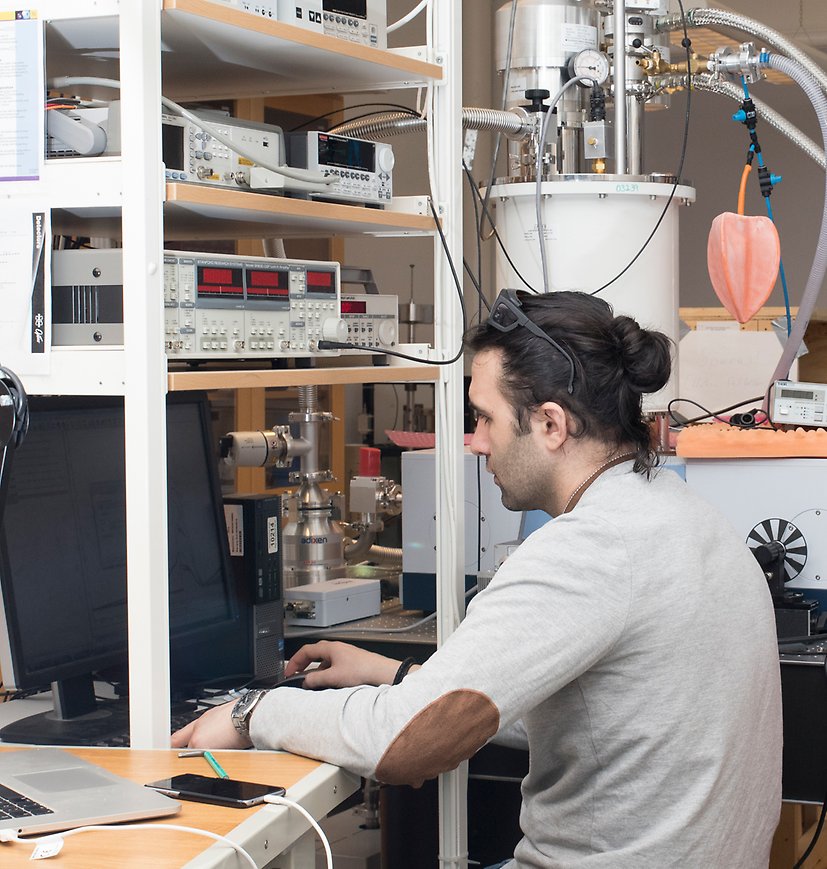 Innovative environments and collaborations
This program has a unique link to industry and to Lund University. It is also closely linked to the Electronics Centre in Halmstad, an innovation arena in electronics development for researchers and companies in the region. There is a test chamber here for electromagnetic compatibility, for example, where companies can test their products for more efficient product development.
Courses and competencies in focus
The Master's programme in Electronics Design focuses on research and development in embedded systems and hardware for the Internet of Things of the future. You assimilate the theoretical and practical skills required to actively participate in the development of the future of embedded electronics and communications systems.
This means that the programme gives you real competence in semiconductor technology as well as component and circuit design. You specialise in the design and realisation of new electronic components and sensors, based on nanotechnology and wireless technology for the embedded electronics and communications systems of the future.
Collaboration opportunities
During semester two, you perform your degree project in collaboration with the university's research groups or together with a company. The research group in micro- and nanoelectronics is part of a consortium affiliated with Lund University, within which you can perform advanced degree project work in a clean room environment, for example.
Entry requirements
Information about entry requirements is available in the information box under the page picture. Click on "show education info" to learn more.
Programme content

The courses listed below are included in the programme starting autumn 2023. Click on a linked course to search for the course syllabus, including course literature. Please note that you need to scroll down the page to find the syllabus.
All courses included in the programme main area Electronics.
Year 1

Semester 1
Semester 2
Nanoelectronics, 7.5 credits
Wireless Embedded Systems, 7.5 credits
Thesis in Electronics, 15 credits 
After the education
Degree
The programme leads to a Degree of Master of Science (60 credits) with a major in Electronics.
Opportunities for further studies
After the programme, you are qualified to apply for doctoral or PhD studies.
Career
The Master's programme in Electronics Design prepares you to work on advanced electronics development. This could mean, for example, working with future products for the Internet of Things or in robotics and autonomous systems, with applications such as artificial intelligence and self-driving vehicles.
Autumn 2024 (Campus based, Halmstad, 100%)
Programme Director:
Programme syllabus
Entry requirements:
Bachelor of Science degree (or equivalent) in an engineering subject. Courses in electrical engineering of at least 90 credits, including electronics, semiconductor components and thesis. Courses in mathematics of at least 30 credits or courses including calculus, linear algebra and transform methods. The degree must be equivalent to a Swedish kandidatexamen and must have been awarded from an internationally recognised university. Applicants must have written and verbal command of the English language equivalent to English course 6 in Swedish Upper-Secondary School.
Selection rules:
Selection is made on the basis of the required educational background.
Instructional time:
Daytime
Language of instruction:
Teaching is in English.