Alumnus of the Year brings knowledge from the University to the national team
It is the fifth year in a row that Halmstad University awards Alumna/Alumnus of the Year, and this year to a person who has brought knowledge from their studies at the University all the way into the Swedish men's national football team. Alumnus of the Year is Daniel Ekvall, advisor in sports psychology for the men's national team and IFK Norrköping.
"I have experienced so many wonderful things I never thought I would, a lot thanks to my education here at the University."
Daniel Ekvall, Alumnus of the Year 2022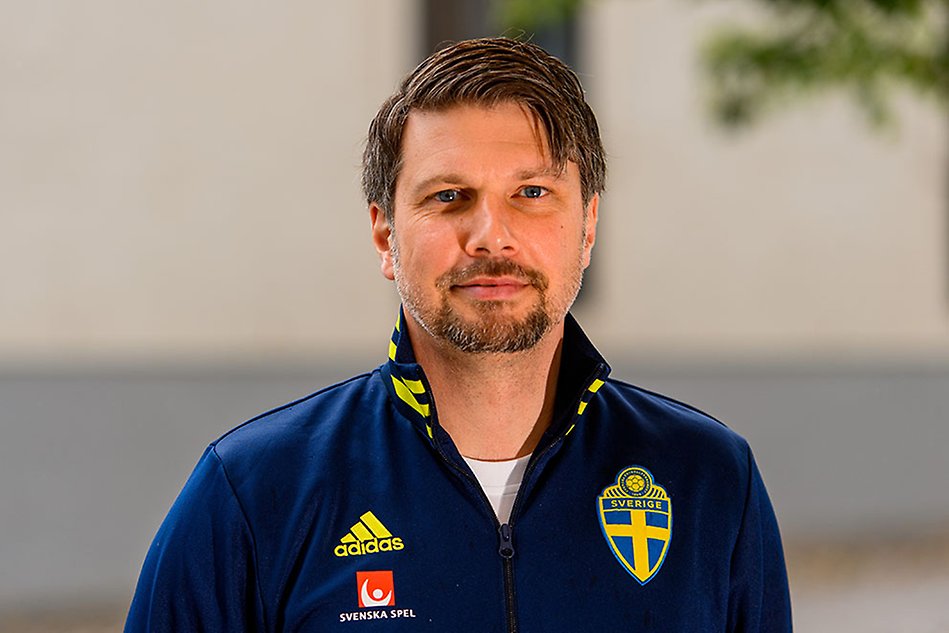 Daniel Ekvall is in charge of football psychology at the Swedish Football Association and is also a coach educator. His resumé also includes having been advisor in sports psychology for the Swedish Sports Confederation and the Swedish Paralympic Committee.
"Daniel is definitely a role model for our students, especially in our educational programmes within sport", says Anders Nelson, acting Pro Vice-Chancellor with specific responsibility for collaboration, internationalisation and innovation.
Studied both pedagogy and psychology
Daniel Ekvall has an education background in pedagogy and psychology, both with a focus on sports, at Halmstad University. He graduated in 2003. He also has training in psychotherapy with a specialisation in cognitive behavioural therapy. Daniel Ekvall, who is happy and proud to have received the award Alumns of the Year, describes himself as a person who has always had a genuine interest in sports. During his time at a football-focused upper-secondary school in Norrköping, he started to think about, and gain interest in, the psychological aspects of the game. How does one handle setbacks and why do some teams perform better than others?
"Halmstad University already had a good reputation within sports psychology and that is why I applied there after upper-secondary school", he says.
Daniel Ekvall has positive memories from his time as a student in Halmstad, a time he describes as developing, fun and safe:
"An amazing time, in many different ways!"
During his time in Halmstad, he met his now wife and made many good friends. Several of his fellow students are now his colleagues and act as an important network in his work.
Continuous involvement
Daniel Ekvall mentions dedicated teachers at the University who stimulated continuous learning. He stresses the importance of a scientific approach, something his teachers told him to remember that has been of great use in his career.
"From the education in sports psychology I also received sports psychological theories and models that I now use with the national team and when I educate coaches."
Daniel Ekvall has always stayed in contact with the University. Through the years he has been a recurring guest lecturer and has shared his knowledge about working within sports, both as an educator and advisor, with the students in Halmstad.
Also when it comes to research, Daniel Ekvall has been an important partner for the University's sports researchers. For example when it comes to identifying relevant research questions and implementing results from studies. An ongoing project is for example about mental health in youth football.
"It is fun, I want to give something back", says Daniel Ekvall as he humbly describes his journey:
"I have experienced so many wonderful things I never thought I would, a lot thanks to my education here at the University."
Text: Matilda Sommelius
Photo: Bildbyrån
About the award Alumna/Alumnus of the Year
Every year Halmstad University rewards a former student with the award Alumnus/Alumna of the Year. By handing out the award, Halmstad University promotes former students that have excelled in different ways after their graduation and that are positive role models for both the University, its students and for the surrounding community.
The award is handed out at the Graduation ceremony which this year is on June 3. It is a festive event to celebrate the students who are graduating and finally, after two digital years, it is possible to do it in person again.