Alumna of the Year Anagha Anand climbs the international career ladder in male-dominated industry
Anagha Anand is the Alumna of the Year 2023 at Halmstad University. Her professional journey is as inspiring as her inner drive for personal development and success. With warmth and enthusiasm, she inspires students to be bold and brave and is thriving as a female leader in a male-dominated industry.
"I fondly remember student life at Halmstad University. The teachers and professors were always accessible to the students, and the courses were a perfect blend."
Anagha Anand, Alumna of the Year 2023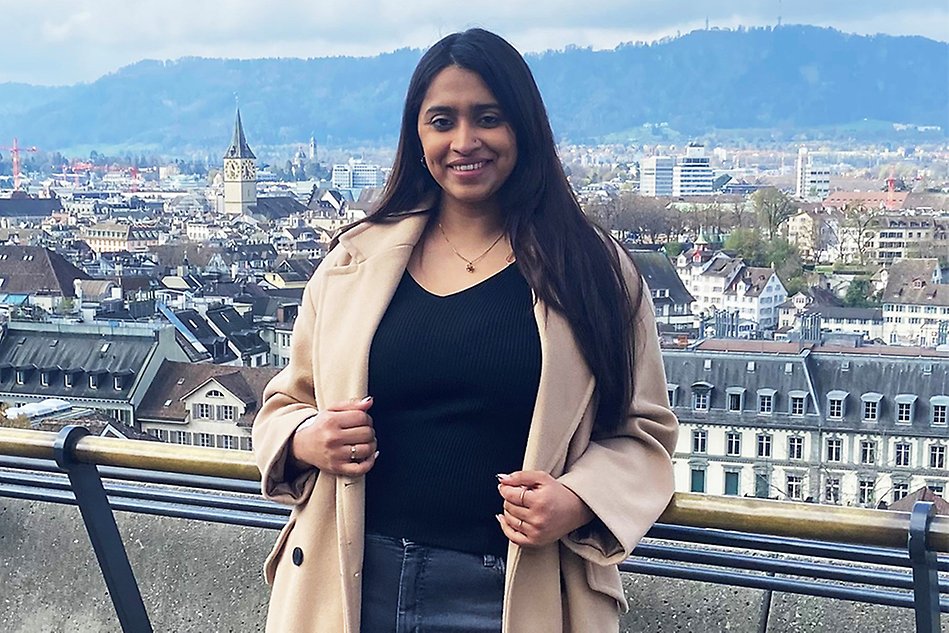 "It is such an honour to receive this award, a proud moment for both me and my family", says Anagha Anand as we reach out to inform her that she is the Alumna of the Year at Halmstad University 2023.
Anagha Anand is currently residing in Germany, where she has a successful career at Bosch.
Starting out as a Product Marketing executive in Bosch Vietnam, she was selected to participate in a development program for young leaders within the company. Now she takes on the role of Product Manager for Innovation, at the headquarters in Stuttgart.

"It's been a wonderful journey and I'm proud to be able to develop and grow within the company. It has sometimes been challenging being a young woman in a male-dominated industry, but I keep doing what I'm good at, constantly challenge myself, and let the results speak for themselves.", says Anagha Anand.
Fond memories and great learnings from Halmstad University
Anagha graduated from the Master's Programme in Industrial Management and Innovation at Halmstad University in 2018 and then started working for the University as an international student coordinator for a short period of time before moving forward with her career. She was very appreciated by both students and colleagues, always showing interest in people around her and spreading positive energy.
"I fondly remember student life at Halmstad University. The teachers and professors were always accessible to the students, and the courses were a perfect blend of theoretical and practical approaches to learning. However, the biggest takeaway from my experience at Halmstad University is the Swedish feedback culture which enabled me to interact better with both peers, teachers and staff. Also the blend of cultures from across the world, which taught me to be culturally sensitive in an international workplace", says Anagha Anand.
Citation Alumna of the Year 2023: Anagha Anand
Anagha Anand has distinguished herself as a valuable ambassador for Halmstad University by sharing her experiences from the University with others and interacting with current students as an alumna of the Master's Programme in Industrial Management and Innovation.
She has advanced quickly through various positions at Bosch GmbH and is now working as a product manager for innovation in the cross-domain computing solutions division of Robert Bosch Germany.
Anagha Anand is a strong role model for other women on how to pursue a career globally in a male-dominated industry. Her professional journey is inspiring as well as her inner strive for self-development and achievement.
She is a global nomad – she was born and educated in India, received her master's degree in Halmstad, Sweden, has worked in Vietnam, and is currently pursuing a career in Germany, where she is identified as a future leader within the Bosch company.
An international nomad
Working and residing in various countries has always been the goal for Anagha Anand. Being born and raised in Bangalore, India she has always loved to explore new places and learning about new cultures. The Master studies at Halmstad University opened up new doors and extended her network which led into a further international path. During her studies at Halmstad University, she received the Global Swede award by the Swedish Institute, where her entrepreneurial mindset and borderless innovation skills were praised.
Still in touch with the University
Since Anagha Anand both studied and worked at Halmstad University she has a large network among the University staff. Up until today, she is still in touch with both administrative staff and teachers from her education and share her experiences from both student- and working life with current students at Halmstad University.
Deputy Pro-Vice Chancellor with specific responsibility for internationalisation, Anders Nelson, is happy to hear that Anagha Anand receives this year's award and sees opportunities to further develop the collaboration with the alumna.
"I am very pleased that this year's award goes to Anagha Anand. I remember her drive and the commitment she showed to the University during the first years after her studies. Since then, she has had an exciting career development and I look forward to opportunities for future collaborations that can benefit both Anagha, her employer and Halmstad University", says Anders Nelson.
Happy to inspire
For Anagha Anand, being successful is not only about climbing the career ladder, but mostly about being true to yourself and people around you. She tries to give back to the University in any ways she can and is more than happy if she can inspire anyone to make some brave decisions in life.
"If I could give any advice to all students graduating today, I'd say: Be bold and never hold back. Take on new challenges and remember to always pay it forward. The world needs your passion, talent and willingness to push boundaries.", says this year's proud alumna.
Text: Helena Bengtsson
Photo: Private
About the award Alumna/Alumnus of the Year
Every year Halmstad University rewards a former student with the award Alumnus/Alumna of the Year. By handing out the award, Halmstad University promotes former students that have excelled in different ways after their graduation and that are positive role models for both the University, its students and for the surrounding community.
The award is handed out at the graduation ceremony which this year is on June 2. It is a festive event at Halmstad Arena to celebrate the students who are graduating.
More information about the award Alumna/Alumnus of the Year

External link.