Reshaping healthcare through Artificial Intelligence
When Artificial Intelligence and medicine meet, a new discipline is born. Efficient solutions for a better healthcare system, specifically for congestive heart failure patients, is the goal for a new and unique research project. Region Halland and Halmstad University are collaborating and PhD student Awais Ashfaq is one of the project's key figures.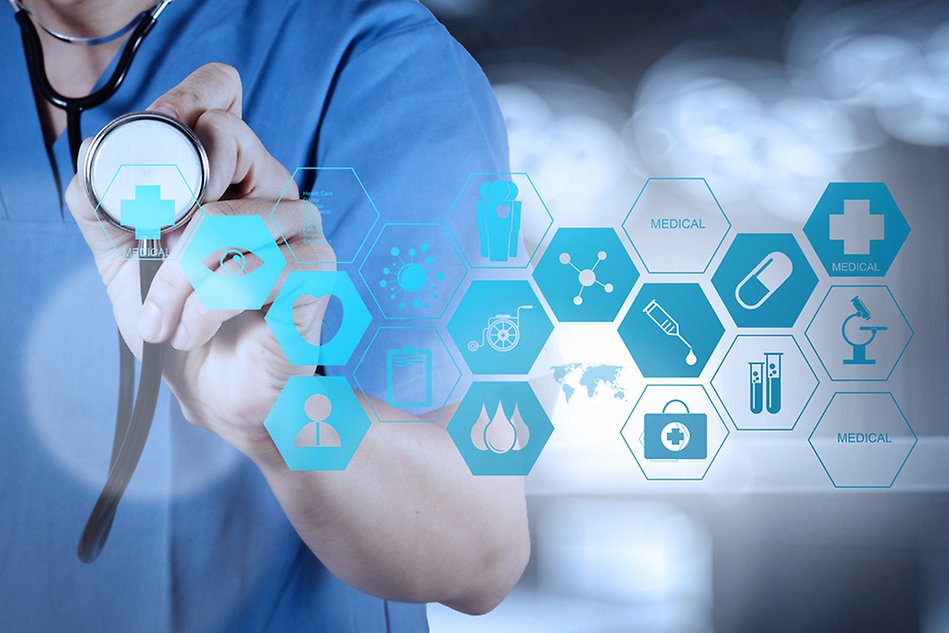 Awais Ashfaq is a PhD student in Signals and Systems Engineering at the School of Information Technology at Halmstad University. His research is part of a joint collaboration between the University and Region Halland in order to predict outcomes and demands of congestive heart failure (CHF) patients in Halland using machine learning*. The research project was initiated in October last year and Awais Ashfaq works closely with cardiologists and hospital managers at Region Halland as well as data science experts at Halmstad University. This is what makes the project unique – it is the first time a researcher from the University is taking a direct part in the work of the hospital management and is given access to their data.
* Machine learning, in artificial intelligence (a subject within computer science), discipline concerned with the implementation of computer software that can learn autonomously. (Source: Encyclopædia Britannica)
Markus Lingman is manager at Halland's Hospital Halmstad:
"We are very excited about the collaboration with the University. It is like opening the door to the future of medicine with AI guided personalised treatment and individualised predictions. There is a great need of a better understanding of the healthcare system as a whole and how we can improve it. This happens when you combine the knowledge of computer scientists, physicians and management. In my opinion, AI has been the missing piece in medical research with its capacity to handle complex and comprehensive data volumes, see patterns and make precise predictions."
The hospital staff provide Awais Ashfaq with their expertise and knowledge from the field as well as give him feedback. Awais Ashfaq is given access to information stored in the hospital's database, which they cannot analyse manually, in order to draw conclusions.
"I learn from them about current care management practices and data structures and they can learn from me how to analyse heterogeneous data sources to develop understandable predictive models for patient outcome", says Awais Ashfaq.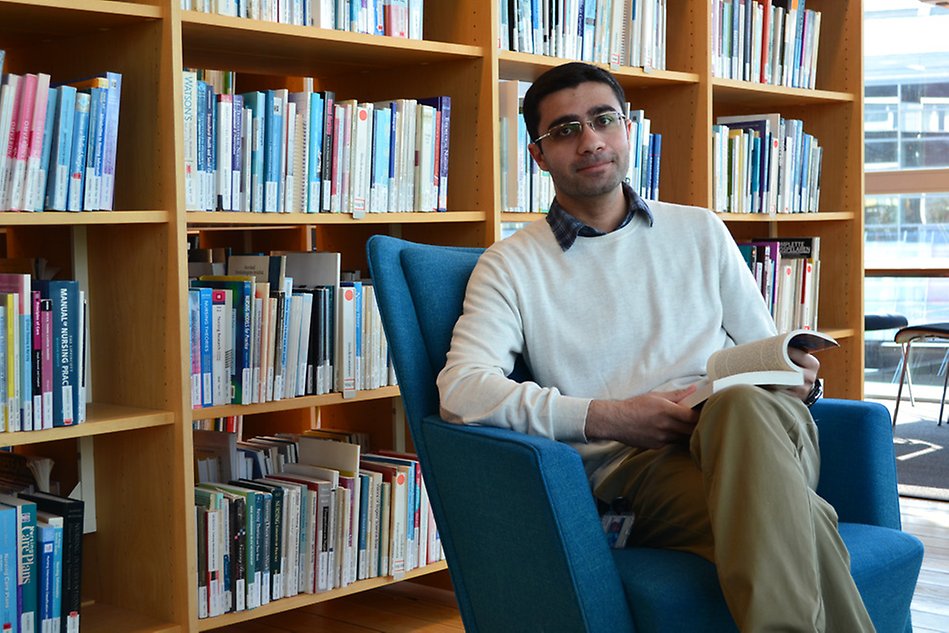 "Improve the healthcare we provide"
Awais Ashfaq uses data mining and machine learning techniques to find interesting patterns and relationships in healthcare data. This can help the doctors at Halland's Hospital Halmstad to draw conclusions regarding their patients, for example diagnosing diseases and estimating treatment outcomes.
"We want to measure how well and efficient we treat our patients. By knowing this, we can also improve the healthcare we provide. Awais is the engineer that helps us analyse the information about our patients and realise our project ideas", says Miltiadis Triantafyllou, a Resident Doctor in Internal Medicine and Cardiology at Halland's Hospital Varberg.
Chose Halmstad because of the multidisciplinary set up
Awais Ashfaq has previously studied a Master's program in Medical Engineering with a specialisation in Computer Science and Machine Learning Techniques at KTH Royal Institute of Technology in Stockholm. He also holds a Bachelor degree in Electrical Engineering from the National University of Sciences and Technology (NUST) in Pakistan. Awais Ashfaq chose Halmstad University for his PhD studies based on two reasons:
"The first one being CAISR, Center for Applied Intelligent Systems Research, at Halmstad University. CAISR is a good platform to integrate academic research with different industrial applications, leading to promising synergistic effects", explains Awais Ashfaq.
The second reason was the exceptional data warehouse at Region Halland. It is unique in the sense that it captures a system's approach of healthcare delivery with good enough accuracy. He thought the exceptional set up, with collaboration between the University and the Region, was interesting and wanted to work with patient information as he found it to be motivating and very important for our future society.
About the research
Congestive Heart Failure (CHF) is one of the leading consumers of healthcare resources in Region Halland, contributing to roughly 20 percent of all hospital admissions.
Awais Ashfaq conducts a prospective study on this population and uses machine learning (ML) algorithms to predict patient outcomes like readmissions or death. While ML algorithms today are mostly "black boxes", understanding the reasons behind predictions remains an open challenge and very crucial when adopting ML models into the high-stakes healthcare sector. The understanding or interpretability of ML models will allow building up trust and acceptability among healthcare professionals and patients. Hence, in addition to achieving high predictive scores on patient outcomes, the research group is also interested in identifying strong outcome predictors from the data that will be used to refine present care practices. For instance, predicting patient readmission risk at the time of discharge and considering the clinical factors (like disease history, demographics etc.) that are responsible for readmissions will allow better decision making and cut down readmission rates, thus, leading to a better quality of life for the patient.
– Similarly identifying resource factors, like time, drug usage, procedures etc., that might also have a strong impact on patient outcome, will help address the issues of overuse and underuse of medical resources that are based on outcome quality and cost effectiveness. Such smart and timely management of care resources will reduce waiting times and healthcare costs, explains Awais Ashfaq.
Slawomir Nowaczyk, Associate Professor at Center for Applied Intelligent Systems Research (CAISR) at School of Information Technology, is one of Awais Ashfaq supervisors at Halmstad University:
– From the perspective of our data mining research group, this project both builds on the competences we have created in the past, and also brings new, exciting challenges. For example, in our earlier work with industrial partners like Volvo, we have developed methods for analysing units within a population, identifying outliers, and describing how they differ from the norm. This formulation of a problem can be directly applied to detecting atypical patients, treatments or hospital departments. On the other hand, the complexity and the diversity of the healthcare data, which directly reflects the uniqueness of individuals, requires further research.
Results in societal contribution
"Though artificial intelligence and machine learning are poised to replace most of today's workforce in the future, the idea of replacing doctors is not one that I see happening for a long time, if ever. One thing that the doctors are really good at, is making decisions – and we want to equip them with intelligent tools that provide relevant patient-specific information in time whenever needed", says Awais Ashfaq.
Improved decision making, both in clinical and management settings, will reduce the risk of medical errors and allow better management of care resources leading to improved care quality and reduced costs. Around 11 percent of Swedish GDP is consumed by the healthcare (source: the Swedish Institute).
"What we expect in return is the right value for our money. For instance, this can be in terms of reduced waiting times through coordinated and timely management of care resources and reduced readmission risks and medical errors through proper utilisation of clinical information", explains Awais Ashfaq.
"It is super exciting to work at the intersection of medicine, engineering and economics to solve healthcare challenges", says Awais Ashfaq.
Text: Jasmine Ikovic and Louise Wandel
Top illustration: iStock
Read more

The Swedish Insitute: Healthcare in Sweden

External link.
Center for Applied Intelligent Systems Research (CAISR)
Centre for Health Technology Halland (HCH)
Artikel på svenska:
Artificiell intelligens förbättrar sjukvården

External link, opens in new window.
About the collaboration
The project's structure and database format derives from Harvard Medical School and Brigham and Women's Hospital in Boston, United States. With help from Centre for Health Technology Halland (HCH), Antanas Verikas and Magnus Clarin at the School of Information Technology, could organise the collaboration with Region Halland.
­– I find the collaboration with Boston extremely resourceful both in terms of clinical and machine learning expertise, says Awais Ashfaq. They have – from experience – good insights to the system's approach to healthcare delivery to quantify patient value and overall health outcome.
Awais Ashfaq divides his work week in Halmstad between the hospital and the University. The academic work is carried out at the University whilst the data analysis is being done at the hospital. His supervisors at Halmstad University are Slawomir Nowaczyk, Anita Saint'Anna and Jens Lundström. Markus Lingman, manager at Halland's Hospital Halmstad, is the supervisor at the hospital. There is hope that this collaboration between doctors and data scientists is the start of many future collaborations as the knowledge transferred between the two disciplines will contribute to a better healthcare.
– We must look together into the big data, a task we can't do individually; like every researcher alone either doctor or health administrator. We need the expertise of data scientists and we strongly support the collaboration with the dedicated CAISR team at Halmstad University, says Miltiadis Triantafyllou, a Resident Doctor in Internal Medicine and Cardiology at Halland's Hospital Varberg.