Massive innovation power at this year's Utexpo
For the 41st consecutive year, the Utexpo graduation fair was held at Halmstad University this week. Graduating students from 15 programmes were given the opportunity to showcase what they have learned during their studies and demonstrate their innovation power to other students, University staff, upper secondary school students, businesses, and the public. For many students, the goal of their graduation project is to create something that can make a difference in the world. And those who stood out the most were awarded hundreds of thousands of Swedish crowns in scholarships.
"Enjoy your excellence. It's okay to be great."
Daniel Eriksson, alumnus from the Programme in Innovation Engineering
Before the semester comes to an end and summer approaches, it is high time for the University's annual graduation fair, Utexpo, in the S building. Utexpo attracts visitors from near and far, and for the students, these two days mark the conclusion of their education and the beginning of something new. It is not uncommon for new connections to be made here, leading to first job opportunities. As usual, there were numerous innovations showcased by the students, with this year's fair even breaking records in the number of graduation projects.
"It indicates that they truly show commitment to their future," says Axel Adolfsson, a student at the Programme in Innovation Engineering, and chairman of the Utexpo Council, the student group that organises the fair each year.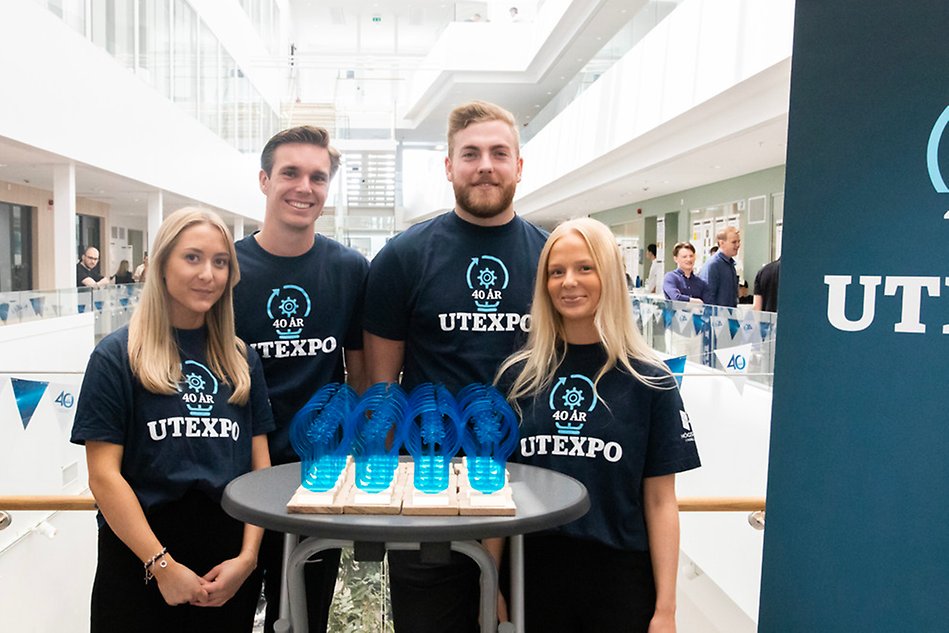 Opening speeches by the Vice-Chancellor and an alumnus
This year, the Vice-Chancellor of the University, Susanna Öhman, cut the inauguration ribbon on stage. First, she praised the students, researchers, and the entire society in an inspiring speech that captured the visitor's attention.
"Utexpo is a perfect opportunity for students to present themselves, their competences, and how they contribute to a better and more sustainable future," Susanna Öhman stated proudly.
Following tradition, an alumnus also took the stage for the inauguration – Daniel Eriksson, an alumnus from the Programme in Innovation Engineering. He showcased his graduation project, a board game designed to enhance mathematical understanding among pre-school children, at Utexpo in the spring after the turn of the millennium. Daniel Eriksson brought the house down when he initially confessed to seeking help from ChatGPT, a chatbot powered by artificial intelligence, to write his speech.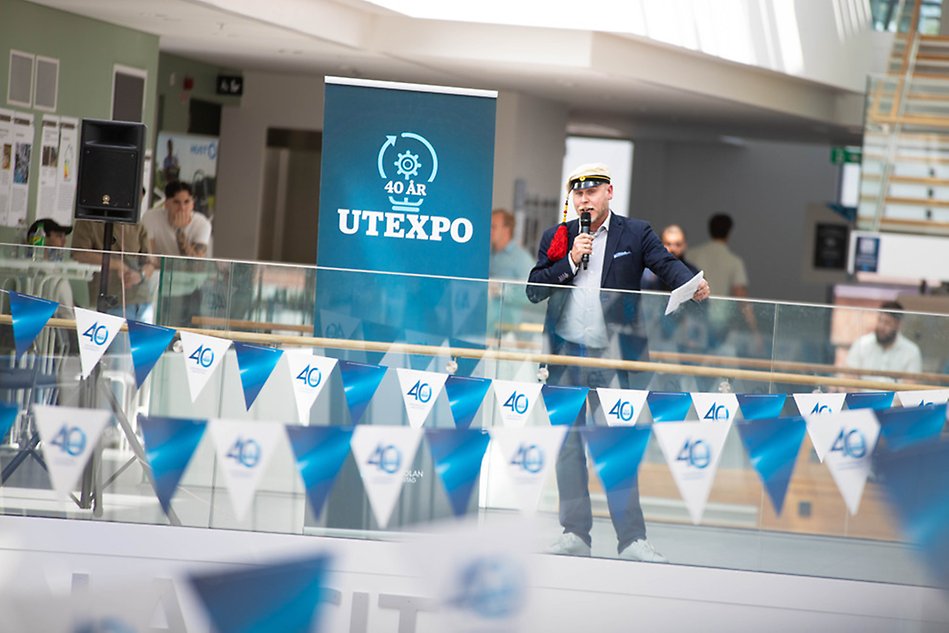 Daniel Eriksson was eagerly looking forward to visiting all the exhibition stands to explore innovative projects and listen to the students' exciting stories about the journey that has led them to Utexpo.
"As you have worked hard, and struggled with your education, you are now approaching the finish line of your studies", said Daniel Eriksson in his speech, reminding the students to also have fun at Utexpo.
"Enjoy your excellence. It's okay to be great."
The student project HUST, Halmstad University Solar Team, has built a new racing car entirely powered by solar energy, which the HUST team took the opportunity to showcase for the first time at Utexpo. This autumn, the team will participate in the world's largest competition for solar-powered cars and drive 3000 kilometers from northern to southern Australia.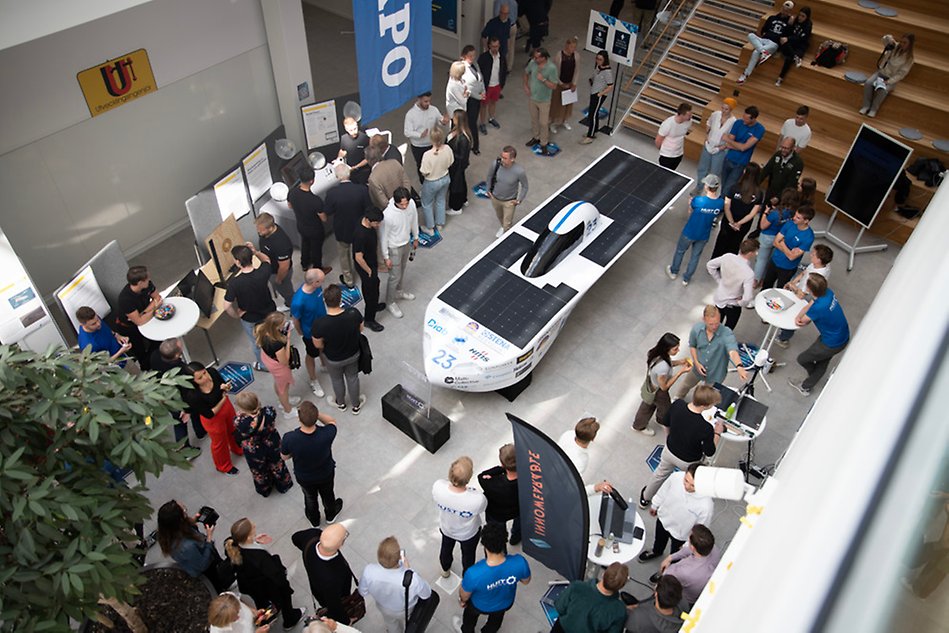 Ingenuity pays off
At Utexpo, outstanding students are annually recognized for their achievements during a scholarship ceremony. This time, more than SEK 290,000 was awarded to graduation projects in various subject areas. In addition to scholarships from the Sten Fåhré Foundation, the students were also rewarded with scholarships from several different companies that collaborate with the University, including Getinge Sterilization and Stena Recycling. Getinge Sterilization's scholarship, worth SEK 100,000, was awarded for the second time this year and divided among four commendable health innovation projects, with each receiving 25,000 SEK. Stena Recycling's scholarship, worth 20,000 SEK, recognizes projects related to circular economy. This year's scholarship recipients are Iris Nyholm and Clara Olérs Ekman, from the Master's Programme in Mechanical Engineering, Sustainable Design, and Innovation. Their project focuses on a carbon fiber-reinforced epoxy ankle-foot orthosis.
Other scholarship sponsors during the ceremony included Halmstads Energi och Miljö AB, Orange Cyberdefense, Chalmerska Ingenjörsföreningen Hallandsavdelningen, Byggföretagen, HMS Industrial Networks AB, SeeU AB, Leap for Life/Hälsoteknikalliansen, and the newcomer Quokka AB.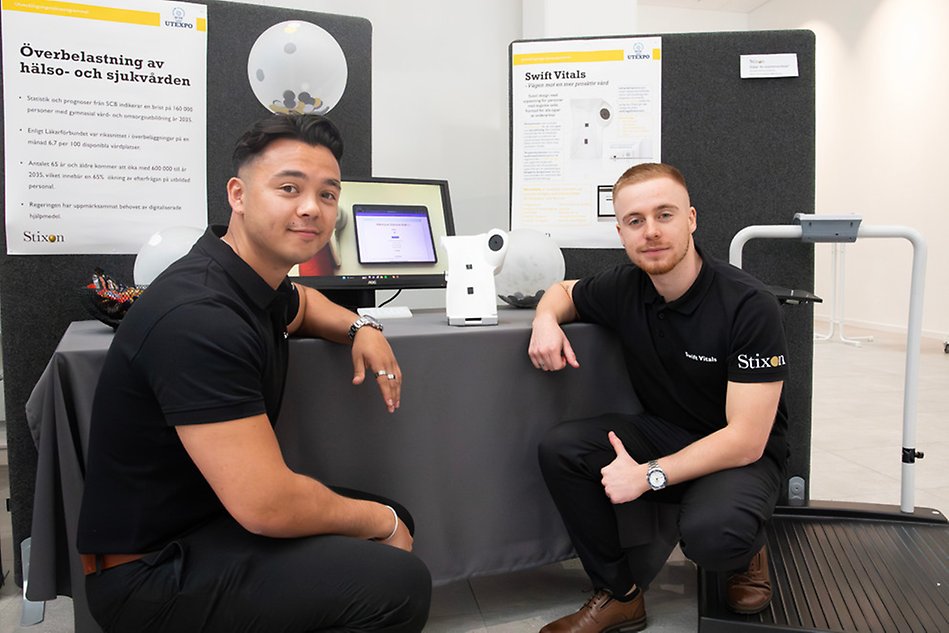 About Utexpo
Utexpo is a graduation fair and a platform for graduating students to showcase their innovation capabilities and demonstrate what they have learned during their studies – a launching pad for new ideas for a sustainable future. It is a fantastic annual tradition since 1982 and will, of course, return in the summer of 2024.
Did you miss this year's edition of Utexpo? Here, you can explore the students' graduation projects.
Text: Katarina Tran
Photo: Dan Bergmark and Albin Edin