Well-organised Fresher's Week welcomed over 1,000 students
At the end of August each year, Halmstad is filled with new students full of expectations, who will start their studies at Halmstad University. This past weekend, this year's Fresher's Week ended, where over 1,000 students were welcomed during just over a week full of activities.
The Fresher's Week is an introduction arranged by Halmstad Student Union to give the University's new students as good a start to their studies as possible. For ten days, the zeros – the new students – get to participate in activities, competitions and games led by ovvar, that is, very committed second- and third-year students.
Through the Fresher's Week, the students get the chance to get to know their new classmates and at the same time get to know both campus and Halmstad.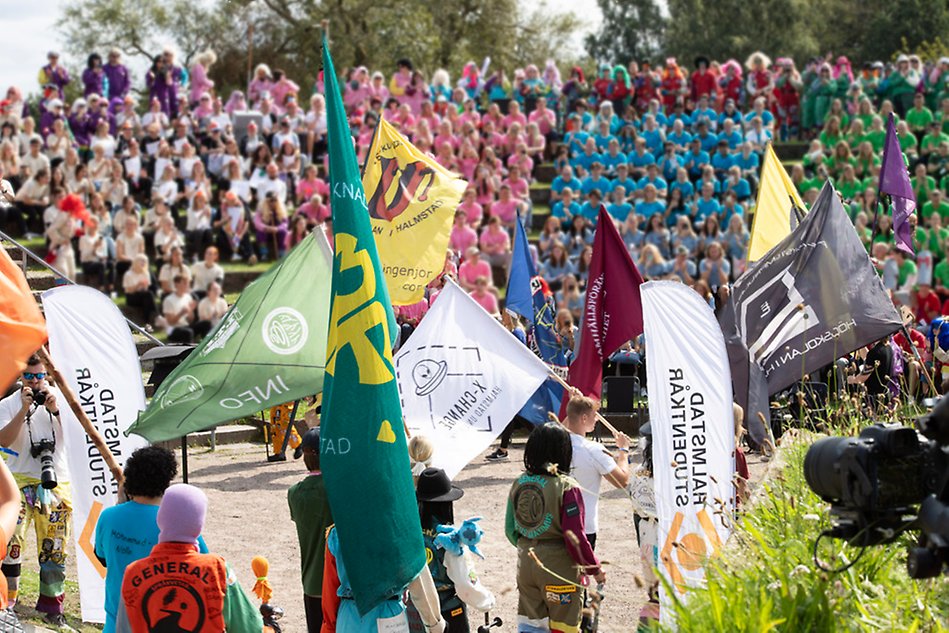 Festive opening at the amphitheater
The Fresher's Week was inaugurated as usual during day two at the amphitheater in Linehedsparken and began with all the happy zeros marching in and taking their seats in the stands dressed in their programme colors. Then there were presentations by union bodies and student associations, speeches by representatives of Halmstad Student Union, the University and Halmstad Municipality, dance numbers and much more.
"This is exactly where your studies and your future begin. Already now you are creating new friendships and starting to put pieces of the puzzle for your years here at the University together", said President of the Student Union, Linnea Håkansson, in her welcome speech and continued:
"The goal of the Fresher's Week is to welcome new students through security, knowledge, community, challenge and joy. Together we are more than 750 people who make this possible. This year it is also 40 years since we welcomed new students to Halmstad for the first time", a statement that was met with cheers from the audience.
Anders Nelson, Acting Pro Vice-Chancellor at Halmstad University, also welcomed the students:
"I suspect that most of you think of your education as a step in life on the way to a job, and of course it is. But there is something else about higher education that is also about developing as a person, growing and seeing the world with new eyes. These years are for you. I hope you have a fantastic afternoon, evening, continuation of the Fresher's Week and study time at Halmstad University!"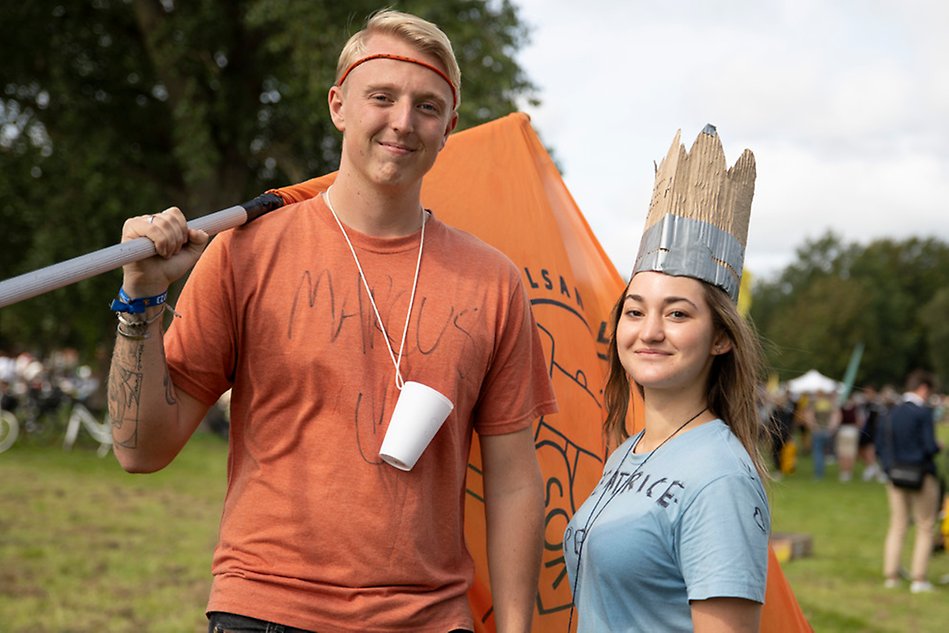 "For many, this is incredibly important"
After the inauguration, many active days awaited. Two zeros who participated were Marcus Moberg, future student at the programme Criminology and Culture, and Beatrice Ahlström who will study the Health Education Programme. They both see the Fresher's Week as a good start to their studies.
"It's a really fun experience and unlike anything else you've been through. It is clearly a celebration for everyone. For many, this is incredibly important. It's fun to get to know people, and it's extremely important in order to feel included and to settle in Halmstad," says Marcus Moberg.
"It's great to meet your class, which you're going to be with for so long, and to see all the ovvar and zeros. Since I have also seen so much at the University, I do not feel as lost as I might have if I had not been involved", says Beatrice Ahlström.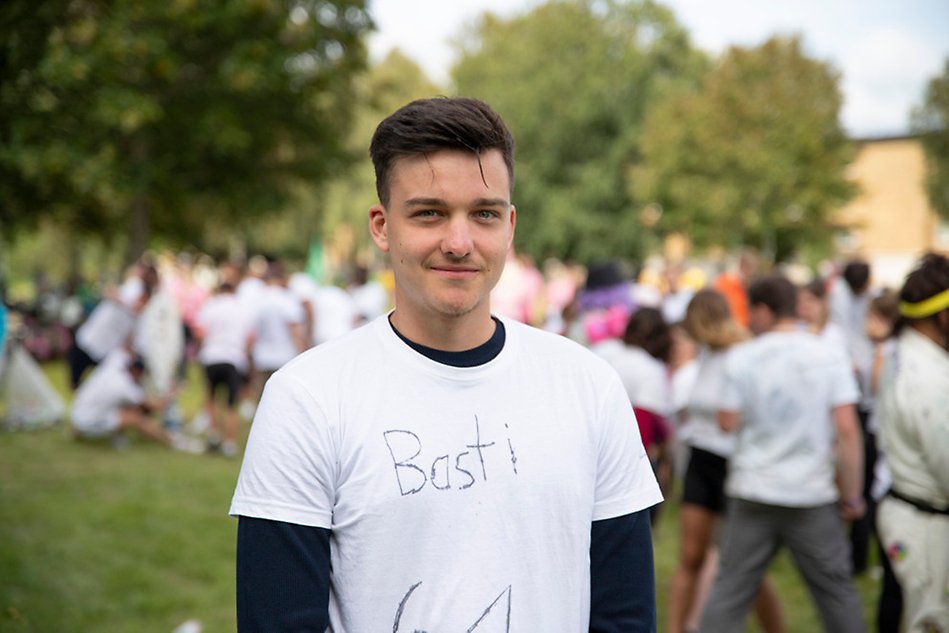 All international students and exchange students were also invited to this year's introduction. On site during Thursday's activities in Linehedsparken was Sebastian Peterburg, who is an exchange student from Germany.
"This is very nice. If we did not have this, we would not make contacts. It would be tough. That's why I'm here every day having fun," said Sebastian Peterburg.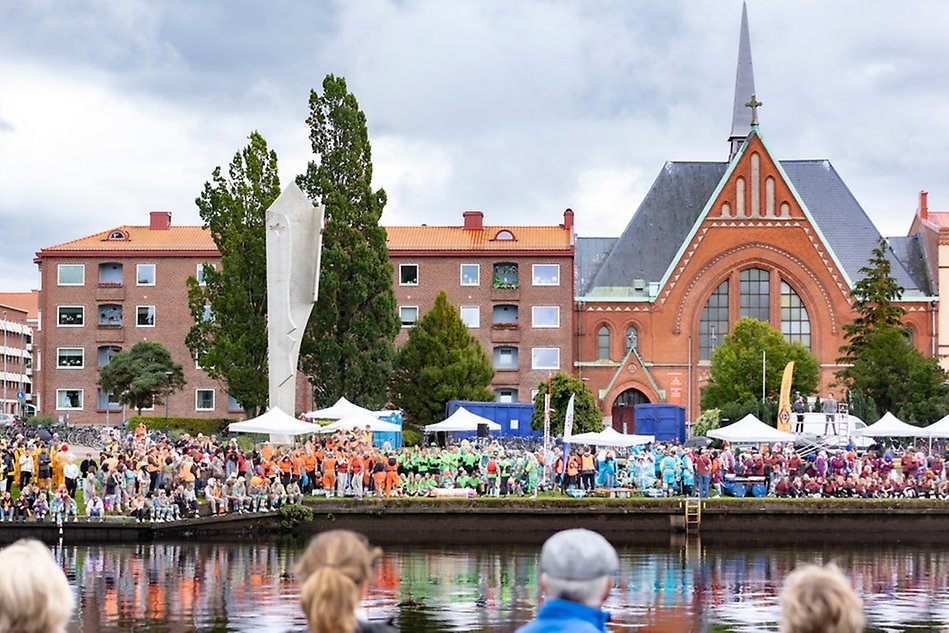 Traditional conclusion with race in Nissan
On Saturday, it was finally time to round off this year's Fresher's Week with the popular Regatta in Halmstad city center. A crowd had gathered to watch as the students raced across the cold waters of Nissan in boats they had built themselves. Some teams went back and forth as they should, while others capsised along the way. Eventually, the Innovation Engineers won.
Jacob Nilsson, Chair of the Student Union's Överstab, sees this year's introduction as a success.
"I am incredibly happy that there is such a large participation that we fill both sides of Nissan with spectators," Jacob Nilsson said about this year's regatta and continued:
"Everything has turned out fantastically well! The Fresher's Week is very structured and there is a lot of focus on welcoming the students. If I may say so myself, I believe that we have Sweden's best Fresher's Week, based on the commitment that exists with the ovvar."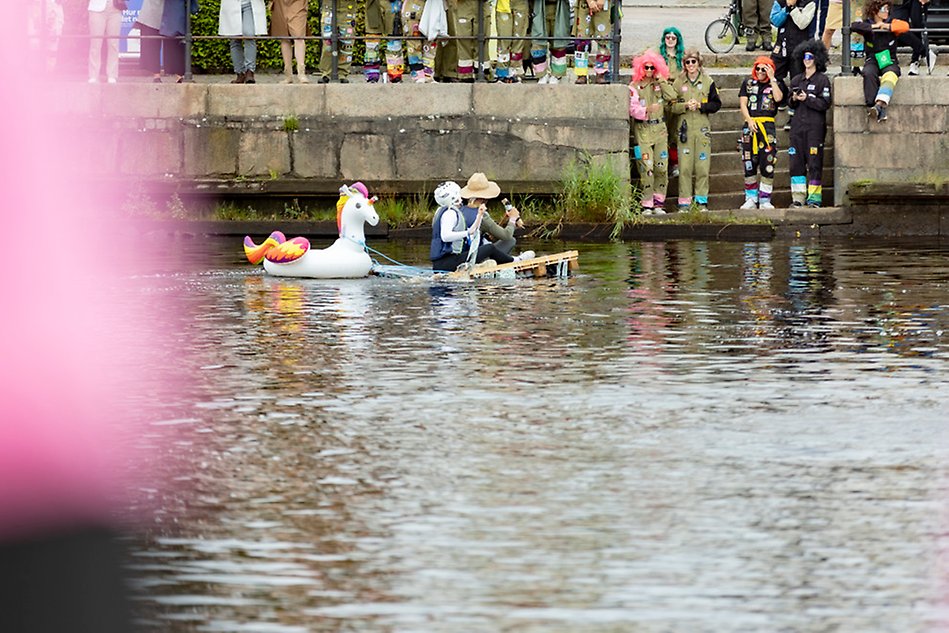 More about the Fresher's Week
The Fresher's Week is an introduction before the studies begin. It is called zeroing (nollning in Swedish) because the new students do not yet have any higher education credits, and therefore the students are called zeros.
The purpose of the Fresher's Week is to welcome new students to student life through security, knowledge, community, challenges and joy. Överstaben works actively to ensure that every individual who participates is in safe hands and receives a good introduction to everything that student life entails.
Source: Halmstad Student Union
Halmstad heart student
Some of the Fresher's Week activities are carried out within the collaborative project Halmstad heart student. The project started in 2016 and is a collaboration between Halmstad Student Union, Halmstad University and Halmstad Municipality. The project's focus areas are health and well-being; career and student influence.
The goal of Halmstad heart student has from the start of the project been to improve the role and situation of students through a number of different initiatives and thus make Halmstad a better student city.
The Fresher's Week in Halmstad is a highly appreciated event among new students and in 2019 Halmstad was awarded the Student City of the Year award by Swedish National Union of Students (SFS).
More information
Halmstad Student Union – Fresher's Week

External link.
Halmstad heart student

External link. (in Swedish)
Text: Thimmy Mård
Photo: Ida Fridvall and Dan Bergmark