Cristofer Englund wants to contribute to a sustainable society
Cristofer Englund has a genuine interest in traffic safety and has dedicated many years researching the field. It was his master's thesis in computer systems engineering that laid the foundation for his continued research in machine learning and traffic safety. Now, as Professor of Information Technology at Halmstad University, he wants to use his knowledge and research to contribute to creating a safer and more sustainable society.
"As a professor, I have the opportunity to meet many students, and I want to contribute to the education of future problem solvers and to continue making Halmstad University known for educating innovative, curious, and competent students."
Cristofer Englund, Professor of Information Technology
Cristofer Englund's research has primarily focused on traffic safety. The focus has been on how vehicles can interact with each other to create better traffic flow, as well as how self-driving vehicles can interact with humans in a safe manner. He has particularly focused on behaviours, such as how people and vehicles move and relate to each other in traffic.
"Through my research I want to create results that contribute to a sustainable society. Improved traffic safety is one such thing. Traffic accidents are a far too common cause of death, and therefore, it feels good to be able to contribute to features in vehicles and infrastructure that can save lives," says Cristofer Englund.
AI for increased traffic safety
Artificial intelligence (AI) is an essential part of accelerating innovation and development, and one of the most evident examples is found within the automotive and transportation industry. One of the research projects that Cristofer Englund has been involved in focuses on how cameras and sensors in traffic can collect data through movement patterns of road users, and through machine learning predict what will happen next – all in order to avoid accidents. This technology is useful in environments where there are many moving objects, such as in high-traffic areas or on a construction site.
Machine learning
Machine learning is a form of artificial intelligence that uses algorithms to identify patterns in data. These patterns can, in turn, help understand and predict situations. Instead of programming a machine to perform a specific task, it is programmed to learn how to perform the task on its own. By allowing the machine to train on large amounts of historical data, the algorithm learns how a situation will develop. The more data, the smarter and more accurate the machine becomes.
"My interest lies in understanding which variables most influence the model and thus provide the ability to create an explanatory model for the scenario, the model, or the data," Cristofer Englund explains.
Another research project that Cristofer Englund has worked on involves predictive maintenance of roads, where data on road structure is combined with traffic volume, traffic type, and climate data to build models that can predict when the road needs new surfacing.
"In this project, we also created explanatory models using machine learning to show which variables were important for making good predictions. This type of model is intended to be used as decision support for the client to improve road maintenance work."
About Cristofer Englund
Cristofer Englund moved to Halmstad in 1998 to study Electrical Engineering at Halmstad University. After his graduation, he continued his studies at the master's programme in Computer Systems Engineering. After a term as an exchange student at the University of Technology in Sydney, Australia, he returned to Sweden to do his thesis, which laid the foundation for his research in Machine Learning.
In 2007, Cristofer Englund obtained his Ph.D. in Data Mining from Chalmers University of Technology with the doctoral thesis "Modelling and controlling an offset lithographic printing process."
Research Manager at RISE (Research Institutes of Sweden) 2010–2023.
Cristofer Englund became an associate professor in 2018, an adjunct professor in 2020, and a professor of information technology at Halmstad University in 2023. He will be inaugurated as a professor at the Unversity Academic Ceremony on 17 November.
Professor and Dean with focus on smart technology
Cristofer Englund is currently Dean at the School of Information Technology, Halmstad University, a strong research and education environment, focusing on smart technology. He has worked with research in the industry section for several years and has a background as Research Director at the research institute RISE.
"The research areas that I have worked with mostly revolve around the interaction between humans and technology. With more perspectives and more expertise, the ways of looking at a more complex problem increase, which often enhances the ability to solve the problem."
Multitasker finding balance through yoga
Cristofer Englund describes himself as curious and persistent, and this is reflected in his many interests. In his spare time, he enjoys skiing in the Alps, playing jazz on his saxophone, or surfing with a SUP board in the ocean.
"Halmstad is situated in a fantastic location, and there are several beaches with waves suitable for almost every wind direction," says Cristofer Englund with great enthusiasm.
In recent years, a specific interest has taken over more and more.
"In the summer of 2020, my colleague and I started a yoga studio, which my colleague runs today. However, I still teach yoga a few times a week. There are plenty of yoga styles, and my favourite is Ashtanga yoga, which I practice almost every day."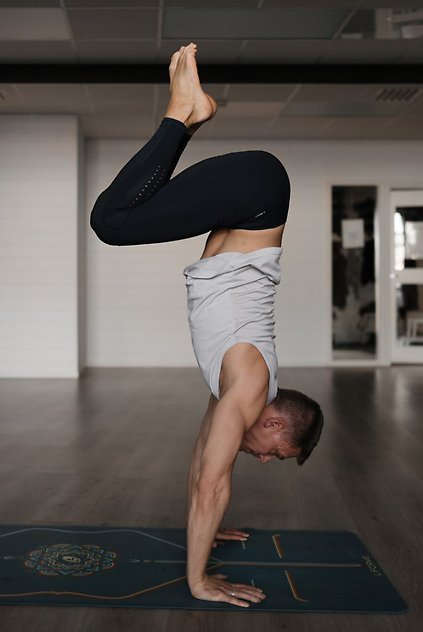 Yoga is not the only area in which Cristofer Englund teaches. For the past eight years, he has been teaching courses in the programmes for Electrical, Computer, and Mechatronics Engineering, as well as in the master's programme in Intelligent Systems at Halmstad University. Additionally, he supervises several bachelor's and master's theses each year. In his role as professor, Cristofer Englund wants to contribute to education and teaching with the purpose to support and shape the next generation of students.
"As a professor, I will have the opportunity to meet many students, and I want to contribute to the education of future problem solvers and to continue making Halmstad University known for educating innovative, curious, and competent students."
Text: Ida Hammar
Photo (portrait): Dan Bergmark
Photo (yoga): Julia Nesterenko