Students awarded SEK 100,000 for their health innovations
For the first time, Getinge Sterilization Inc. offered a scholarship programme as a part of its deepening collaboration agreement with Halmstad University. In connection to the University's annual graduation fair, Utexpo, the company granted three scholarships to commendable graduation projects within the field health innovation. The scholarship amount was in total SEK 100,000, of which one scholarship was worth SEK 50,000 and two SEK 25,000.
Moa Kauppila and Emil Blom, both from the Programme in Innovation Engineering, shared SEK 25,000 for their prototype ReRESP – a rehabilitation instrument that improves health and life quality for people with reduced lung capacity. Tied for second place was Kalista Vincent from the Master's Programme in Health and Lifestyle for her master thesis about ethical aspects of implementing artificial intelligence (AI) based technology to predict unexpected mortality. The greatest prize pool was of SEK 50,000 and was secured by the student Pooriya Khorramyar, from the Master's Programme in Embedded and Intelligent Systems, for his thesis about implementation of visual transformers in 3D medical images to classify neurodegenerative disorders.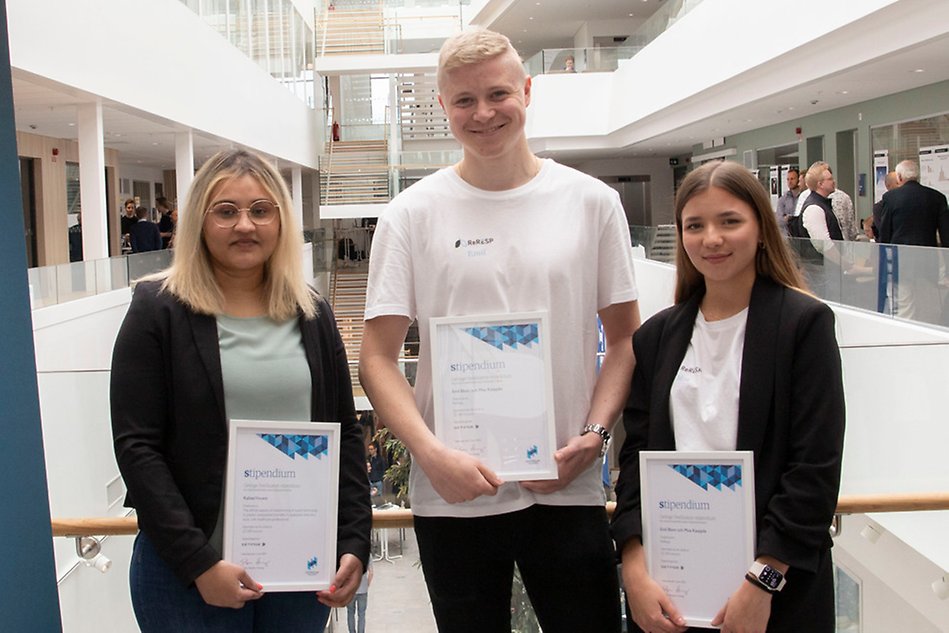 "To be at Utexpo as scholarship donors gives us a great opportunity to raise awareness to health innovation and life sciences, as well as mingling with students", says Cecilia Nesser, who works with human relations at Getinge Inc. She attended the Utexpo scholarship ceremony with Niclas Jonasson, CEO at Getinge Sterilization Inc, who handed out the company's very first scholarships.
"Many of us have people in our surroundings who suffer from neurodegenerative disorders, for example dementia. Their lives can be affected immensely if they receive the right help at an early stage through great diagnostics", says Niclas Jonasson.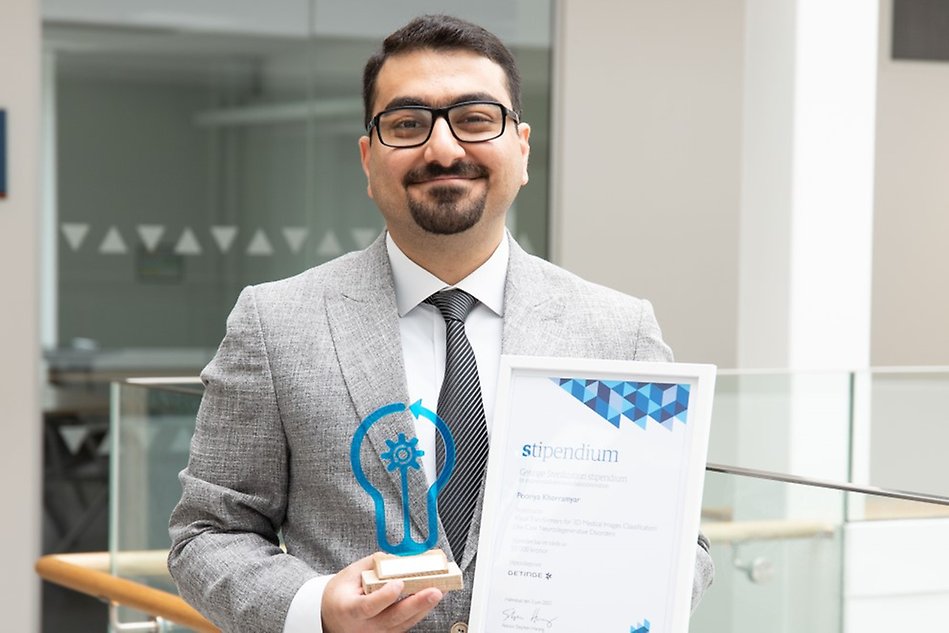 "It is a very well-written thesis within a field that needs more knowledge"
Niclas Jonasson, CEO at Getinge Sterilization Inc
One of science's greatest mysteries
The diseases Amyotrophic lateral sclerosis (ALS), Parkinson's and Alzheimer's are all included in the generic term neurodegenerative disorders, which includes disorders that slowly atrophy and break down neurons in the nervous system. The conditions are often progressive motoric disorders and cognitive disability. In Sweden alone, it is estimated that approximately 150,000 people carry a neurodegenerative disorder, which is one of healthcare's greatest challenges.
"Pooriya Khorramyar shows us that current X-ray imaging technology can be combined with explainable models in 3D images to achieve prime diagnostics with high precision. It is a very well-written thesis within a field that needs more knowledge", says Niclas Jonasson.
"The emphasis is to use AI models, more specifically deep neural networks, to assist doctors that perform brain scans", says Pooriya Khorramyar.
A deep neural network is an architecture that mimics the brain. It learns how to mimic as a person feed it with datasets, that is various examples, used to train the network until it delivers correct answers. With time, it can continuously both learn and improve on its own.
Pooriya Khorramyar chose to use vision transformers – architecture that make computers understand the visual world – and combined them with the anatomy of the brain to develop explainable models. These models can assist in classifying and marking the critical brain regions that are in need of further examination.
Drive and alertness pay off
Pooriya Khorramyar is from Iran, where he completed his Bachelor's degree in Electrical Engineering. After graduating, he worked as an electrical engineer and designer in embedded systems for two years before he started studying the Master's Programme in Embedded and Intelligent Systems at Halmstad University.
"I chose to study in Sweden because it is one of the most innovative countries in the world and a pioneer in many technology fields. The Master's Programme in Embedded and Intelligent Systems stands out because it includes both embedded systems and AI", he says.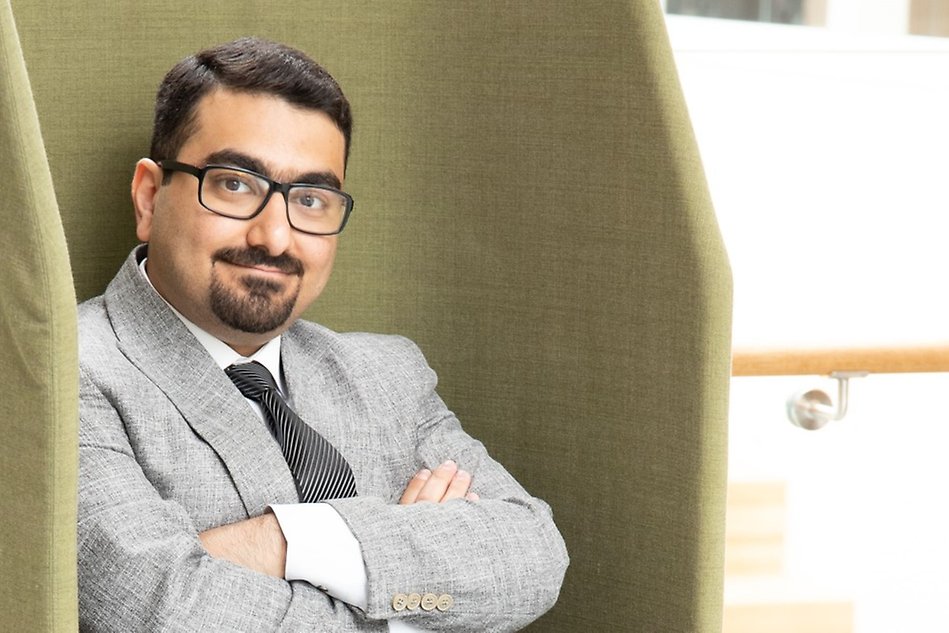 Pooriya Khorramyar has, as long as he can remember, had the driving force to use his knowledge to improve society's well-being, and therefore decided on writing about applying AI in healthcare. As early as during his first year, he contacted his supervisors and experts within the field asking for advice. Despite his lack of medical knowledge, he urged on with the idea and studied the subject, for instance, by familiarising himself with tools used by medical professionals. When Pooriya Khorramyar received the scholarship of SEK 50,000 from Getinge Sterilization Inc., he became full of joy and hope for the future.
"I did it! Receiving the scholarship makes me want to try even harder. Later on, I would like to publish a research paper based on my thesis as I improve the models' performance and do some more experiments", he exclaims.
Getinge Sterilization Inc. wants to, in addition to the scholarship holders, shine light on the remaining exhibitioners at Utexpo.
"Our first presence at Utexpo was very educational and fun, and we are already looking forward to the upcoming year", says Cecilia Nesser.
Text: Katarina Tran
Photo: Dan Bergmark and Katarina Tran
Halmstad University in collaboration with Getinge Sterilization
One of the University's focus areas is Health Innovation, which is a multi-disciplinary and over-arching venture for research and education. The aim is to contribute with innovative and sustainable solutions to societal challenges within the area of health. Along this line, Halmstad University and Getinge Sterilization Inc. concluded a ten-year strategic collaboration agreement in the autumn of 2020, to long-sightedly strengthen and develop education, research, and innovation.
Getinge Sterilization Inc. specialises in manufacturing of sterilisers to the pharmaceutical industry and is a part of Getinge Inc. Many of the employees have studied at Halmstad University. They notice a growing need for recruitment of competitive people to continue being world-leading in the industry, while their current employees also need competence development.